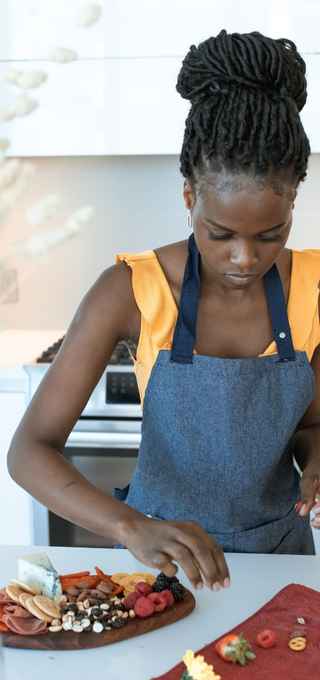 Charcuterie boards have become a thing in recent years. And, well, to be perfectly honest, that's probably because millennials have made it a thing about a simple cheese board. Millennials grew up on Lunchables, and they wanted to bring a piece of their childhood into adulthood.
Nobody's blaming them, though people of all ages have hopped on this adorable and surprisingly sophisticated trend that mixes your favorite cheese platter with your favorite fruits.
If you plan to create your charcuterie board that emphasizes pieces of fruit, you're in luck. This article shares the top four fruit charcuterie board ideas out there. So, whether you need something savvy for a breakfast, picnic with your gal pals or want a decadently naughty chocolate-loaded fruit charcuterie board for date night, you will find it below.
Check out what all the yum is about.
Breakfast Fruit Charcuterie Board
Oatmeal, omelets, toast – those are all wonderful breakfast options. But if you want to create a memorable breakfast for a special occasion, consider making a breakfast fruit charcuterie board.
The first thing you need to decide is which fresh fruits you want to offer. Some of the favorite breakfast fruits include apples, grapes, berries, and citrus options like oranges and grapefruits.
Consider adding yogurt dip for fruit dips. All you need to make yogurt dip for fruit is yogurt in any flavor (vanilla is most versatile, but strawberry and blueberry are quite tasty), a mix-in of honey, orange juice, or apple juice, and a pinch of cinnamon or brown sugar. Mix and enjoy.
If you want to add hardier ingredients to your breakfast fruit charcuterie board, don't hesitate to place some hard-boiled eggs and pieces of bread on the plate. Some of the top choices for breakfast loaves of bread are scones, sweet loaves like banana bread or lemon, or cakes like cinnamon coffee cake. You can also add simple miniature bagels with cream cheese or English muffins, too.
Afternoon Snack Fruit Charcuterie Board
Plenty of people enjoy making a fruit charcuterie board after lunch so that they can munch on it throughout the remainder of the day. There are endless possibilities, but the goal is to add as much variety as possible to a single plate.
Fruit
Of course, it all starts with fruit. Watermelon, peaches, seedless grapes, and figs play well with the rest of the afternoon snack fruit charcuterie board ingredients. Remember fruits are the ones that bring that pop of color the board is going to need.
Cheese
Next up? Cheese. Everyone loves cheese, so make sure you have lots of choices like blue cheese, soft cheese, and goat cheese but you can also keep it simple with mild cheddar chunks, or zhuzh up your fruit charcuterie board with some brie, gouda, or gruyere.
Crackers.
Nothing says "snack" quite like crackers. There's nothing wrong with diving into your box of plain Ritz crackers, but lots of people prefer to go "fancier" with toasted pita chips or baguettes.
Meat
Cured meats will work like a charm and go well with crackers, cheese, and fruit. Make adorable little sandwiches – you know, like the ones you used to make with your Lunchables. Add salami, prosciutto, ham – whatever you like.
You can step out of the fruit charcuterie board box and add other favorite ingredients. For example, some want to add colorful vegetables to their plates, such as bell peppers, carrots, and cucumbers. Others like more savory choices, like walnuts and almonds.
Rainbow Fruit Charcuterie Board
One thing people love about a fruit charcuterie board is that they are aesthetically pleasing. And while you don't necessarily have to align your fruits pleasingly, any fruit charcuterie board will look so much prettier with an arrangement like a rainbow.
Putting together a rainbow fruit charcuterie board is surprisingly easy. All you need is a lot of fruit representing the colors of the rainbow. Here are some fruit for charcuterie suggestions:
Red. Apple slices, cherries, raspberries, or red grapes.
Orange. Oranges, tangerines, apricots, or peaches.
Yellow. Bananas, pineapple, papayas, or star fruit.
Green. Kiwis, green grapes, pears, or green apples.
Blue. Blueberries, blackberries, purple grapes, or elderberries.
Purple. Figs, plums, and prunes.
You can arrange these fruits in a specific rainbow pattern or place them wherever you want. Regardless, your fruit charcuterie board will look lovely and burst with color. You won't want to keep your hands off of this fabulous dessert.
To kick things up a notch, consider adding a flavored whipped cream or cream cheese to the rainbow fresh fruit charcuterie board. You can have a dollop of differently flavored whipped creams or stick to a single flavored whipped cream, like salted caramel, lemon, or berry. These flavors pair well with just about any fruit!
Dessert Fruit Charcuterie Board
What's better than a slice of cheesecake? An entire fruit charcuterie board that is aligned with indulgent treats. If you're looking for a way to shake things up in the dessert department, consider making a dessert fruit charcuterie board.
The best way to make this type of fresh fruit charcuterie board is to add a chocolate fondue fountain to the plate in a glass bowl. This might sound incredibly fancy and over the top, but charcuterie boards weren't meant to be "simple."
Impress your friends and family members, or get over a rough breakup in the comfort of your bed with a dessert fruit charcuterie board complete with a chocolate fondue fountain.
Fondue fountains are surprisingly low-cost, so you don't have to worry about spending an arm and a leg on this appliance – and the best part is that you're guaranteed to use it often, getting the biggest bang for your buck.
On the palate, you will want to add fruits and other bite-sized pieces of food items that pair with chocolate. For example, you might add strawberries, bananas, and slices of oranges to the charcuterie board. Then, toss a few bite-sized treats that can dip, like pretzels, fun-sized candy bars, or bacon. (If you haven't tried bacon and chocolate, do it ASAP!).
Final Words
A fruit charcuterie board is a delightful thing, whether you're arranging a filling breakfast plate or want something super tasty for dessert. Make sure you add plenty of yummy options like ounces of cheese and pleasingly arrange them. Don't hesitate to have fun making these delightful charcuterie boards!
Do you love charcuterie boards? Which of these four mouth-watering fruit charcuterie board ideas will you make?
What type of fruit goes on a charcuterie board?
Honestly, any kind of fruit can make it onto a charcuterie board. However, you have to consider the longevity of the fruit. For example, bananas are delicious, but they won't last long. Avoid these kinds of fruits unless you're planning to eat the fruit charcuterie board quickly. A really handy one is bunches of grapes.
How do you cut fruit for a charcuterie board?
Small and slender slices of certain fruits pair well with other, bulkier food items. You can even use fun fruit slices in shapes like stars, hearts, etc. Many videos show the very best ways to cut individual fruits. So, if you want to be quite precise, you might follow along with the vid.
The biggest thing to consider is the placement, though. You want to arrange the fruit so that they are aesthetically pleasing and complement each other.
If you want to go bigger you can try this celebration charcuterie board that's extra special!
Does a charcuterie board have fruit?
A charcuterie board does not necessarily have to have fruit, but most of them do. Not only are they delicious, but they're super colorful, bringing your charcuterie board to life. For the sake of these recipes specifically, though, charcuterie boards should have fruit!
Here are a few hand-picked articles for you to read next!
Or check out all of our delicious recipes!