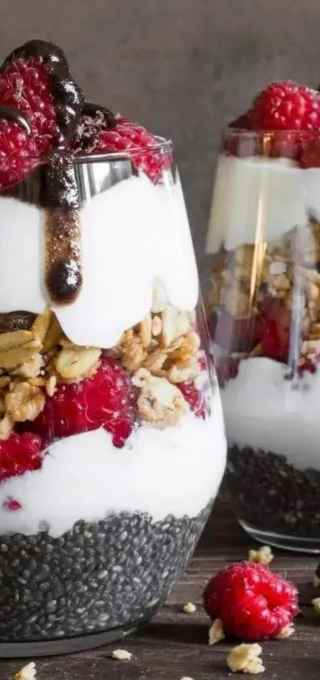 The term superfood has become increasingly popular over the past decade. The use of the word is so widespread that it has been added to the Oxford Dictionary. It defines a superfood as "a nutrient-rich food considered to be especially beneficial for health and well-being." It's no surprise, then, that superfood recipes have become increasingly popular in health-conscious circles.
However, from a nutritional standpoint, the word "superfood" is more of a marketing term rather than a nutrition term. Food companies sometimes use the label "superfood" to sell specific foods, supplements, and even fad diets at exorbitant prices with promises of amazing health benefits. They might single out certain foods and promote their nutritional superiority. For example, you might come across articles like "Top 5 superfoods" or "10 superfoods you need to be eating."
While these "superfoods" may be good for you and beneficial to your health, it's important to remember that no single food will magically make you healthy or prevent/cure disease. That's right: no single food — not even a superfood — can offer all the nutrition and health benefits your body needs. With that being said, there are some superfood recipes you can learn that are not only high in nutrients but are also delicious.
Variety Is Key
When it comes to your diet, variety is key to your health. Focus on eating a variety of foods but especially plant foods. Most plant foods are rich in many different nutrients, including antioxidants, fiber, and healthy fats, and could realistically all be labeled as "superfoods". But remember, focusing on eating just one or a few of these "superfood" plant foods will not make you exceptionally healthy. Eating and enjoying superfoods is great, but variety is key.
So instead of looking at a single "superfood", let's look at some superfood recipes that include a variety of healthy, nutrient-rich foods you can combine to boost your health. I've added some "Superfood Smoothie" recipes to this list as well since smoothies are an extremely easy option that you can add to many different foods to boost the nutrition quality. Without further ado, here are 6 superfood recipes that you can include as part of a balanced diet:
Superfood Recipe #1 Rainbow Salad – Lunch
One of our favorite superfood recipes, this Rainbow Superfood Salad will brighten your plate with all the colors of the rainbow! Different colored foods mean different nutrients, so this superfood salad recipe is perfect for boosting your nutrient intake.
Recipe: Rainbow Superfood Salad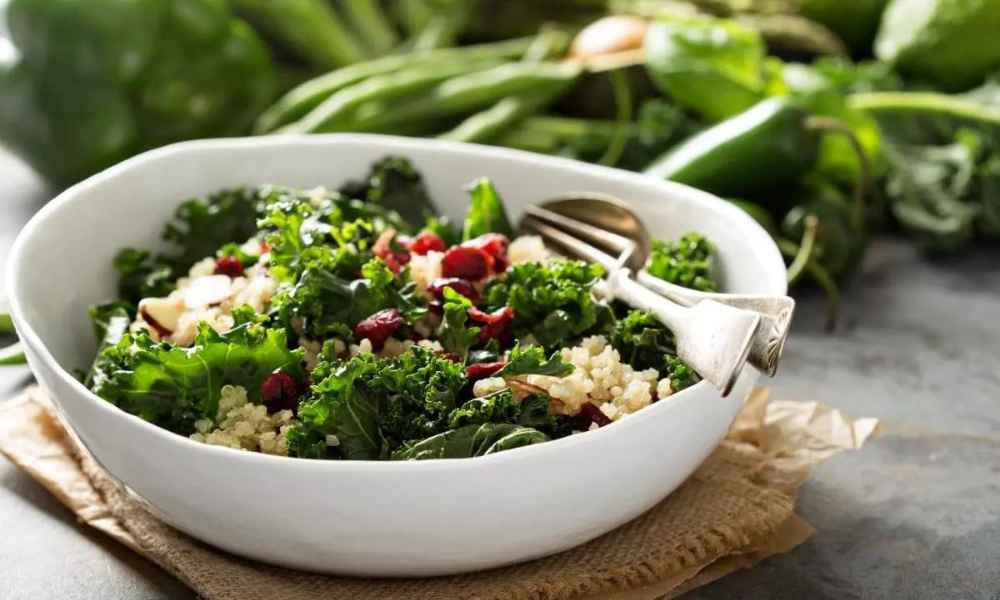 Ingredients:
Makes 2 servings
½ cup quinoa

2 cups bunch shredded kale

½ cup red kidney beans

3 tbsp pumpkin seeds

Handful of walnuts

3 tbsp dried cranberries

1 punnet/basket of blueberries
Dressing:
3 oranges, juiced

3 tbsp olive oil

1 garlic clove, crushed

1 tsp manuka honey
Directions:
Cook quinoa according to packet instructions. Once cooked, place into a large bowl.

Add kale, pumpkin seeds, blueberries, cranberries, beans, and walnuts. Stir to combine.

In a small bowl, mix orange juice, olive oil, garlic, and honey. Pour over salad. Serve and enjoy!
For more super salads, check out our "8 Easy Plant-Based Diet Recipes". It includes my recipe for Easy Avocado and Chickpea Salad, which requires no cooking at all.
Superfood Recipe #2 Broccoli and Salmon Stir Fry – Lunch or Dinner
Quick, easy, and extremely nutritious, this Superfood recipe is packed with veggies and is a great superfood recipe to stir fry for a healthy lunch or dinner. Even better, the chicken and broccoli mean this dish is not only delicious but filling and will keep you fueled for hours. 
Recipe: Super Broccoli and Salmon Stir Fry
Ingredients:
Makes 2 servings
2 salmon fillets

1 large head of broccoli, chopped

10 button mushrooms

1 zucchini, diced

2 garlic cloves, crushed

1 onion

1 tbsp soy sauce

2 tbsp fresh ginger, minced

2 tsp sesame oil

1 lemon

1 tbsp sesame seeds
Directions:
Heat oil on a large fry pan. Add garlic and ginger. Mix in soy sauce. Then add salmon to pan and flip to coat with sauce. Heat for ten minutes.
Add onion and broccoli to the same pan. Cook for a few minutes then add mushrooms.

   

Once fish and veggies are cooked, serve and squeeze some lemon juice on top. Sprinkle with sesame seeds and enjoy!
For more vegetable stir fry ideas, check out our asparagus stir fry and other delicious asparagus recipes.
Superfood Recipe #3 SuperchargedGreen Smoothie – Breakfast
With the addition of spirulina, which contains nutrients like iron, niacin, magnesium, and potassium, this Supercharged Green Smoothie is a surefire way to stay energized and powered up through your morning! This superfood recipe is quick, easy, and delicious. Perfect for anyone who is trying to stay full and be healthy on the go.
Recipe: Supercharged Green Smoothie
Ingredients:
Makes 1 serving
1 frozen banana

¼ avocado

2 cups milk of choice

1 tbsp spirulina

1 handful of spinach or kale
Directions:
Place all ingredients into a blender and blend until smooth.

Pour into a glass and enjoy!
For more smoothie recipes, including my Superfood Vegetable Smoothie, check out our "6 Vegetable Smoothie Recipes That Are High in Protein".
Superfood Recipe #4 Overnight Berry Oats – Breakfast
Breakfast is the most important meal of the day! You'll never skip breakfast again with these Overnight Berry Oats. This superfood recipe can even be made in bulk so you'll have a few days of breakfast quick and ready! You can whip them up the night before ready for a healthy breakfast on the go for the next few days.
Recipe: Overnight Berry Oats
Ingredients:
Makes 1 serving
1/2 cup plain rolled oats

½ cup yogurt of choice

½ cup milk of choice

2 tbsp chia seeds

1 tsp honey

1 cup mixed berries – e.g. blueberries, blackberries, raspberries
Directions:
In a small container or cup, place oats and chia and mix. Pour in milk and mix through. Add yoghurt/yogurt and honey and then mix.

Place in fridge overnight or for a few hours. When serving, top with mixed berries and enjoy!
Superfood Recipe #5 Super Seed Berry Smoothie – Breakfast or Lunch
This superfood recipe for the Seed Berry Smoothie is loaded with good nutrition and is a great choice for a healthy morning or afternoon snack. Quick tip! You can make a large batch of smoothies and put them into several glass jars. Then, place them in the freezer, where the night before you want them you can move them to the fridge. Moving it from the freezer to the fridge will ensure you'll keep that cold smoothie consistency. This is a great option for anyone who meal preps!
Recipe: Super Seed Berry Smoothie
Ingredients:
Makes 1 serving
1 punnet/basket of blueberries

2 cups milk of choice

1 tbsp hemp seeds

1 tbsp chia seeds

½ avocado
Directions:
Place all ingredients into a blender and combine.

Pour into a glass and enjoy!
Superfood Recipe #6 Chocolate Slice – Dessert
Who said dessert couldn't be healthy? Well with this delicious dessert superfood recipe, dessert is healthy. This Superfood Chocolate slice recipe is perfect for chocolate lovers, or those with a sweet tooth. And is guaranteed to satisfy your need for something both salty and sweet.
Recipe: Superfood Chocolate Slice
Ingredients:
Makes 20 pieces
½ cup almonds

½ pistachios

5 tbsp chia seeds

¼ cup pumpkin seeds

1/3 cup goji berries

½ cup toasted coconut flakes

500 g dark chocolate

Optional add-ins: pecans, hazelnuts, walnuts, hemp seeds, chia seeds, raisins, cranberries, dried apricots, dates, dried figs
Directions:
Line a baking tray with parchment paper.

Combine ingredients of almonds, pistachios, chia, pumpkin seeds, goji berries, and coconut in a large bowl.

Break the chocolate into small squares and place into a heat-proof bowl.

Boil a small saucepan of water. Once boiling, place the bowl with chocolate onto a saucepan lid that allows steam to boil up to the bowl. Once the chocolate starts to melt, continue to stir occasionally until fully melted.
Add chocolate mix to nut/seed mixture and then place into prepared pan.

Place in fridge for four hours or overnight.

Remove from fridge and allow to sit at room temperature for five minutes. Using a sharp knife, slice into 20 pieces. Serve and enjoy!
Note: you can keep this Superfood Chocolate Slice in an air-tight container in the fridge for up to five days or in the freezer for two-to-three weeks.
Conclusion
Instead of getting caught up in the hype of superfoods, focus on enjoying a varied and balanced diet overflowing with colorful and delicious plant foods. So try out these superfood recipes and superfood smoothies for a nutrient-rich diet that allows you to reap the health benefits of plant foods without stressing overly specific superfoods. Remember that your body needs a variety of foods to meet your nutrition needs and maintain overall good health. No one superfood, or even a handful of superfoods, can do this alone.
Finally, if you're just starting your health journey and want more information on healthy eating, a great place to start reading is "The Beginner's Guide to Losing Weight with a Plant-Based Diet". Knowledge is power, and this e-book provides some of the latest research and information on plant-based eating right to your fingertips!
What is the most powerful superfood on earth?
Spirulina
According to various studies and research, spirulina is the most nutrient-dense superfood ever.
What is the king of superfoods?
Since at least 19,000 years ago, fungi have been a staple of Stone Age diets, and mushrooms have been a part of the human diet for thousands of years.
What are the Super 6 foods to live longer?
Wholegrains, nuts and seeds, fruit, vegetables, legumes, beans and pulses, as well as herbs and spices, are what I refer to as the "Super Six." It is sufficient to consume a small amount of each daily to increase gut flora and lessen the side effects of antibiotics.
Here are a few hand-picked articles for you to read next:
Disclaimer: This post contains affiliate links. If you buy an item through one of those affiliate links, Successible Life may get a small commission at no extra cost to you. This helps keep the blog running so we can continue to provide you with the best content.