This article is part of the "Valentine's Day" series. Click here to learn more.
Valentine's Day is just around the corner, and we can already feel the love in the air! Now is the time to start planning a date before it gets too late. Consider the following ideas to plan a memorable Valentine's Day date, regardless of where you end up going.
1. A Rom-Com Marathon
If watching movies together is one of your favorite pastimes, consider having a romantic comedy marathon. Whether the movie is old or new, doing this never seems to get old, even if you have seen it a hundred times. Make a small lineup of films and watch them over dinner, while you cuddle on the couch, or even well into the night.
2. A Picnic
For something a little more casual than a dinner out on the town, consider having a cozy outdoor picnic (weather permitting). Consider finding a location where you can set your picnic blanket and watch the sunset together. Maybe pack a few of your favorite snacks, a dessert, and also a bottle of wine with glasses. Then roll out a thick blanket to lounge on, where the two of you can talk until the sun goes down.
3. A Classic Dinner Date
Alternatively, if you want something more upscale, stick to a traditional restaurant. You could go to your favorite place or even splurge and book at a restaurant that would usually require a reservation. Especially if you choose the latter, make it a rule to put your phones away or just leave them at home. It will make for a much more meaningful dinner that is full of conversation.
4. Bar Hopping
If neither of you are keen on the type of date where you sit back and relax, go on a bar hopping together instead. Your drink of choice doesn't matter, from wine to beer or top shelf liquor. If you don't have a strip of bars in your town, you can always purchase various drinks to create a flight of your own at home. So pick out your favorite board games – maybe get out the We're Not Really Strangers game and play while you drink! If you do go out, be sure to have a plan to get home safely.
5. Recreate Your First Date
Rekindle the original flames that sparked your relationship by recreating your very first date. Even if it was sort of silly, a little childish, or plain awkward, this time around it will be uber romantic. If the location of your first date is a little out of reach and you're married, consider revisiting the hotel where you spent your wedding night instead.
6. A Romantic Getaway
Maybe you have been saving up for a vacation or are simply overdue for a getaway. In either case, Valentine's Day might be the perfect opportunity. You could simply go to another state or overseas if you want an even bigger adventure. Wherever you go, aim for a location known for love. For example, if you're thinking of some place domestic, consider Amelia Island, Florida. Otherwise, one of the Greek islands (like Rhodes) would be an excellent choice.
7. Paint and Sip
Let your inner artist out during a paint and sip class that's Valentine's Day themed. These businesses are relatively common, but they do fill up quickly. Be sure to act fast to book your space. Another thing to remember: you must be at least 21 years old. But even if painting isn't your forte, stepping outside of your comfort zone will be fun and most likely provide plenty of laughs.
8. A Spa Day
Sometimes it's nice to be able to completely relax, unwind, and just enjoy one another's presence. A spa day will allow you both to be pampered without either of you having to do any work. Look into booking a full spa day with facials, mani-pedis, and a couple's massage. Often spas will even offer Valentine's Day specials.
9. Go Dancing
If you have ever wanted to try your hand – or should we say feet – at dancing, now is the time. Depending on the style of dance you choose, it can be fun as well as intimate. There are plenty of styles of dance for you to consider, from tap to ballroom, contemporary, and hip hop. If you want something a little more casual, look for a line dancing joint near you.
10. Do Something that Scares You
Did you know that love and adrenaline go hand in hand? It is why people who do activities together that causes an adrenaline rush can mistake their feelings for love. Since you're already together and the confusion is less likely, take advantage of adrenaline to confirm your emotions and make some gnarly memories. Try bungee jumping, skydiving, or another activity that might otherwise frighten you.
11. Cook for Your Partner
A great way to show your appreciation for your partner, especially if they typically take on the household responsibilities, is to cook. It will really help them take a break from their role, since cooking is a task that takes a lot of time and energy. Cook their favorite meal and dessert, light some candles, and set out the fancy dinnerware. For more ideas, here are our dinner recipe suggestions for Valentine's Day.
12. Travel Abroad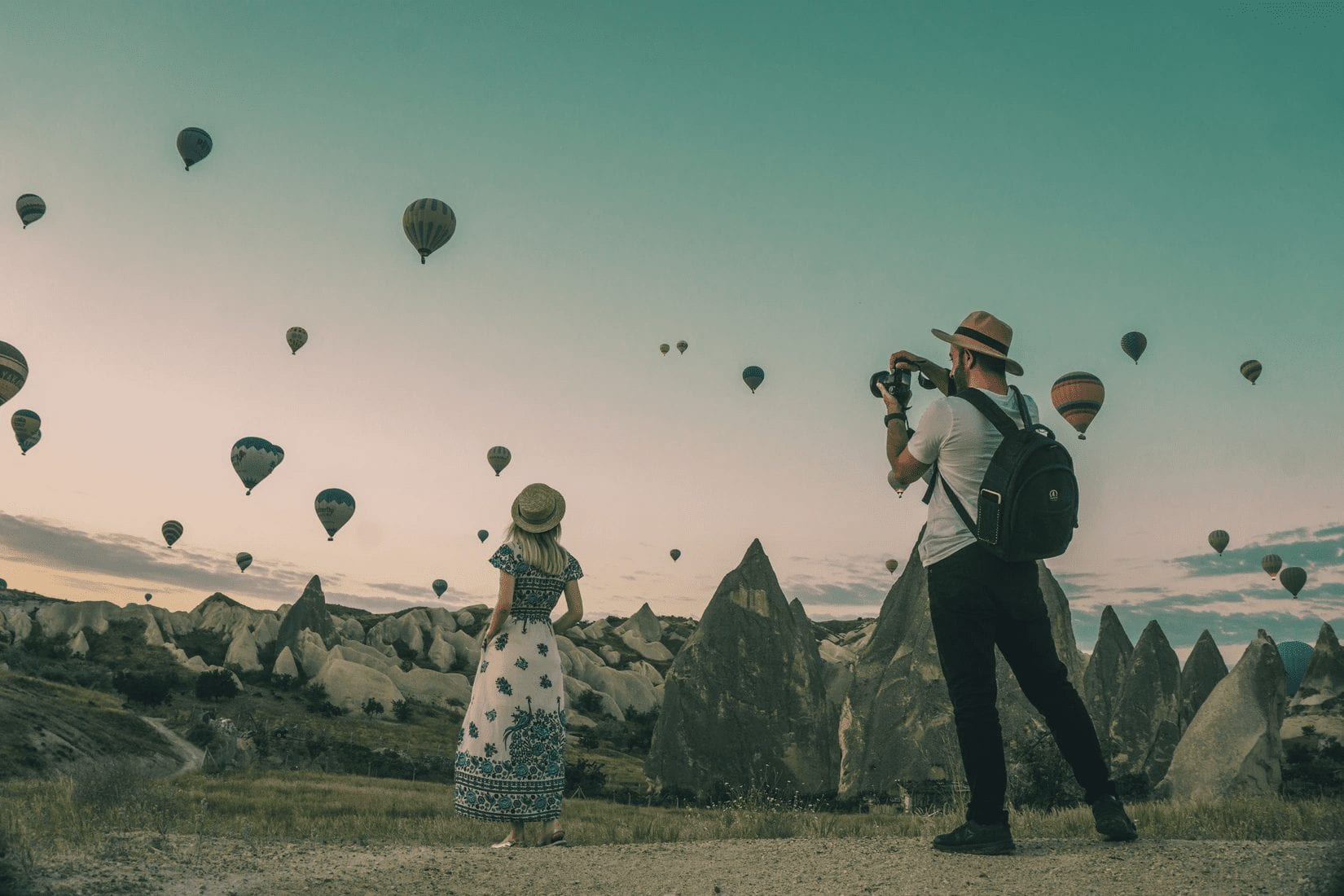 If you have always wanted to travel abroad, Valentine's Day may be the time to splurge. It is a beautiful and grand gesture that will allow you both to experience the world together. Traveling together is a spectacular way to bond and build lasting memories, as you will learn to navigate a new location and culture. It just so happens that the winter season is also one of the most affordable times to travel.
13. Body Painting
Looking to spice things up? In a surprising combination, one company is helping couples turn "the beauty and passion of the physical act of love" into art. The At-Home Love and Paint Kit comes with body safe paint, a linen canvas, and everything else you need to create a unique and fun piece of work. It retails for $250, and you can choose the color palette of your preference.
14. Turn Technology Off
Sometimes showing someone how much you love them is as simple as giving them your undivided attention. Nowadays technology plays a large role in relationships, but that doesn't mean it should be the focus. Consider spending a night at home simply enjoying one another's presence.
15. Go to a Concert
For many couples, music is one of the hobbies they connect over or enjoy together. Around holidays, including Valentine's Day, there are often a number of scheduled concerts. Check out some of the venues near you and see who is playing. Whether it is someone you know and love or someone who is new and peaks your interest, it will make for a banging night.
16. A Taco Tour
If you love eating, particularly Mexican food, why not make a date out of it? Tacos are always a hit, and they can be found nearly everywhere thanks to their widespread popularity. Take your date out on a taco tour in the nearest city and see how many amazing or downright awful tacos you can experience in one evening. You just might find your new favorite eatery together!
17. Go Camping or Glamping
Sometimes you want some isolation from the rest of the world, which is where camping comes in. Going camping makes for a great date, as you enjoy nature, one another's company, and roughing it a little bit. If you're not into the full outdoor experience, try glamping instead. It's like camping but with more convenience and modern luxuries.
18. Immerse Yourselves in Nature
Maybe you don't want to spend the night outdoors but still want a taste. In this case, consider a trip to a nearby state or local park. Most places offer trails for both beginner and experienced hikers as well as popular sightseeing areas. During your trip, be sure to take your time rather than rush through it. That way you can fully enjoy both one another's company and the surrounding nature without any distraction.
19. A Hotel Stay
Every now and then, it's nice just to get out of the house for a change of scenery. If you want to kick it but don't want to clean up after yourselves, book a night at a hotel. Order in from the hotel or a nearby restaurant, find something on TV or binge watch a show and take a bath in the whirlpool tub. It is a great way to indulge a little without a lot of effort. If you want to spruce the room up, get some rose petals and some metallic balloons to decorate.
20. Go to a Theme Park
Some of the best dates are the ones that make you feel like a kid again. Take your best friend and hit up a nearby theme park, or make a day trip out of it if necessary. Hang out while you wait in the long lines, play some cheesy fair games, and indulge in the overpriced greasy food. A theme park date is perfect for a couple of thrill seekers!
21. Have a Throwback Date
If you both have an appreciation for all things nostalgic, consider having a throwback date. There are all kinds of activities reminiscent of old school dating that will make for an incredibly fun evening. Your evening could include bowling, playing games at an arcade, rollerblading, or ice skating. Top it all off with a polaroid camera to capture the memories!
Conclusion
We hope one of these Valentine's Day date ideas will work for you or might inspire you to come up with an idea of your own! Let us know your plans in the comments below (if they aren't already a surprise)!
Here are a few hand-picked articles for you to read next: