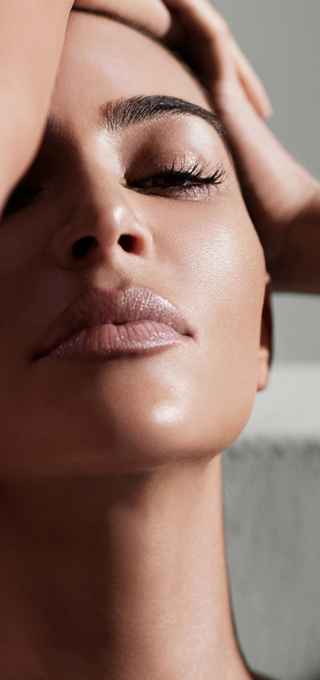 Disclaimer: This post contains affiliate links. If you buy an item through one of those affiliate links, Successible Life may get a small commission at no extra cost to you. This helps keep the blog running so we can continue to provide you with the best content.
We all know and loved Kim Kardashian skin care which consisted of the KKW Beauty and KKW fragrance lines, but since Kim Kardashian's divorce, there's a new brand on the market that's challenging the beauty concepts we used to have. After her psoriasis diagnosis, Kim went on a skincare routine is important to learn more about her skin and how she can care for it.
She created this brand to close the gap between the beauty concepts of the world's most renowned dermatologists and us at home seeking high-performance skincare.
This skincare line mirrors her everyday regime, featuring a complete 9-step routine ($575) made for all skin types, tones, textures, and stages of maturity. They also come in refillable packaging to reduce environmental impact and encourage sustainability. Although the entire routine consists of a nine-step routine, there is also a 5-piece bundle ($305) with the essentials for hydrated and radiant skin. Is it time to throw away our old skincare products and invest in some SKKN BY KIM?
Here are 5 Kim Kardashian skin care secrets:
While every step of your skincare routine is important, cleansing is high up on the list. Having an amazing cleaner is essential to remove all the unwanted oils and impurities from the skin. The SKKN cleanser does that and more. It also will dissolve and remove any makeup, who doesn't love a two-in-one?
This cleanser is made with an innovative formula of glycerin and aloe vera, which will leave your skin feeling clean, supple, and hydrated for up to two hours after rinsing.
If this cleanser doesn't sound right for you, we got you covered with some of the best blackhead cleansers!
Now that your face is fresh, clean, and feeling hydrated, it's time to tone. Toners are a great way to ensure there are no makeup, dirt, or bacteria left on the skin after cleansing. With the help of double acidic and enzymatic exfoliation, this lightweight toner will reduce the appearance of pores and enhance the texture of your skin.
It also has antioxidants, enzymes, and AHAs to give your face a radiant glow while toning and hydrating. To help your skin get all these benefits, just pour a small amount into a cotton pad or the palm of your hand and evenly apply it over your face and neck.
Serums are typically concentrated and packed with nutrients, which is why we want to apply them as close to the skin as possible, making it the next step in the routine. With ingredients such as hyaluronic acid and rosa centifolia flower water, this serum helps reduce the appearance of fine lines while providing 72-hour moisture, leaving your skin plumped and hydrated. To achieve a hydrated and healthy glow, apply 1-3 drops to the palm of your hand and press into your face and neck.
Once the multi-molecular weight hyaluronic acid serum has soaked into the skin, it is time to moisturize with face cream. This moisturizer is enriched with alfalfa complex, shea butter, and squalene to provide your skin with intense hydration. It has been proven to hydrate the skin, reduce the appearance of fine lines and wrinkles, and improve firmness, elasticity, and radiance in the skin.
Moisturizer for your skin type is essential! If the SKKN face cream isn't the perfect match, these moisturizers are for any skin type.
The last step of the skincare essentials is oil drops. Since oil drops are typically the densest product of your skincare routine, it has no problem penetrating through all the previous products to reach the skin. This product will help revive and bring back the glow to dull skin through the active ingredient Vitamin C.
It will brighten your skin tone and reduce the appearance of pigmentation and dark spots. Simply apply 1-2 drops on the palm of your hand and spread all over the face and neck until it is absorbed. You can also mix it in with the Face Cream!
Aside from the gorgeous skin, these products will give you, another great benefit is that SKKN BY KIM follows clean beauty standards. All of their products are made with clean ingredients, avoiding things such as phenoxyethanol, sulfates, and gluten. The products are also fragrance-free, making them perfect for those with sensitive skin.
Continuing with the clean beauty trend, SKKN BY KIM is a sustainable brand. They are grounded in an ethos of sustainability, which is why each product comes in a refillable container. When you order a refill of the product, it comes packaged in recycled materials and is delivered inside a compostable bag.
The Kardashians are all for clean beauty! Kourtney Kardashian-approved clean beauty products are a must-have in your daily routine.
Conclusion
Having flawless Kardashian skin comes with a price. The Essentials 5-piece bundle would typically cost $358 if purchased separately, but you can get it for $305. We love a good deal, but it is still a bit pricey. If you still aren't sure if you're ready to splurge on Kim Kardashian's new skincare, here are some things that may change your mind. They offer a subscription where you can save 10% on every product.
With the subscription you have the option to receive a refill of the products of your choosing every 1-4 months, depending on your preference (the website also has a recommended frequency). Lastly, don't forget to check out the other 4 products in the SKKN BY KIM rituals such as the Eye Cream and Night Oil!
Skincare is the first step to the Kim Kardashian look. If you want to continue living the Kim K dream, these products will give you the effortless soft glam look that she is always slaying.
What brand of skincare does Kim Kardashian use?
SKKN
SKKN, Kim Kardashian's latest skincare line, promises renewal for a healthy at-home regimen.
Does Kim Kardashian use her skincare line?
Her Skincare Line Is Based On Her Psoriasis
The 41-year-old reality star Kim Kardashian debuted "SKKN By Kim" last month, but her fans aren't buying it—or at least they don't accept the idea that the entrepreneur uses her cosmetics.
What dermatologist does Kim Kardashian use?
Kim consults Dr. Simon Ourian, a cosmetic dermatologist based in California, to help her look her best without having surgery. Dr. Ourian, a former sculptor, possesses the imagination and vision needed to produce walking works of art.
Here are a few hand-picked articles for you to read next: