The first step to beautiful skin is skincare beauty products. But we're not talking about your typical face wash and moisturizers that help dead skin cells. Whether you have oily skin, dry skin, or somewhere in between, these beauty expert-recommended products and tools are perfect to add to your daily beauty regimen to improve the look and feel of your skin.
Here are our favorite daily beauty tips products that will upstep your skin and help you achieve the skin of your dreams:
Facial ice roller

The facial ice roller combines the facial techniques of rolling massages and ice therapy in one tool. Made with stone or stainless steel, the cool touch of this tool can help reduce the appearance of pores, increase blood circulation on your face and reduce puffiness and inflammation, leaving your skin healthy and feeling refreshed. This is perfect to use for the natural glow we want in the morning before applying makeup to reduce that morning puffiness and create a smooth base for your favorite foundation application. It can also be used at night to help moisturizers and serums penetrate the skin. If you're looking for an even cooler sensation, place your ice roller in the freezer before using it!
Gua sha tutorial

Gua Sha is a massaging tool and technique that has many benefits for your skin. Some of these benefits include increased blood circulation, helping produce collagen, decreasing inflammation and puffiness, sculpting facial muscles, and more. Learning how to use the gua sha tool is the best way to ensure you are getting the most from its benefits. We've got a quick gua sha tutorial to show you the best ways to massage your face using it daily.
For your cheeks, take the longest side of the gua sha starting at the top of your mouth and drag it upward across your cheekbones to your hairline.
For your jawline, place the cut-out angle of the gua sha at the tip of your chin and drag it along your jawline toward your ear.
For your eyes, place the longest part of the angle flat on the inner corner of your eye and drag upward across your under-eye.
For your forehead, place the longest side of the gua sha just above your eyebrow and drag it upward.
Hydrogel eye patch

We all love a good face mask, but if you have not tried eye patches, because you already have eye creams, you are missing out! These eye patches are specifically made for the delicate skin under our eyes. Using them can help moisturize, reduce dark circles and puffiness, and help with wrinkles under the eye, without the use of eye creams. Pro Tip: place these in the fridge before use for extra cooling and they also can be used as an eyeshadow shield while doing your makeup!
One that we love is the Cucumber De-Tox Hydra-Gel Eye Patches from Peter Thomas Roth. These are infused with cucumber extract that naturally soothes, hydrates, and de-puffs the look of the skin. These are very soothing and feel amazing, especially in the mornings.
Another fave is perfect for our wine-loving girlies. The Rosé Eye Gels from Patchology have essential nutrients like hyaluronic acid which is super hydrating and made with antioxidants to help reduce the signs of aging.
LED Light Therapy

If you haven't tried LED light therapy, you need to. These LED face masks use different spectrums of wavelengths to penetrate the skin. Each spectrum of light creates a different color that targets specific skin concerns such as acne, wrinkles, and fine lines.
The red light helps increase circulation and stimulates collagen which helps reduce the appearance of fine lines and wrinkles with an instant boost of rejuvenated skin, the blue light targets bacteria which can help reduce acne, and the green light can be used for hyperpigmentation.
While it does take a few weeks to notice any visible changes to the skin, having one of these on hand in your daily routines is a game-changer to your skincare routine. The Skin Gym Revilit LED is a great option. It's small enough to take with you on the go but is still effective and can be used to target smaller areas.
Silk Pillowcase

Improving your hair and skin can be so easy, you can do it in your hours of sleep. Using silk pillowcases is a simple way item to include in your daily beauty routine and it has so many great beauty benefits. Silk pillowcases also don't need to be washed as often as cotton pillowcases because they take in less moisture, making them less likely to have dust and bacteria from your skin.
For your hair, silk pillowcases help retain moisture that comes from products and the natural oils in your hair. Its smoothness also helps reduce friction that could cause tangles, frizziness, and breakage. This could help both wet hair and hair dry from hair products.
As for your skin, the silky smooth surface won't wrinkle the skin which in the long run can cause fine lines. It also provides a gentler sleeping experience for your skin which can reduce inflammation and irritation.
Drink Water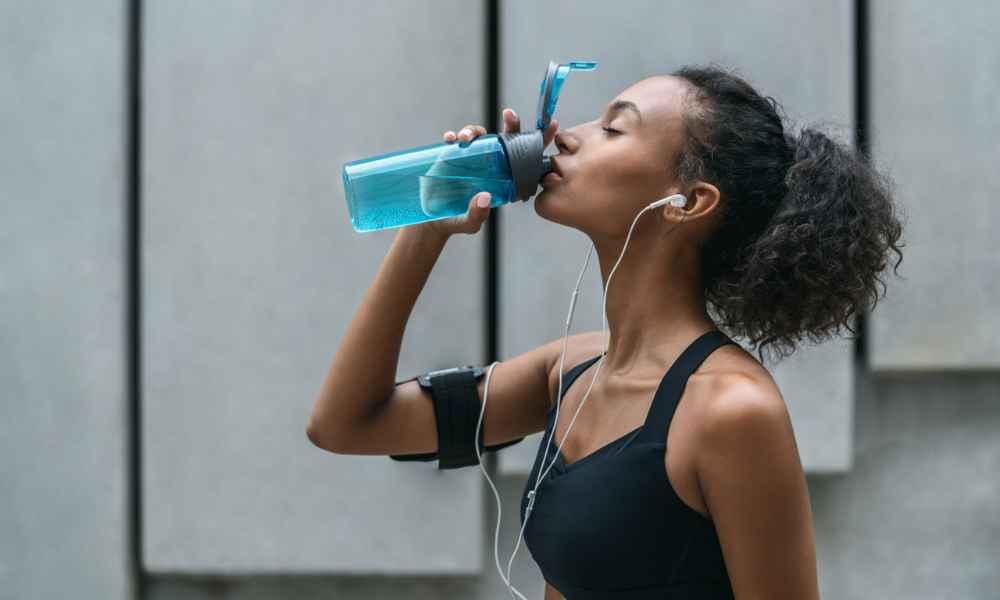 While this tip is simple as drinking a glass of water, it is something that a lot of us don't do enough! The amount of daily plain water intake can vary depending on a person's lifestyle but, everyone should be drinking AT LEAST 8 cups a day. Drinking plenty of water has so many benefits, especially for your skin and that natural glow we all want.
Reduce the look of dehydrated skin by drinking lots of water. Not only will your body be hydrated, it does to your skin too, helping you feel hydrated, refreshed, and have a natural glow. Increasing your water intake can also flush out the toxins in your body which can prevent skin problems such as acne, wrinkles, and clogged pores.
Final Words
We're not saying you have to go buy all these products right now (not judging if you do tho), but adding just one of these to your daily basis beauty routine will give you the healthy, rejuvenated skin that we all want and need. One more reminder: don't forget to drink your glass of water and always wear sunscreen!
Sunscreens that won't clog your…
How can I look beautiful naturally every day?
Tips to improve your skin's health from the inside out. Exfoliate, moisturize, and clean. Maintain good personal hygiene. Style your eyebrows. Take care of your smile. Pamper your hair. Dress well. Eat well.
How do I start a daily beauty routine?
The steps to a proper skincare routine are as follows:
Rinse your face with water both in the morning and at night.
Gently massage some cleanser into your face.
Apply toner, serum, eye cream, and eye cream.
Apply spot therapy.
Apply moisturizer.
Utilize retinoids.
Oil your face.
What is your daily beauty routine?
Consider your skin care regimen as having three essential steps: Face washing is the act of cleansing. Skin balancing by toning. Hydrating and softening the skin is what moisturizing does.
Disclaimer: This post contains affiliate links. If you buy an item through one of those affiliate links, Successible Life may get a small commission at no extra cost to you. This helps keep the blog running so we can continue to provide you with the best content.