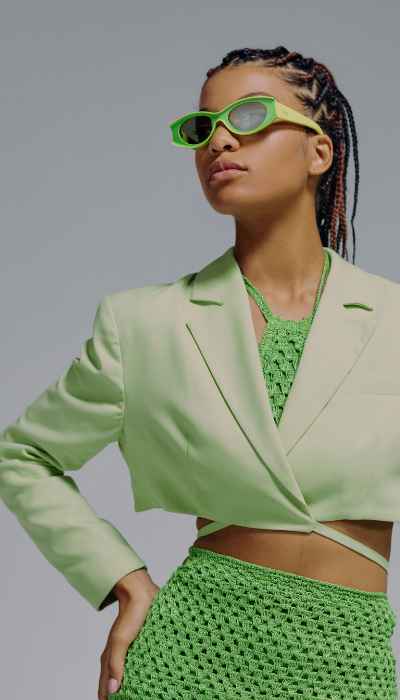 Today we are going to talk about our favorite statement-making divas! We are sharing the celebrity style icons that every modern woman should follow for their style inspiration. Celebrities are famous not only for their natural talents like acting or singing but also because of their ability to set fashion trends. As we all know, putting together an outfit isn't as easy as it looks! If you have ever felt like you have nothing to wear in your closet or just need some help putting some outfits together, celebrities can be a great source of inspiration since they tend to use cool clothing brands. There's so much fashion inspiration we can gain by looking at the celebrities we love.
With so many stylish stars in Hollywood, here are our favorite celebrities who wear some of the coolest clothing brands. From Cardi B to Kehlani and from Balmain to Fashion Nova – we have it all! Keep reading to get some inspiration.
Cardi B has always had an air of confidence displayed in her demeanor, especially through her eye-catching outfits. She has managed to become a style expert in her ever-evolving career. One of our favorite looks from the rapper from the Bronx is when she paired a Boite Chapeau Louis Vuitton bag with a matching Louis Vuitton monogram two-piece set.
The ensemble was originally a Louis Vuitton skirt for which Cardi B's stylist collaborated with Los Angeles tailor Sir Baba Jagne to create this one-of-a-kind ensemble. The 27-year-old rapper took her couture ensemble to the next level by having the brand's famous monogram printed on her long blonde ponytail. While this look may be one of Cardi's tamest looks, it's going down as one of her most high-fashion looks from head to toe.
Cardi's custom Louis Vuitton look may not be in everyone's budget, but Doja Cat's look is definitely in everyone's budget. Following in the footsteps of artists like Lil Nas X in mastering internet culture, Doja Cat is the latest musician with an uncanny knack for turning everything she touches into social media gold. The singer and rapper are best known for making viral TikTok hits, including "Say So" and "Juicy". She is now also a fashion queen for her millions of Instagram followers.
La La Anthony loves that she can help women everywhere feel strong, sexy, and motivated in their skin. She has been at the fashion game ever since she was a VJ on Total Request Live on MTV. She even started her own fashion company, 5th, And Mercer. During the quarantine, however, La La has taken a more casual approach to fashion.
And by casual for La La, we mean Chanel 😉 – La La paired this 2003 vintage, nylon logo Chanel top with some sexy black leather pants, and she was ready to step out to her grocery run. If only we could all wear Chanel to the grocery store.
There is no doubt that Normani is a star ⭐️. Formerly the best dancer in Fifth Harmony, she broke out with her debut single "Motivation" in 2019. Normani always makes fans drool by shedding her usual outfits and donning something much sexier.
That's the message Normani is sending with this stunning campaign full of photos to model RiRi's SavagexFenty lingerie line. We all deserve some sexy lingerie to feel amazing in our bodies, and we couldn't think of a cooler brand than SavageXFenty to make us each feel like a woman.
In her everyday life, Kehlani prefers a more relaxed and tomboyish style. Last year, she made a statement saying that the clothes she prefers are oversized sweatpants and tank tops. Kehlani has been all about the 2020 mood since before 2020 even started. However, it's noteworthy that 2020 seems to have had the opposite impact on Kehlani as one might expect – she's been posting some serious high-fashion looks and playing dress-up during quarantine. Who could blame her?
Kehlani is rocking a gorgeous, sparkly Balmain top, and whether you are just playing dress up or have an event to attend, we stan sparkles! Balmain has dressed everyone from the Kardashians to JLo, Beyonce, and Rihanna, so who would not want to have at least one piece of Balmain in their closet?
As we all know, Kylie Jenner is a media personality, socialite, model, and businesswoman. With over a decade-long run in reality TV, her famous half-siblings, and her own billion-dollar business, we all want to be like Kylie.
Kylie is known for her trendsetting fashion and beauty ensembles, and this one is no different. Kylie is rocking Bottega Veneta from head to toe, including their signature chain-link earrings, a chain-link purse, and a super sexy white shirt-fitted dress. Of course, Ms. Kylie J only wears custom, so this dress was made just for her. Fortunately, there are some great options if you want to recreate this look at a much lower price tag.
Bella Hadid is fashion. From the runway to the street, there's one thing that is undeniable about Bella – this girl knows how to dress! Even though Bella has access to the best of the best and could wear her runway pieces out and about, she chooses to stay low-key when she's in a casual environment. Whatever she wears becomes an instant style hit, and this is the look we want all of you to be wearing!
Bella Hadid is no stranger to making a statement. As the elections are approaching, we all need a little encouragement to exercise our right to vote! Bella has chosen to take a political stance with her clothes and encourage people to do just that – get out there and VOTE! If you want to replicate this casual look, grab this top from Michael Kors and pair it with your favorite Levi's jeans. Throw on a tan trench if it's getting nice and cool outside, and you are ready to hit the town!
We hope this celebrity looks inspired you just as much as they inspired us! These ladies get so much buzz for their natural talents, and they seem to set all of the latest trends in fashion. Celebrities have access to the coolest fashion brands, and while we know not everyone can have a closet full of Chanel, Bottega, and Balmain, we can all dream, right? If you're feeling extra inspired, we would love to see your celebrity copycat looks on Instagram with #SuccessibleFashion; if we love your look, we'll even feature you in our feed! 😉
What is the longest top fashion brand?
And Hermès comes out on top! The French fashion firm is the oldest luxury company in the world that is still in business. It was founded by Thierry Hermès in 1837.
What is the hottest fashion brand right now?
The hottest brand in fashion right now is undoubtedly Prada.
What is Gen Z expecting from brands?
In addition to looking for sustainable standards, inclusiveness, and fair labor practices, Gen Z expects companies to be agents of social change. Brands may produce content with a social impact by focusing on how people, the environment, and their products are treated.
Here are a few hand-picked articles for you to read next:
Disclaimer: This post contains affiliate links. If you buy an item from cool clothing brands through one of those affiliate links, Successible Life may get a small commission at no extra cost to you. This helps keep the blog running so we can continue to provide you with the best content.