Let's be honest: advertisers who watched "Mad Men" decided that a gorgeous vintage bar cart would entice just about anyone to buy the products they were selling. Bar carts are definitely a nod to nostalgia and cozy parties where the mixology behind drinks was revered as an ultimate hostess feat. However, there's more to a bar cart than cheap liquor bottles and little fancy umbrellas. Ultimately, bar carts are an opportunity to showcase your individual style and creativity.
To start off, every single item on a bar cart should be aesthetically pleasing as well as useful. The most pressing question you may have is how to even go about creating a stylish bar cart. Well, we are about to show you how to wine and dine not only others but yourself as well.
Bar Cart Style
Before you start styling a bar cart, you have to actually get the bar cart. The actual bar cart is the main aesthetic that will draw the most attention. There are many factors to consider before committing to buying a bar cart, such as shape, size, and how many tiers you want in the cart.
Also, there are multiple shapes to a bar cart and multiple tiers depending on what you decide. The price of a bar cart may also be a factor for you. Stores like Target have bar carts that start at $80 and go up from that price depending on quality and design. We especially love this beautiful cart from Target that retails for $241 and reeks of elegance and "Mad Men". This oval, 2 tier bar cart shines with rose gold and delicate details, including mirrors on the bottoms of each tier. Carts like this allow for the bottle to be more visible, which means styling is important.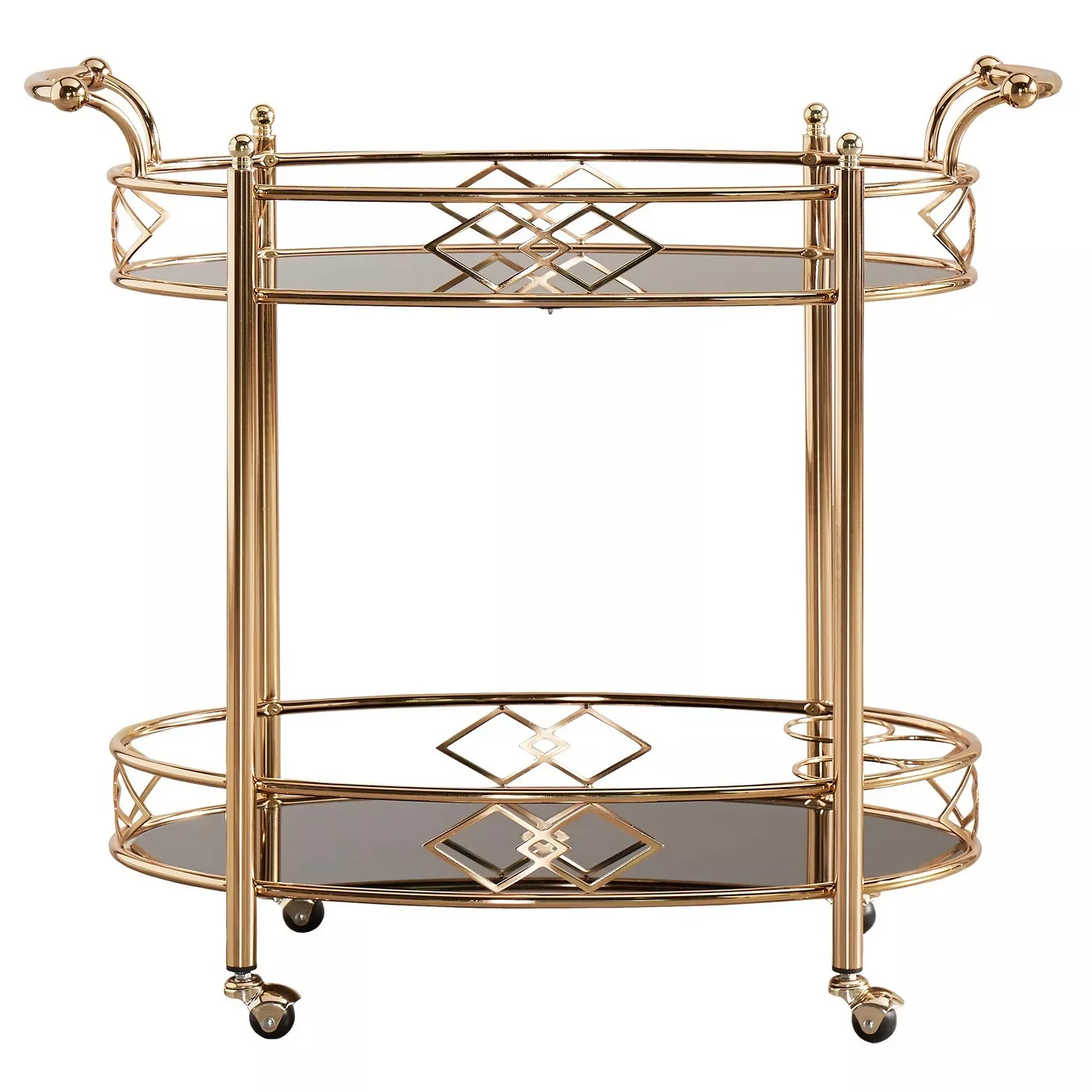 Photo by Target
Next up, perhaps you want something with a little more of a rustic feel. This square shaped bar cart from Wayfair even has space for wine bottles and glasses. The design features a dark gray rustic feel that focuses heavily on functionality and brings the idea of the bar cart to a more accessible and innovative design audience. Ultimately, whichever design you pick, there are styles to fit any feel.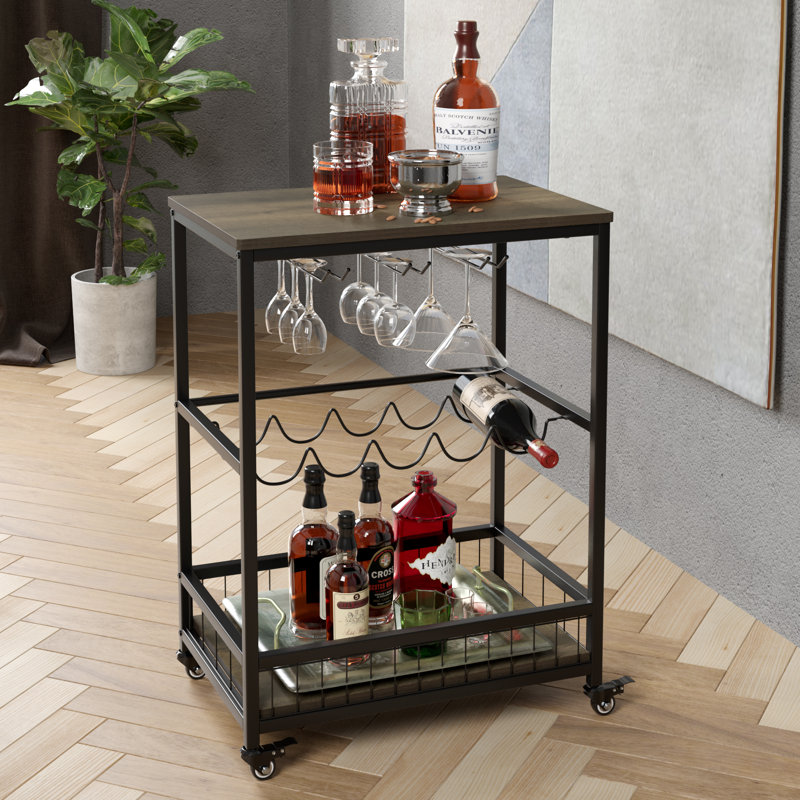 Photo by Wayfair
Or maybe you want something completely unique in addition to the bar cart. Well, Wayfair can take you back with this nostalgic cart. This 4 wheeled, 2-tiered cart truly encompasses the elegance and opulence of the Gatsby era of bar carts. While a bit pricey, this cart is a piece of artwork that will have you gazing at it for years to come.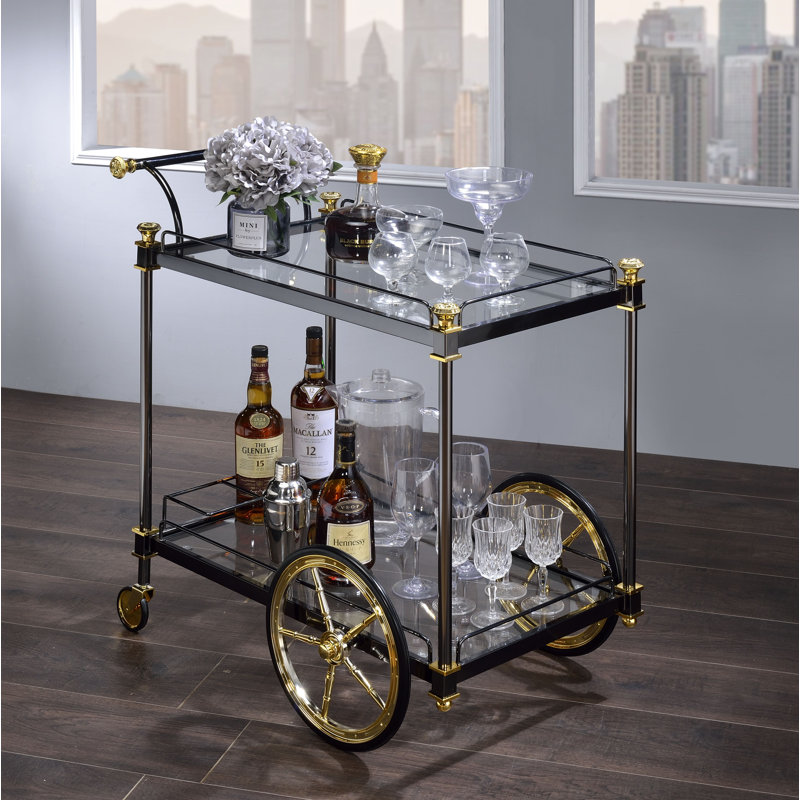 Photo by Wayfair
Bottles
Once you have your beautiful bar cart, it's time to pick decorative bottles. Some liquor is housed in ornate and vintage looking bottles, but sometimes you want to shake things up. Some fun things to add could be this gold shaker from Target or ice bucket from Amazon. It's important to recognize the limited space on a bar cart, so be selective about what you display.
Remember, cabinets can hold lots of things, but bar carts are meant to be decorative and for easy access. The bottles you display should be things you use constantly. When picking out your bottles, decide if you'll adhere to a Mad Hatter different bottles only approach or a uniform look. Personally, an eclectic bottle is more our style with ornate bottles like these found at Target.
Another fun trick that people forget about is lighting the bottles. It's absolutely lovely to enhance your set up with stand-alone LED lights or even some beautiful fairy lights like these from Walmart. Small delicate fairy lights can be wrapped around various bottles so that they have their own vibe.
Don't shy away from colored lights; as with anything, a little pop of lighting or color here and there can truly accent the bottles to make a bold impact. Also, lighting on your bar cart is especially fun if your cart is in a dimly lit room or a center piece at a party. 99% of bar carts are on wheels, which means they can be rolled to the center of any party for easy access.
Additionally, whether you chose an eclectic or mono bottle theme, you may want to vary the sizes when picking out bottles. This allows natural space and creative eye gazing to occur. By the way, creative eye gazing makes all the pretentious art folks go wild. Different bottles create such beautiful art.
Décor
View this post on Instagram
Ultimately, after you pick out your bar cart and style it with the bottles you want, you need to investigate little accent pieces. This bar cart is functional, but it needs to scream your individual style. If a thief stole your bar cart, would anyone be able to tell it was your cart? You maybe asking yourself how to you style your bar cart.
Well, it all starts with your aesthetic. For example, we love books! This means getting some vintage style bar books to place on our carts to really enhance our hipster millennial vibes. Or perhaps you're more into the floral scene. If that's the case, a simple or ornate vase with real or fake flowers may seal the deal for you. We would even stack the books and then place a vase with flowers on top to add texture and varying heights.
When it comes to styling, you have to take into account how many tiers you're working with as well. Understanding how to create a uniform look that is free from unnecessary clutter will keep your bar cart as an exciting talking piece as well. As far as decor goes, your bar cart is a piece of artwork that will prompt discussion. For example, some enjoy rotating bar cart decor to match the seasons. Maybe for a season you have this spooky boujee situation that would make Morticia Addams proud, while other times you're a rustic queen who reeks of succulents.
Finally, don't be afraid to have containers to hold smaller things on your bar cart. Amazon has some incredibly diverse containers, such as apothecary jars, that really add a special touch! Really honing in on containers, take a moment to assess what you truly want on your cart. To be fair, you may be a secret ninja and want to hide throwing stars in a jar. We support that, which is why it's even more important to figure out what YOU really want. If you're a spiritual guru and you want crystals to sit on your bar cart, then do it.
All in all, your bar cart is far more than just a bar cart. A bar cart is an investment in your own creativity and artistry. And if you prefer to stay sober, you still have plenty of reason to keep one around! A bar cart can make an excellent tea or coffee cart, especially if paired with a vintage typewriter.
The possibilities are endless, but that means you're going to have to set aside some money to make this happen and plan it out. Don't just go into bar styling blindly, since that could end up costing you a fortune. We're all for helping you have a good time, but treat this as an exercise of both creativity and frugality. Remember, good taste doesn't come with a price tag.
Here are a few hand-picked articles for you to read next:
Successible Life is a participant in the Amazon Services LLC Associates Program, an affiliate advertising program designed to provide a means for sites to earn advertising fees by advertising and linking to Amazon.com.