Before you hit send on that e-mail, make sure you look like a million bucks.
Monday is the start of a new work week, and while some of us are commuting to work in our power suits and high heels (me, I'm lucky if I make it out of yoga pants every day), there's a whole other crew who opts to work from home. And whether you're one of those commuting to work or working from home, it's always important to make sure you look put together. Thanks to these fashion editors, we have the perfect work-from-home outfit ideas for you to steal with minimal effort:
Here are our top picks
Pair a Cute Top with Comfy Pants
Worry not; Lunya has some great options regarding this topic. Have fun with it! Just because you have the privilege of working from home doesn't mean you can't get dressed up now and then. You can pair a sexy top with comfy pants and make your pajama-inspired outfit. If you feel a little frisky, pair this material with a sexy lace-up front top, tie, and leather jacket. You can dress it up or down depending on your commute to the office!
The Slip Dress+ cardigan
If you're working from home or taking on a remote customer support gig, a fashionable slip dress and a cardigan are your best bet. The cashmere cardigan will keep you warm as you work, while the dress's split neckline and lose fit will make all the difference. Wear a pair of ballet flats to keep your look cool and modern. This piece is also easy to put together. Throw on the slip and cardigan in the spring morning, and get to it!
The Slip Dress+ blazer+ tee
If you're looking to jazz up your work-at-home outfits, adding a basic slip dress to your repertoire is a quick and easy way. The ultimate office dress code go-to, this fine piece can be worn with everything from a blazer to a vintage tee and heels. Just make sure to accessorize accordingly so your ensemble doesn't read as overly casual.
The Velvet Sweater+ denim
This mix-and-match combination has come to my rescue for years. It's not just about mixing the colors because it's also about mixing the textures. The juxtaposition of the textured sweater against the smooth fabric of your denim gives any outfit a pop of unexpected flair.
Work appropriate scarf
Keep yourself warm while working from home by adding a scarf or cozy blanket. A blanket is so easy to make: just cut a piece of fabric and sew the two ends together or buy a $10 one on Amazon!
Pop on cute flats
Fashionable flats are an easy way to dress up an outfit. The best part is that they're comfortable and can be worn all day! Pair them with jeans, leggings, or even your favorite pajamas.
Graphic T-Shirt
Although you can never go wrong with your classic graphic tee, you can try mixing it up by not just picking one that's funny or ironic but also one with a pattern! A pattern will add another dimension to your outfit and play into the idea of adding contrast for an interesting one.
The Bodysuit+ long blouse+ sweater
This is by far the most flattering, stylish wardrobe garment I've ever owned. I mean, look at those arms! The secret to getting the perfect fit is wearing the top with no bra (at least for me). Otherwise, you'll have too much fabric upfront. That said, if there's one thing I've learned about bras over the years, it's that what works for me might not work for you–so the long blouse is a great option, too.
Mix and match your pajamas with adulting pieces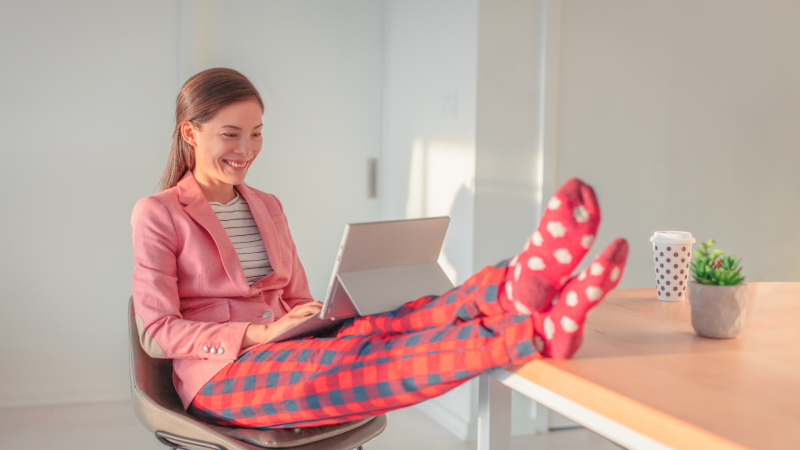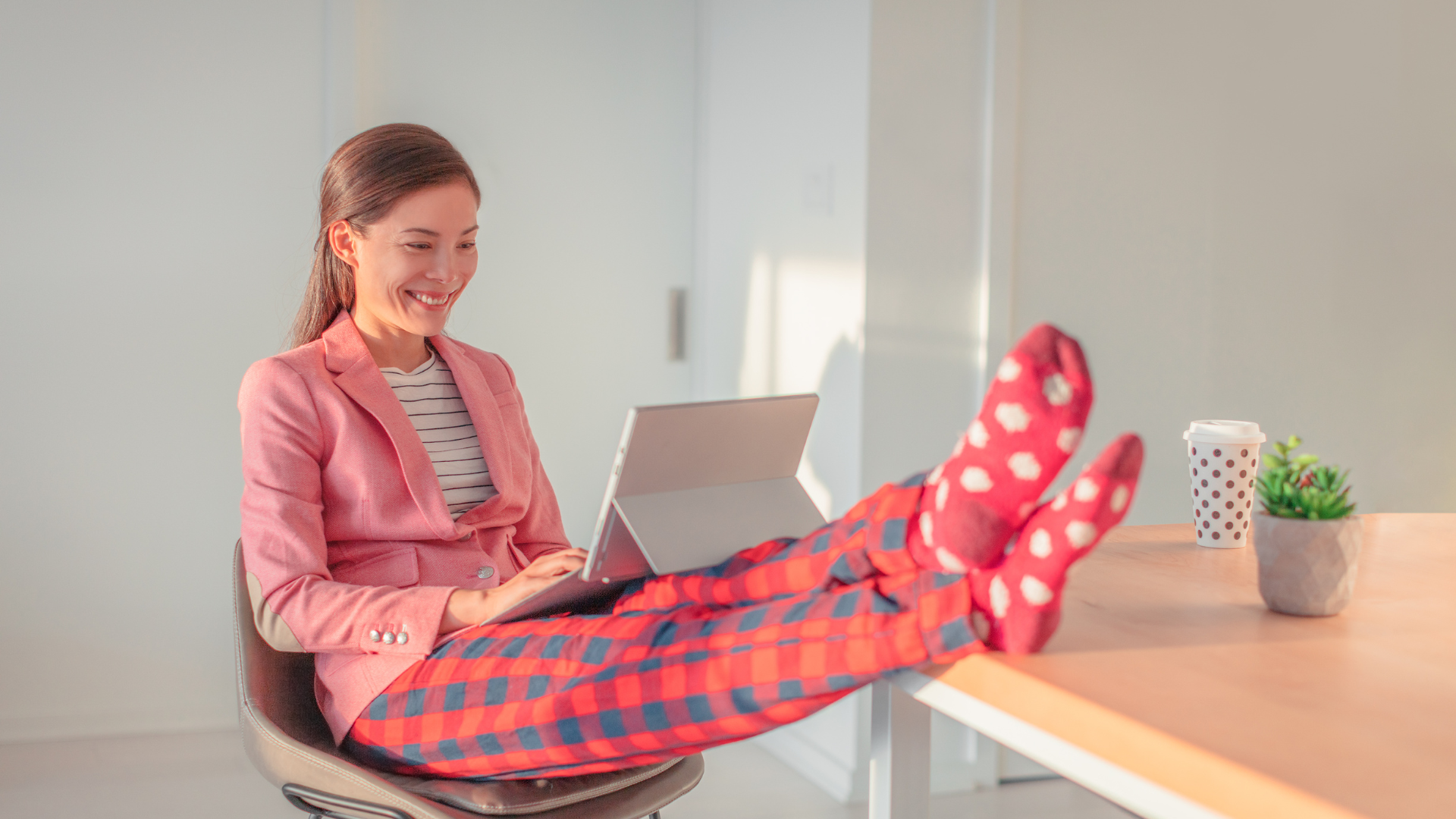 If you're ready to sneak out of the house for a day of productive meetings with clients, the key is finding a middle ground between looking sexy and professional. You can do this by layering your favorite work clothes over your PJs or by pairing your pajamas with adulting pieces like slacks, an awesome blazer, a blouse, and some killer heels.
Super Comfy Black Leggings
It doesn't matter what kind of day you're having; black leggings can instantly make it better. They're the ultimate versatile item. You can wear them with a dress, a t-shirt, a skirt, your favorite pair of belt loops, heels, or shoes…this is why they're always in my go-to work outfits.
Wear a T-shirt and jeans for comfort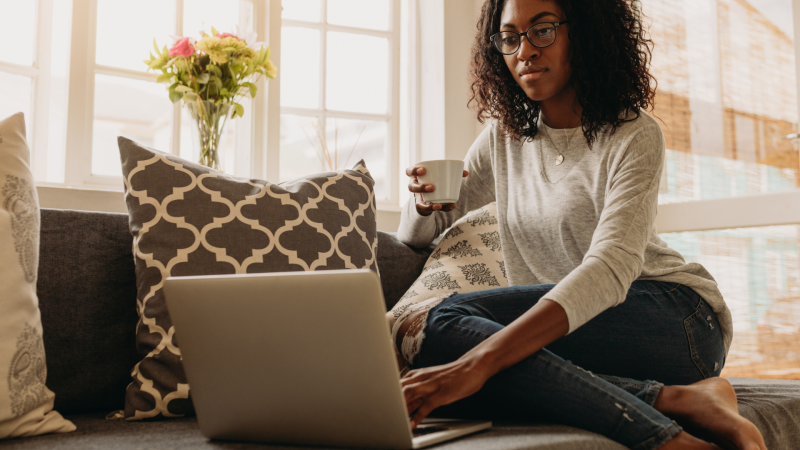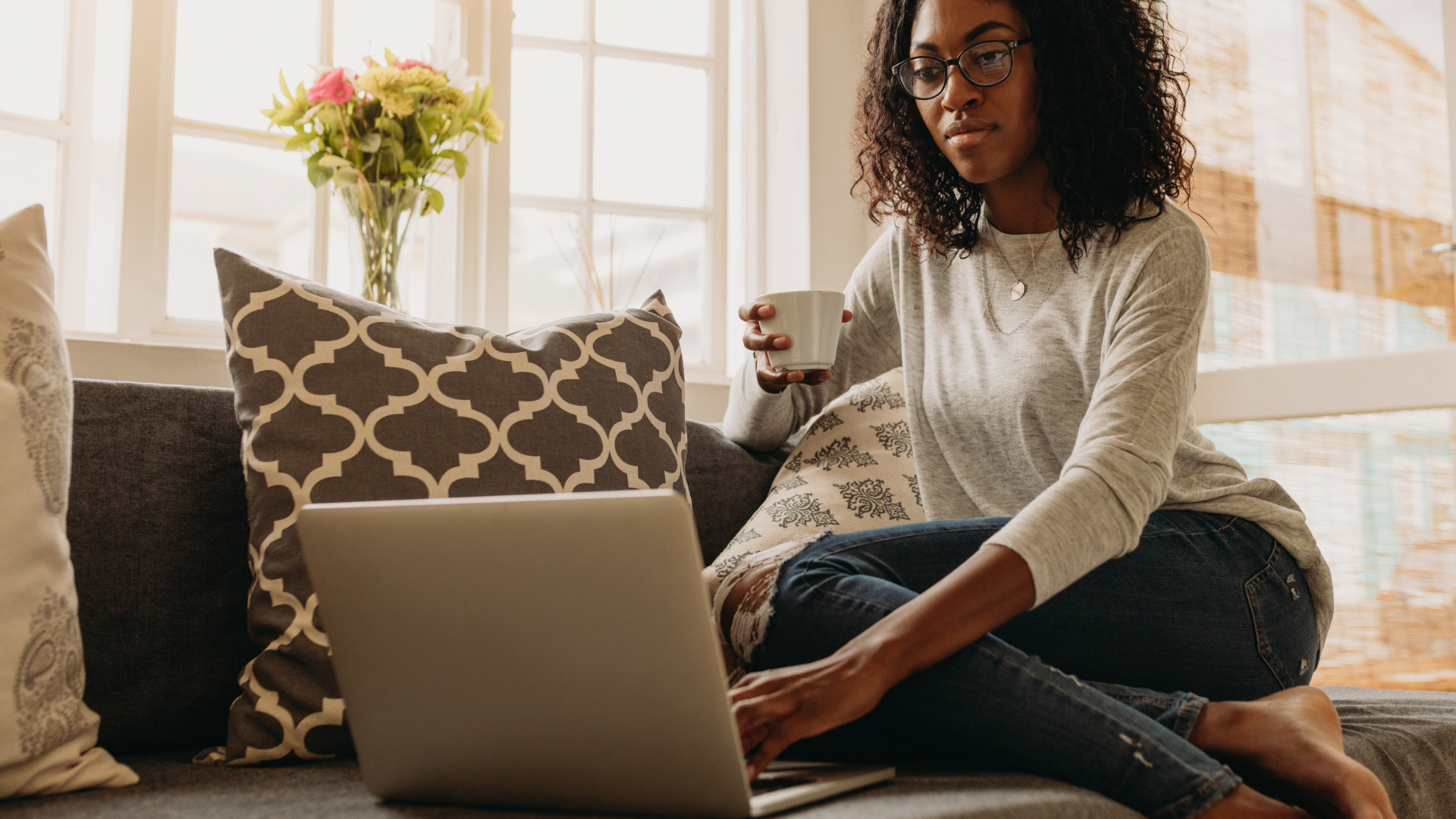 You'll want to be in your most relaxed outfit for a no-holds-barred Netflix binge with your best friend or a walking meeting with your BFF + CEO. But, you also want to look great, so keep the jeans, but go for ones that fit like a glove and look sharp with a button-down shirt. You can easily make this business casual look work for business meetings, too — just swap the button-down for a blouse. Layer on your favorite elastic waistband or jewelry for an even more polished look.
The sexy dress
This fashion style is about more than just comfort—it's about innovation. That's why we love how this comfortable long sleeves top by Lunya combines quality knitwear with a statement necklace, print leggings, and fancy shoes.
The Velvet Top + jeans+ boots
It's accepted that the usual way to work from home is with your pajamas on. And while soft clothes are critical, it can be a bit more tricky to look polished than you think. According to stylists and entrepreneurs who run businesses from home, the secret is to look pulled together and professional. And what better way to do that than by adding a pop of color! Karyn Bosnak, author of 20 Times a Lady, says a red velvet top is her secret weapon because "it makes me feel like a million bucks." "[It] is an easy way to shine at home or if I have a virtual happy hour or video call," she adds.
And while no one is paying me to write this home outfits post, I'll give you one last piece of advice: "be the boss babe in your PJs."