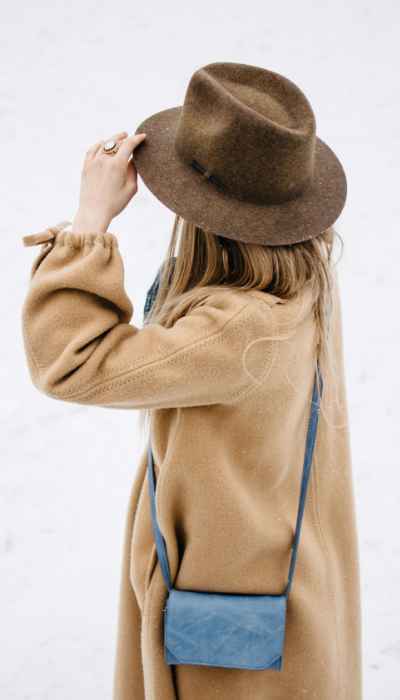 As every season comes and goes, deciding what to wear can be incredibly important. With fall coming to an end and winter quickly approaching, mornings are getting darker and chillier, making it harder to get ourselves out of bed, let alone worry about what to wear. But while some see women's winter fashion as a challenge, others view it as an opportunity.
Maintaining a sense of chic while amid cold weather does require some ingenuity. It's easy to forgo style in favor of bundling up and staying warm. However, if you're anything like me and look forward to the winter season as an opportunity to have fun with clothes, then you probably can't wait to add new fabrics, textures, and layers to your winter wardrobe.
Just to make sure that you're 100% prepared for the dropping temperatures this year, your first order of business should be to check your closet. What do you already have in your winter wardrobe? Further, what are you lacking? You could even look at any pieces that are old or maybe just need an upgrade.
Once you have taken a look at what's already in your winter wardrobe, it's time to look for what you would like to add. To help you this winter season, we have put together nine seasonal (and stylish!) women's winter wardrobe essentials to get you looking and feeling your best this season. So go forth! And as always, chose the items you know you'll want to wear year after year.
Winter Coat
Winter Clothes for Women
The first big buy of the season should be a coat. In other words, your outerwear is the most important aspect of your winter wardrobe, so why not make a statement? While trends come and go, a classic coat is always there to bundle you up in style. Whether you love long or oversized coats, a heavy-duty puffer, or a current favorite of mine (the teddy bear coat), go for the best options that flatter your figure and put the focus on your style.
For those casual days when you're out running errands, a winter coat can easily envelop a less-than-perfect outfit underneath. In fact, you'll see that having a good winter coat is definitely worth the investment to help keep you warm and fashionable right up until spring!
Style Tips:
Pick one in a classic neutral — navy, camel, black, or gray — and one in a bold statement hue.

Look for modern silhouettes and fashion-forward details to stand out from the crowd.

Consider a looser fit to ensure wearability over chunky layers.
Knit Sweater
Winter Clothes for Women
Sweaters are the heart of winter-weather layering. In fact, a chunky sweater will become your best friend during the cold season, so try to purchase as many as you can in different colors and cuts. Besides, they are warm, comfy, stylish and so easy to wear that you simply can't stop loving them. Knit sweaters are just the perfect layering piece to go with basically everything else in your winter wardrobe, including midi skirts, jeans, printed trousers, and leather pants. In short, there's just no substitute when it comes to both comfort and style. Get the sweater!
Style Tips:
Pair it over a dress for a quick top-skirt changeup.

Look for a relaxed fit that you can comfortably layer over a long-sleeved tee.

Stay away from synthetics in favor of all-natural fabrics.
Oversized Scarf
Winter Clothes for Women
I'm all about bundling up in the winter. A scarf is a chic and effortless addition to any winter outfit, and the bigger, the better! There are so many ways to style this cold weather accessory. For example, you can throw it over your shoulders carelessly or instead wrap it around multiple times to get warm and comfortable.
So have fun with your scarves: choose vibrant colors, different patterns and different textures to help create an unexpected outfit combination. And what's not to love about scarves? They keep your neck warm, serve as a great layering accessory, brighten up even the most boring looks and take your styling skills to a whole new level. A scarf, or if you're obsessed like me, scarves are an absolute winter wardrobe must-have.
Style Tips:
Try an "Infinity" scarf — an endless circle of comfort and cozy.
Invest in a cashmere scarf in a neutral color. You'll reach for it over and over again.

For extra versatility, find a scarf that's long enough to be worn either draped loose or knotted.
Thin Turtle Neck
Winter Clothes for Women
If you're as much of a layering fanatic as I am, a lightweight turtleneck is the underlayer of all underlayers. It works as a double-duty heat protector and style essential. You can layer it under sweaters, a sleeveless dress, or simply on its own (with maybe some high-waisted jeans) for an ultra-sleek and chic look. In fact, this is easily the most versatile piece in anyone's winter wardrobe. Investing in a turtleneck will ensure that your neck is nice and snug all winter long while still looking fashionable!
Style Tips:
Style under a sleeveless shift dress in case of an unexpected winter transition to stay warm.

Stock up on basic colors to last you all season long.
Knit Dress
Winter Clothes for Women
Just like knit sweaters, knit sweater dresses are also among the best winter wardrobe essentials. For those days when you simply cannot imagine putting on another pair of pants, slipping into a relaxed knit sweater dress is the first thing you'll want to do. Not only are they super comfy, but they're also a great way to show a little leg while staying cozy at the same time. Pair it with your favorite women's winter coat, knee-high boots, or even a scarf. Or if you're looking for something more adventurous, sweater dresses are a great way to change up your look.
Style Tips:
For added warmth, pair it with your favorite tights.
Choose from a form-fitting style or a relaxed version (depending on your preference or body shape).

Find one that is colorful but muted enough that it matches well with your typical women's winter palette.
Blazer
Winter Clothes for Women
For days when it's not puffer-level chilly, I find a well-tailored blazer to be an ideal layering piece. It can easily be layered over any blouse, t-shirt or even under your coat to create a pulled-together look while also keeping it warm and polished. Blazers are perfect for the days when you need to transition from work to happy hour or even a date night! These jackets are meant for more than just the daily grind. I think every woman can look immensely cool and fashion-forward when wearing a blazer with just the right level of sophistication!
Style Tips:
The key is to choose the right fabric, color, and fit (as close to perfect as possible).

Pair your blazer with jeans to add a dressy touch to your otherwise casual look.
Mix a printed blazer with a blouse in a contrasting pattern to get a little funky with your look.
Plaid Trouser
Winter Clothes for Women
Plaid pants are a must-have for the girl who likes to make a statement. In fact, they're the ideal way to add style and personality to an outfit. Plaid trousers really stand the test of time and promise to hold their relevance in any winter wardrobe.
Moreover, the great thing about a strong pair of plaid trousers is that ideally, they'll work just as easily with a sweatshirt and sneakers as they will with pumps and a crisp button-down. Not only do they give you an instant cool-girl vibe, but they also happen to be totally work-appropriate. Whether your style is preppy or grungy, you definitely need a pair of plaid pants in your winter wardrobe.
Style Tips:
If you are going for loud checks or tartan, keep the rest of your outfit fairly neutral, letting the pants take center stage.

If you really want to have fun with your look, try mixing and matching plaids together.
White Blouse
Winter Clothes for Women
There are few women's winter wardrobe essentials that we lean on more; a quality white blouse should probably be a staple in every winter wardrobe. Also, it's a piece I personally use all the time, no matter what the season. This wardrobe basic — far from basic itself — can be weaved into a variety of looks from day to night.
Whether it's worn as an extra layer or as a nothing-to-wear day, it's definitely a game-changer. It makes you look "put-together" even when you not really trying. Whether in crisp cotton, cool linen, or soft silk, its tailored silhouette adds a clean, chic, and modern look to any outfit, easily making it one of the most versatile pieces you can own.
Style Tips:
Instead of thinking of a white blouse as a limiting, boring piece, consider it a blank canvas on which you can create your own personal style.

Tie it up, cuff the sleeves, etc. – the number of looks you can create is endless.
Fedora Hats
Winter Clothes for Women
Finally, to finish off my wintery ensembles, fedora hats are a must-have for a number of reasons. To start, they help to keep your head warm, but they can also make a great fashion statement or simply help you hide a bad hair day. And to "top" it all off, you can always match your fedora to your outfit!
They come in so many colors, or even neutrals like the ones pictured above, that you can find one to match almost any outfit. Go for a bolder color to make it a statement piece, or even a neutral color to provide balance or to match something else in your outfit. No matter how you decide to wear them, fedora hats are a winter wardrobe must-have this season.
Style Tips:
When choosing a hat, make sure it suits your face shape and hair color.

Pick a design that speaks to your own personal style.

Choose a winter hat that matches the style of your winter outfits so that you can get more use out of it.
Conclusion
Choices, choices, and more choices! Women's winter fashion can certainly be a challenge, but it also allows for the most opportunity to cultivate your unique style. Fortunately, staying warm and looking cute is actually much easier than it sounds, since dressing up should be lots of fun with so many ways to go about it. Whichever style suits you best, just make sure that you have layers and layers of options. So cozy up with a cup of cocoa, shake off those winter doldrums and (fearlessly) start shopping for your best look yet, your winter wardrobe will thank you!
Here are a few hand-picked articles for you to read next:
Remember for our fellow Latinx readers, if you are also looking for more relevant content in Spanish please visit our Spanish site at ellatendencias.com.
Successible Life is a participant in the Amazon Services LLC Associates Program, an affiliate advertising program designed to provide a means for sites to earn advertising fees by advertising and linking to Amazon.com.