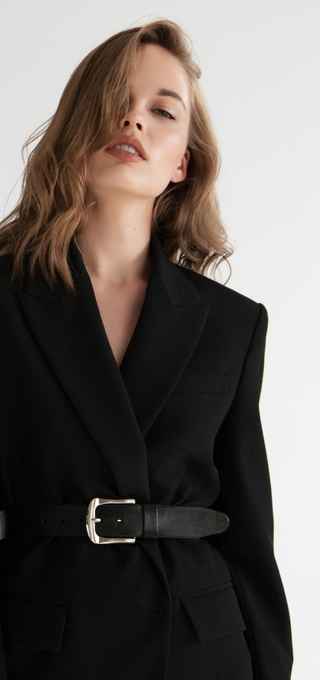 Disclaimer: This post contains affiliate links. If you buy an item through one of those affiliate links, Successible Life may get a small commission at no extra cost to you. This helps keep the blog running so we can continue to provide you with the best content.
There is nothing more empowering than the perfect blazer dress. It's stylish, smart, and chic, and goes with every season. Blazer dresses can make an old trend new and add a feminine touch that makes anybody and everybody look great. Celebrities like Hailey Bieber, Cara Delevingne, and Kylie Jenner have been spotted rocking this fashion staple recently and every woman is hopping on this fun and flirty look. Blazer dresses incorporate a plunged neckline and an hourglass figure to make anyone look stunning – and we mean anyone. 
You can find blazer dress looks by scrolling down your Instagram Feed or pursuing various Pinterest boards. The trend of revamping a men's blazer into a dress started in the '60s and made a comeback in 2019. Now, no wardrobe is complete without at least one blazer dress, and don't worry, we've provided twelve of the best ones for you to choose from.
Winter Pieces

Winter and Christmas go hand in hand, which means a classic black look is never a miss That's why you need Abercrombie's River Island Faux Leather, Blazer Dress. It has as many buttons as you can handle and hugs the body beautifully. You could pair this dress with some gorgeous sheer leggings like this Floral Mesh pair and a black handbag. Complete the look with your favorite black heel boots. 

A great bargain option and a stylish piece for the winter is this Lapel Collared Blazer Dress from Shein. This dark blue dress costs $24 and it's a great dupe for some of the more expensive designer brands. Pair this look with a nice set of gold hoop earrings and your favorite pair of flats. If you're searching for a plus-sized dress, this Double Breasted Blazer Dress is the one for you. 

If dark shades are your favorite, then Nasty Gal's Blazer Mini Dress is one you should consider. A soft grey purse like this Satchel Shoulder Tote from Amazon would complete the look perfectly and a touch of burgundy lipstick would have all eyes on you. 

I'm sure you've heard of Etsy for anything from jewelry to art, but did you know they also make stunning dresses? This Elegant Open Back Blazer Dress has amazing reviews and is perfect for any winter occasion, whether it be a simple dinner or a night out on the town. You should pair it with knee-high black boots and this Alexa Vegan Handbag.
Spring Pieces

Spring is all about pastel shades, and that is why this Lilac Blouson Sleeve Blazer is perfect for the season. We think a bright white heel and some hoop earrings would complete this outfit and make you look very fashionable. Boohoo has a lot of plus-sized options, too, like this Sage Button Detail Blazer Dress. Pair this look with this Faux Leather Satchel from Forever 21. 

Bold is better, which is why our next pick is the Baby Blue Gold Button Blazer from Pretty Little Thing. Incorporate a light blue eyeshadow, some baby blue heels, and a white anklet to make this look all-consuming. If you need a plus-sized option, try this Teal Tie Waist Blazer. Another great add-on for this look would be your favorite pair of silver earrings and a pulled-back hairstyle. 

Another affordable option for you is Shein's chic Solid Lapel Neck Blazer in the color Red and Black. You should pair this look with your favorite gold jewelry and a set of white flats. This piece will make you appear both sharp and stylish, which is the best combo imaginable. For a nice plus-sized option, try Shein's Lapel Neck Lace Up Back Blazer Dress.
Summer Pieces

Just because it's summer doesn't mean the blazer dresses go away, and our first pick is this Sleeveless Nude Blazer Dress from Pretty Little Thing. You've heard their name a lot in this article, and that's because they have some of the cutest and most stylish blazer dresses available. This look would go great with some silver bracelets, dangle earrings, and white heels. You could also pair it with this simple White Handbag from Amazon. A similar plus-sized option is this Hot Pink Blazer Dress.

If you're a fan of the previous wrap blazer dresses, you'll love this one. Rock the summer look with Boohoo's Sleeveless Blazer Dress in the color Camel. Nude heels and a beige purse would make this look a fashion statement for the ages. If you live in a hotter region, this sleeveless option won't leave you feeling sweaty and gross. It's the perfect combination of sweatproof and chic.
$129
Another great choice is short-sleeved blazer dresses, like this Cut Out Blazer Dress from Zara. This one is different from the other choices, but it's still the right amount of stylish and eye-catching. This look is a little more simple, and some may even call it elegant. You could pair this with your favorite set of diamond earrings and white flats. 
Fall Pieces

If you're looking for something simple and chic, this Black Wrap Blazer Dress is the perfect option for you. It doesn't have a flashy pattern, but it's guaranteed to hug your body perfectly and capture all eyes in the room. If you're searching for a plus-size option, this Black Belted Blazer Dress works just as well and makes anyone look stunning. Pretty Little Thing has a lot of blazer options for all body types, and you can search for more of their staple pieces here.
$59
This next option is perfect for all pattern lovers. This stylish Plaid Blazer Dress from Venus incorporates dark blues, reds, and blacks to capture anyone's attention. There are even cute golden buttons for a nice touch of contrast. This dress goes great with your favorite pair of hoop earrings and has sizes ranging from XS to 3XL.

If you're on the hunt for a gorgeous bargain piece, this Beige Collared Blazer Dress from Shein is just what you need. For only 28 dollars, you can match the tone of fall and make a fashion statement. This dress would go great with a small handbag like the affordable White Quilted Purse. A great plus-sized option is this Solid Belted Blazer. Style this piece with an elegant pair of diamond earrings and some white boots for the full effect of fall.

Last, but certainly not least, is Romwe's gorgeous Gold Button Blazer Dress. This piece goes great with a small gold purse and a pair of heels in the same shade. You could also incorporate some gold jewelry like necklaces or bracelets to complete the outfit.
Conclusion
This list makes it even more clear that blazer dresses aren't going anywhere, and adding them to your wardrobe is a great choice. You can use these picks to recreate recent celebrity looks and make a fashion statement no matter the occasion. Happy shopping and don't forget that bold is better.
Are blazer dresses in fashion in 2022?
The blazer dress, which was once a mainstay of 2010s fashionistas, is back in vogue for 2022. The ideal appearance for a strong, successful woman, the design also communicates playfulness and even a sense of humor.
What dress to wear with a blazer?
Wear a fitted blazer over a fancy dress to draw attention to your body's contour. For formal events, knee-length (or longer) dresses are ideal. Loose-fitting dresses can wrinkle under a tailored jacket, so straight-cut dresses typically go best with fitted blazers.
Is a blazer dress formal?
Consider the blazer dress, sometimes known as a tuxedo dress, as a contemporary look for unconventional or less formal occasions. The concept creates a chic and stylish yet uncomplicated bridal look for ceremonies in City Hall or in a patio.
Here are a few hand-picked articles for you to read next:
Successible Life is a participant in the Amazon Services LLC Associates Program, an affiliate advertising program designed to provide a means for sites to earn advertising fees by advertising and linking to Amazon.com.