Get in the Christmas spirit with some cute holiday home decor! We love the holidays, but it can be overwhelming with all the shopping, baking, and decorating you have to do before Christmas. Don't let the chaos of this season turn you into the Grinch. Decorating for the holidays should put you in the holiday spirit.
We're here to help you with some great ideas for your holiday home decor!
Traditional Theme Christmas Decor
If a Christmas tree decorated in red, green, and lots of garland gives you the nostalgia of your childhood, then the traditional holiday decor might be for you. This classic holiday look will never go out of style.

The Colossal Knit stockings from Pottery Barn remind us of something your grandma would knit you. These stockings will give your holiday home decor a cozy warm feel. They are on sale right now.

We love this set from Wondershop! These red, green, and gold shatter-resistant ornaments will give your Christmas tree a traditional feel. The various shapes and finishes will also add some visual interest.

These fun, festive traditional Steward Plates from Pottery Barn are perfect for your Holiday dinner parties. This collection from Pottery Barn features the traditional Christmas colors: bright reds and greens. They are dishwasher safe, which is great for fast cleanup.

This garland from Wayfair makes decorating your traditional mantel a no-brainer because it comes pre-decorated. The garland is pre-decorated with red, gold, and green ornaments with glitter and berries. This classic traditional garland is a must-have this holiday season.

This Christmas train set from amazon will look great under your tree for the holidays. This is a Christmas tradition for a lot of families and it will give your home a nostalgic, traditional feel. It is easy to set up and battery operated.
Winter Wonderland Theme Christmas Decor
If you dream of a white Christmas, sitting around a fire with a cup of hot chocolate, then a winter wonderland theme will be perfect for your holiday home decor. This theme is a fun way to make you feel you are living in a winter wonderland with snow outside even if you live in a place like sunny Florida.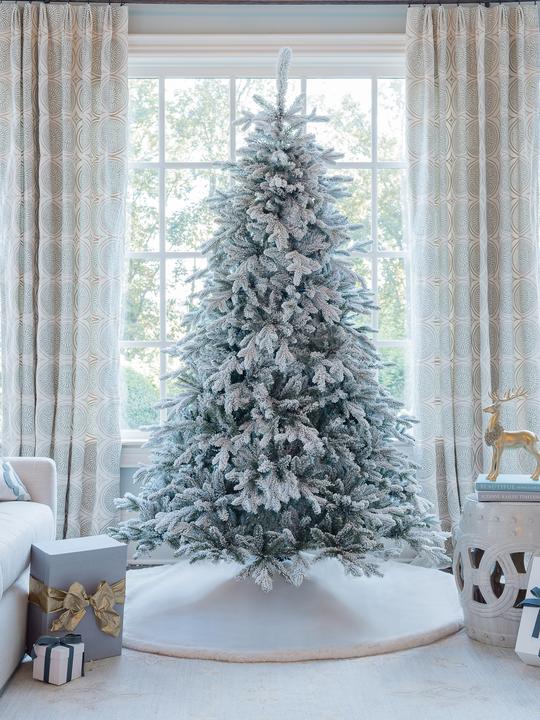 King of Christmas has the best flocked Christmas trees. This faux tree with snow looks realistic without all the pine needle cleanup and watering that comes with a real tree. This Christmas tree's snowy branches give off a winter wonderland feel.


These Santa Claus mugs from Pottery Barn will look great to style with for a hot cocoa bar station in your home. All you're missing is some mini marshmallows and sprinkles for toppings. We also love hot cocoa mix from Williams Sonoma. This velvety hot chocolate is delicious. The best news is these Santa Claus mugs are on sale right now!


These faux fur Christmas stockings from Target will give your home a luxe, cozy feel for your winter wonderland-themed decor. Hang them on the mantel with these Zinc Sitting Reindeer Christmas Stocking Hooks from Crate & Barrel.

Instead of using a traditional tree skirt, use this solid chunky cable knit throw blanket from Target as your tree skirt. This will help add the winter wonderland cozy vibes.

This set from amazon would also be cute on your mantel to complete the winter wonderland look. This set will complete your holiday decor and create an ambient village in your home. It comes with 13 trees, 9 village buildings, and 18 battery-operated tea lights.
Glam Theme Christmas Decor
If you want to stand out from the crowd and make your house unique, you should go with the glam theme Christmas look. This decor is great for people who would rather have rose gold, blush pink, and champagne colors in their home rather than the traditional red and green. This look gives off a fun influencer vibe.

The assortment of pink and gold ornaments from Amazon will give your tree the glam look. Be sure to add feathers, ribbon, and twinkle white lights.

We love Anthropologie's champagne flutes. They are blush pink with a 24-karat gold rim that will give your bar cart a glam holiday look.

Add one of these holiday reindeer as a centerpiece to a tablescape or mantel. This reindeer statuette has gold glitter and sequins that will shine and sparkle in the holiday lights.

Hang these faux fur stockings from Target over your fireplace. The blush pink fits amazingly with your glam Christmas decor and will match your ornaments.
Summary
We love all these holiday home decor styles. Whether you go traditional, winter wonderland, or glam, your home will look festive and fun. We hope these items complete your holiday look and bring you holiday cheer.
Check Out Our Other Holiday Articles!
Successible Life is a participant in the Amazon Services LLC Associates Program, an affiliate advertising program designed to provide a means for sites to earn advertising fees by advertising and linking to Amazon.com.
Disclaimer: This post contains affiliate links. If you buy an item through one of those affiliate links, Successible Life may get a small commission at no extra cost to you. This helps keep the blog running so we can continue to provide you with the best content.