Many of us were forced to let our hair fall to the wayside during COVID-19 and have been grimacing when we pass that mirror in the morning. Now that some restrictions have been lifted, you may be deciding it's time to spruce up that 'do and try something new. We've got the best hair treatment options for you to try out in the Orlando area!
Dolce Vita (which means "the sweet life") is all about helping their guests to look and feel beautiful – both inside and out! Their team is committed to providing a professional and relaxing atmosphere to ensure every client is treated like an honored guest. Their ultimate goal is to help you radiate with beauty and confidence. Dolce Vita's stylists and colorists are among Orlando's best, so you'll feel right at home and confident knowing you're in the very best hands.
They know the latest trends and up-to-the-minute styles, and they know how to listen. From the minute you come in to the moment you depart back into the world with a fresh new style, you'll know you've been well cared for. That's what relaxing in style is all about. It's the Dolce Vita way! Dolce Vita offers a wide variety of services, including cuts, color, extensions, and curly hair services.
About Curly Hair Services:
Jade, one of the stylists at Dolce Vita, has been doing hair for about five years and specializes in curly hair! She fell in love with curls early on in her career as an assistant, where she learned how to curl and style curls and, most importantly, how to educate guests about their hair. Over the last few years, she's developed her own very personal way of cutting and styling curly hair based on her guests' hair types and goals.
The benefit of a curly cut is that rather than cutting the hair straight or wet, it gets cut in its natural state. This means no more uneven haircuts! When you cut hair in its curly state, it's almost like shaping a hedge. This is because you're cutting curl by curl, section by section. Great curly hair is 50% cut and 50% styling/products.
You'll also get to talk with your stylist all about how to style your hair based on your goals, including how to incorporate these products and tips into your everyday styling. Another benefit? The upkeep is pretty low maintenance as well! Trims are recommended every 3-4 months (or 4-5 months if you're trying to grow your hair). Getting a curly haircut is a first and biggest step you can take to understand how to treat your hair with love and kindness!
Check out the photos below to see the transformation this client's curls made:
Envy Me Hair Salon is owned and operated by Clara Anglero. Clara is a licensed cosmetology professional with over 12 years of experience in providing customers with a full range of hair care services and building a strong client base. Clara is dedicated and committed to providing the highest quality of hair services and hair products, a clean and safe environment, and a comfy and cozy salon atmosphere. She prides herself on being an excellent listener and communicator who is always working hard to make each customer experience a positive one. Envy Me specializes in Keratin and Botox Treatment, Relaxer, Color, Balayage, African American Hair Blowout, Japanese Hair Straightening, and more.
About Japanese Hair Straightening:
Also known as Thermal Reconditioning, Japanese Hair Straightening is a permanent hair straightening method for curly, frizzy, and unruly hair. This hair straightening process gently changes the wave pattern of the hair from the inside-out. Additionally, it hydrates the hair and leaves it with a soft, smooth texture. This service typically takes over four hours to complete due to the meticulous nature and thoroughness required for a job well done.
What is the straightening process like?
First, your hair will be deep-cleansed to remove any product buildup. Protective products may be applied to restore moisture and protein when necessary. Next comes the softening of the internal bonds that give your hair its curly/wavy/frizzy shape. This is done by applying a straightening solution. After your hair has reacted sufficiently, the solution is rinsed out. Your hair is then blow dried, and small sections are painstakingly straightened with a re-texturizing iron.
After the ironing has been completed, a neutralizer is applied to the ironed hair. The bonds have now been re-formed into a straight configuration. The neutralizer is rinsed out, and your hair is dried and styled. After leaving the salon, you must wait three days before shampooing. You'll be instructed to keep your hair straight and dry. This also means that you must not tuck it behind your ears, wear a hat or ponytail, swim, exercise, etc. While this may sound like a lot, that beautifully straight and shiny hair is definitely worth it!
Some common questions
Question: Why do I need to schedule a consultation first?
Answer: Your hair needs to be assessed to see what kind of condition it is in. It is also the time for you to ask any questions you may have about the service and/or be honest about anything that may have been done previously to your hair.
Question: How long will my treated hair stay straight?
Answer: Your thermally reconditioned hair will remain permanently straight. As new hair grows in, it will need to be thermally reconditioned. The time between visits varies with each individual. You may choose to have the regrowth touched up anywhere between four months to twice a year. However, some clients find it unnecessary to have it retouched because their roots are smoother, and their initial treatment addressed the issue of unruly mid-shaft and ends.
Question: Can I have my color done on the same day?
Answer: No. You must wait two weeks both before and after treatment to have any chemical service done. Note that bleaching services are not recommended; they can compromise the integrity of the hair and affect the result of the straightening process.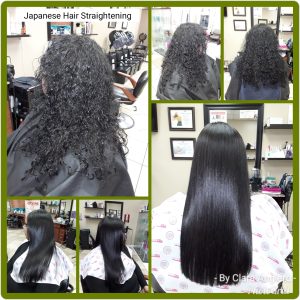 Sanctuary Salon & Med Spa, which was established in 1999, is proud to be a top choice for luxury spa treatments in Orlando by offering expert services from well-trained and highly creative hair stylists and massage therapists. At Sanctuary Salon & Med Spa, they believe in creating strong and lasting relationships with their clients through exceptional services, guest experience, warmth, and hospitality.
Their professional services ensure the creation of a state of beauty and wellness within you. Owner Pareen and her highly trained professionals at Sanctuary Salon & Med Spa are ready to amaze you with treatments customized to suit your needs and lifestyle! Sanctuary's extensive list of hair services includes: color; highlights; cuts for men, women, and children; and specialty treatments, such as Keratin and Olaplex treatments.
About Olaplex:
Every professional stylist is buzzing with excitement about Olaplex. Olaplex multiplies bonds, making hair stronger and healthier while color lasts longer with more vibrancy. Whenever you do chemical treatments or thermal treatments on your hair, your hair breaks hydrogen and sulphide bonds. Olaplex reconnects the sulphide bonds, leaving your hair softer, shinier, and easier to manage with less frizz for weeks.
Also, if you have damaged hair or color regularly, adding Olaplex will help make your hair stronger, shiny, frizz-free, and healthy. It's also safe to use with perms, relaxers, and before Keratin treatments! Sanctuary offers single-treatment pricing (1 for $35) as well as an Olaplex package (4 for $99).
Check out this collage that shows a client's hair before, during, and after her Olaplex treatment:
Conclusion
Overall, we want to remind everyone how important it is to support small businesses, especially during these unprecedented times. If you're looking for the best hair treatment options in Orlando, we hope we've helped narrow things down for you. Now go make an appointment at one of these fabulous salons!