The ketogenic diet (or keto diet) has become wildly popular, but it is a lot harder to stick to than most people may think. In the past, I've included some delicious and nutritious keto recipes. However, this article is primarily about maintaining keto meal prep on a weekly basis, which is essential for continuing to achieve the success and health benefits of this diet. We even have lazy keto meals recipe for the days you don't feel like being extra.
The keto diet: what it is and how to do it
As the keto diet is quite restrictive, it can be hard to follow. It calls for eating a high-fat, low-carbohydrate, and moderate-protein diet in order to achieve a state called ketosis. Typically, our body uses carbohydrates from the food we eat for energy. With ketosis, the body is restricted from carbohydrates so much that it begins to break down stored fat into ketone molecules that then become our body's main source of energy.
Experts say that eating fewer than 20 to 50 grams of carbohydrates per day, on average, is what is required to achieve a state of ketosis. To put that into perspective, just one serving of pasta would already meet or exceed this daily carbohydrate amount.
What to eat and drink on the keto diet
The typical foods that make up the keto diet are high in fat, moderate in protein and low in carbohydrates.
Keto diet food staples:
Eggs
Cheese
High quality ground beef
Fish
Nuts, seeds and nut butters
Healthy oils like olive and avocado
Low carb veggies like dark leafy greens, cauliflower and zucchini
Sugar-free spices and herbs like parsley, garlic, cinnamon, salt and pepper
Stevia
Coconut flour, almond flour
Beverages: water, tea, coffee
What to avoid on the keto diet
The most important part of a keto diet is keeping carbohydrate intake low in order to achieve and remain in ketosis. While not all high carbohydrate foods are unhealthy (whole grains and starchy veggies like sweet potatoes are generally considered healthy for their fiber content), it is advised to remove them when following a keto diet.
Foods to avoid on keto diet:
starchy vegetables like potatoes
fruit
pasta
bread
grains
soda
juice
candy
Why meal prep?
My number one healthy eating tip for my clients and readers is to get in the habit of meal prepping. Prepping meals ahead of a busy work week cuts down on stress, saves you time and is easier on the wallet. Additionally, having healthy food options available throughout the week makes it less tempting to opt for drive thru and pre-packaged meals that may not support your keto diet goals. Prepping for the week will set you up for healthy eating success, since it is especially important when following the already restrictive keto diet.
How to keto meal prep
1. Decide what you want to eat while focusing on high fat, moderate protein and low carb.
Most of my clients plan to prep three meals per day for the work week, which comes to 15 meals per week. My meal prep motto is cook once and eat twice. The more meals you can make in batches (to be enjoyed multiple times throughout the week), the more time you will save in the kitchen.
Unlike most healthy plant-eating diets, keto is strict when it comes to the macronutrients you are consuming – namely, it requires staying below your recommended daily carbohydrate allotment. It is best to check your daily meals using nutrient analysis programs like MyFitnessPal.
2. Make your list and shop
Now that you know what you are eating this week, make a list and shop. Once you have been following the keto diet for a while, you may find that you need to buy fewer and fewer items each week because you will have amassed staple ingredients like healthy oils and keto-approved seasonings.
3. Cook once, eat twice
Now it's time to get cooking! Since the keto diet calls for plenty of animal proteins like meat, eggs and fish, I recommend cooking ahead for no more than three days at a time to ensure freshness.
3-Day sample keto meal plan
Monday
Breakfast: Keto Coconut Pancakes
Serves: 1
Prep time: 10 minutes
Cook time: 10 minutes
Total time: 20 minutes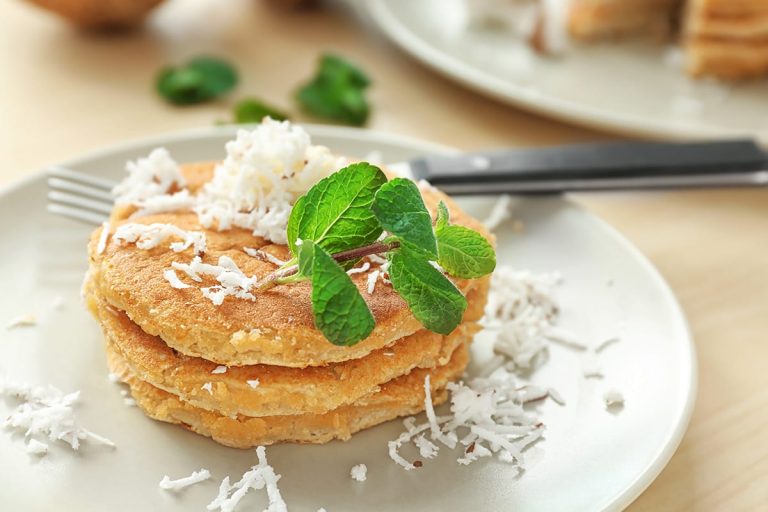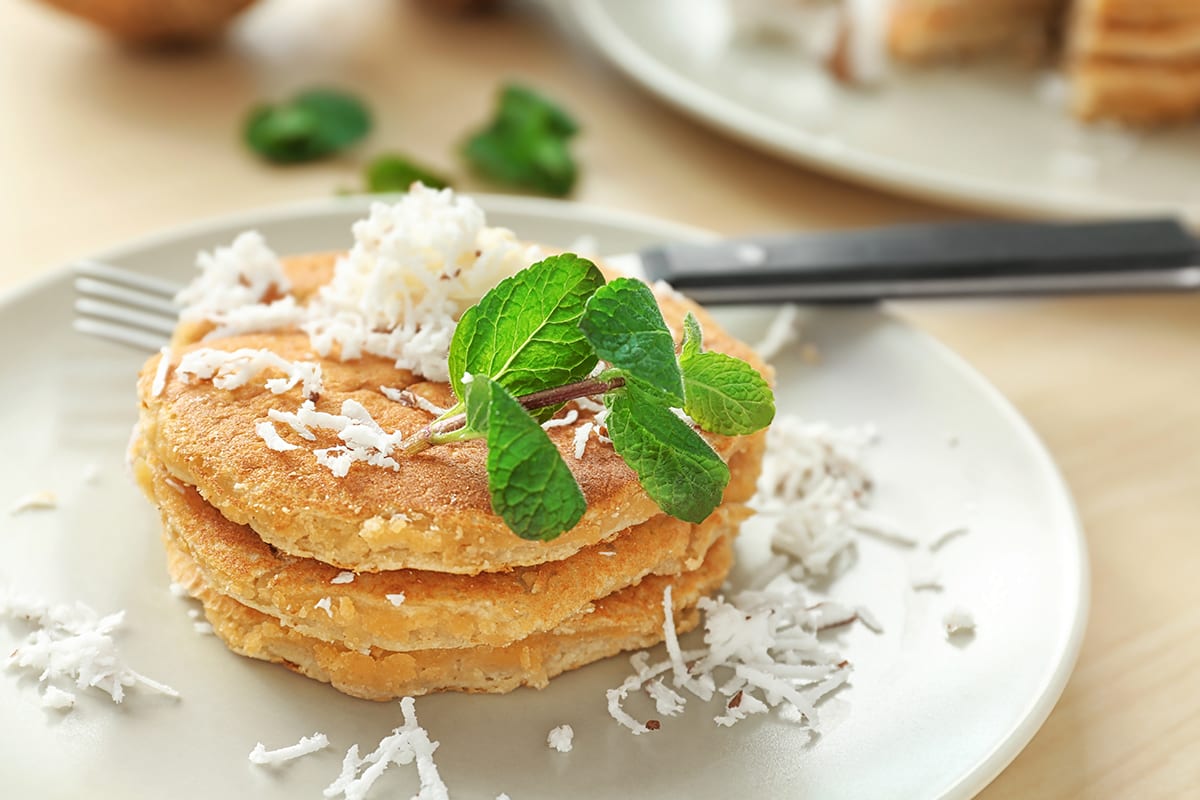 Ingredients:
3 eggs
1/4 cup coconut flour
1/3 cup coconut milk
1 tbsp coconut oil, melted + extra for frying pancakes
1/2 tsp baking powder
pinch of salt
Directions:
Add all ingredients to a blender and blend until batter is smooth.
Warm coconut oil in a medium skillet over low-medium heat. Pour one-fourth cup of the pancake batter into the skillet and cook until the bottom starts to set, which is about 3-4 minutes. Flip and cook for another 2-3 minutes. Transfer to a serving plate and repeat with remaining pancake batter.
Lunch: Shrimp Stir-Fry
Serves: 2
Prep time: 10 minutes
Cook time: 10 minutes
Total time: 20 minutes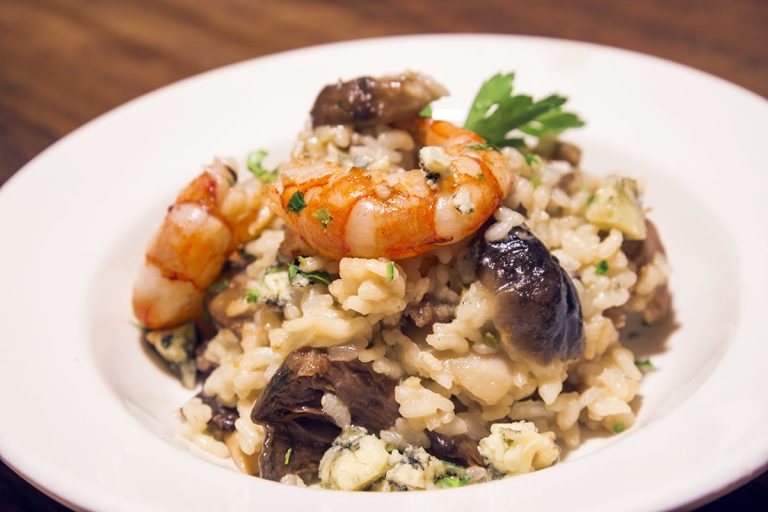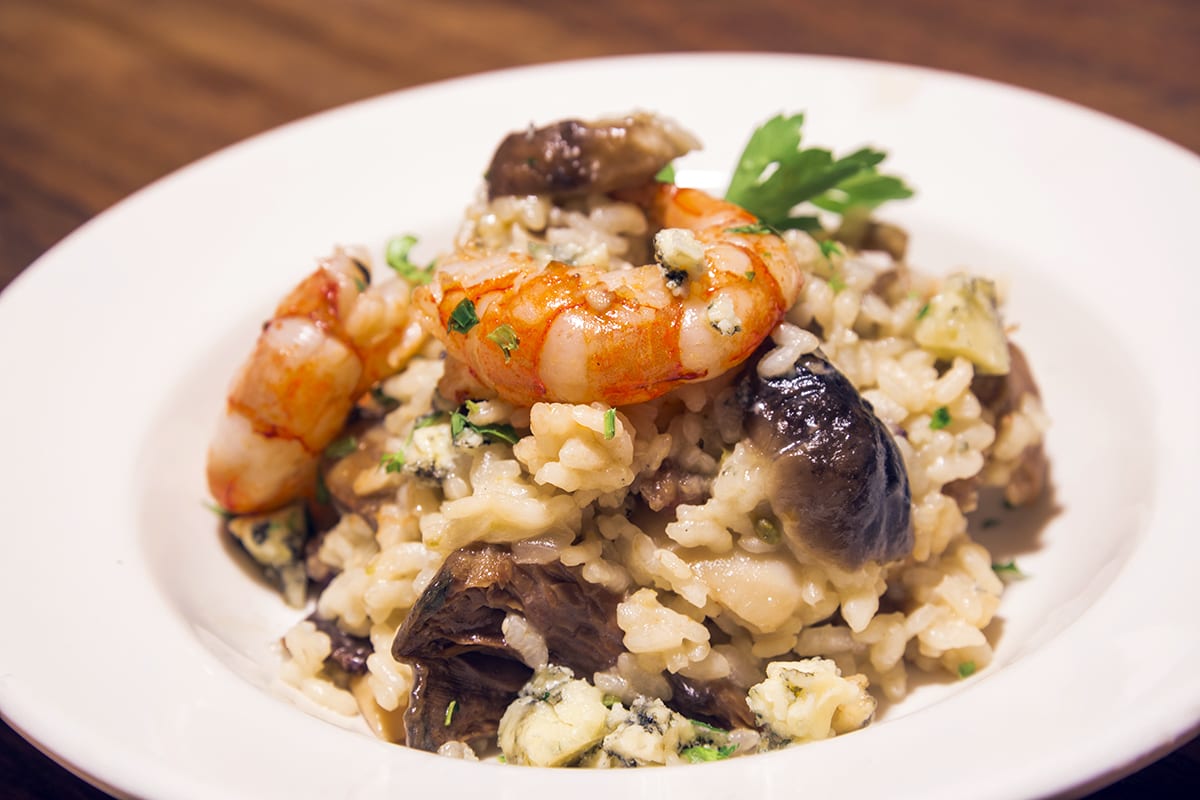 Ingredients:
8 oz. shrimp
2 tbsp olive oil
1/2 cup chopped mushrooms
2 cups cauliflower, riced
2 tbsp coconut aminos
To taste: ginger powder, garlic powder, salt and pepper
Directions:
Sauté cauliflower and mushrooms in a large saucepan with half the olive oil until cooked. Then transfer to two serving containers.
Add remaining oil and shrimp to skillet with seasonings and sauté until cooked. Add coconut aminos and cook for another 2 minutes.
Serve shrimp over cauliflower rice. Enjoy one serving for lunch on Monday and save the other serving for dinner on Monday.
Dinner: Shrimp Stir-Fry (half of lunch)
Tuesday
Breakfast: Breakfast Pizza Skillet
Serves: 2
Prep time: 10 minutes
Cook time: 10 minutes
Total time: 20 minutes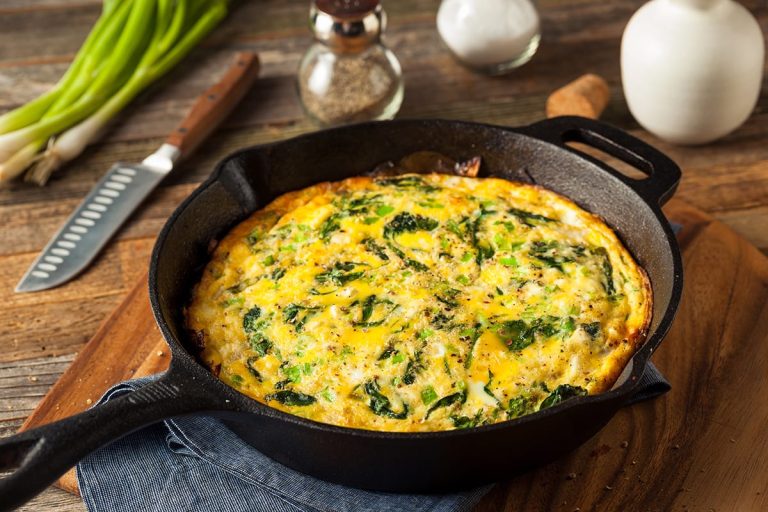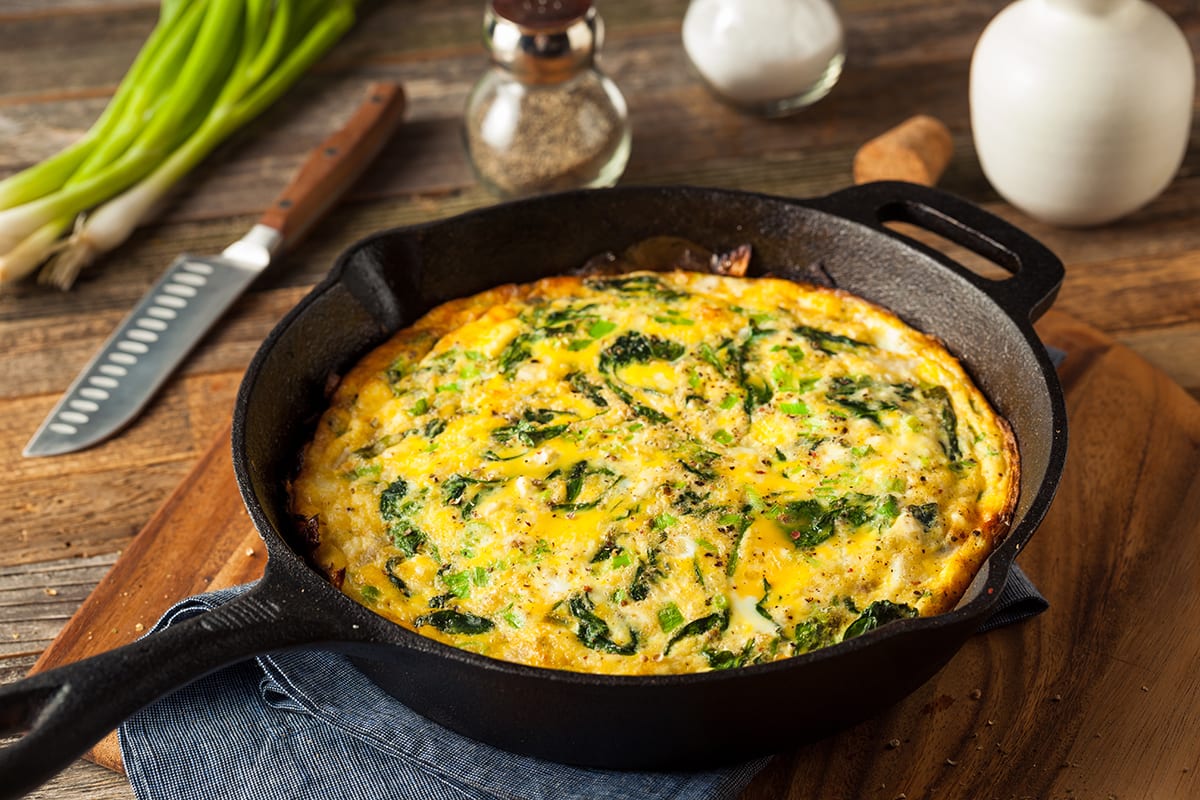 Ingredients:
6 eggs
1/4 cup heavy cream
4 oz. sausage
1 cup kale, chopped
1/2 cup shredded cheddar
salt and pepper to taste
2 tbsp olive oil
Directions:
Preheat oven to 350° F.
Sauté sausage in an 8-inch cast iron skillet in olive oil until cooked. Add kale and cook together for another minute or until kale has wilted.
In large mixing bowl, whisk together eggs, cream, salt and pepper. Pour into skillet and bake for 15 minutes.
Remove skillet from oven, top with cheese and broil for 2-3 minutes.
Enjoy half on Tuesday and save the other half for breakfast on Wednesday.
Lunch: Stuffed Avocado Chicken Boat
Serves: 1
Prep time: 10 minutes
Cook time: 10 minutes
Total time: 20 minutes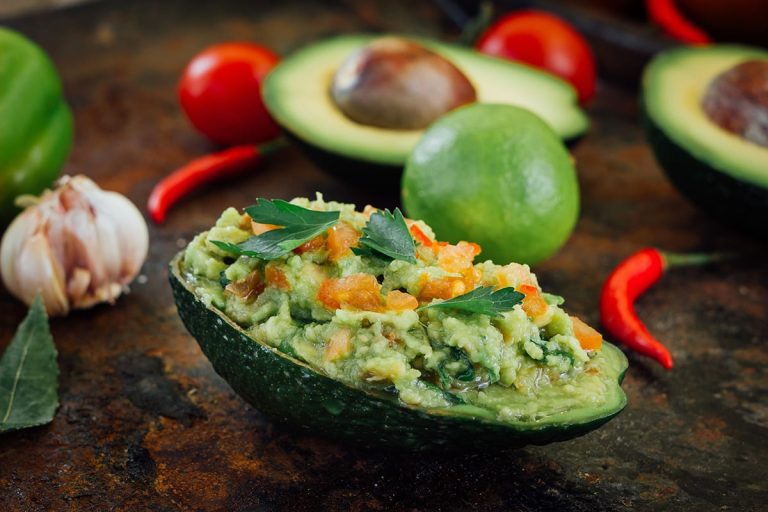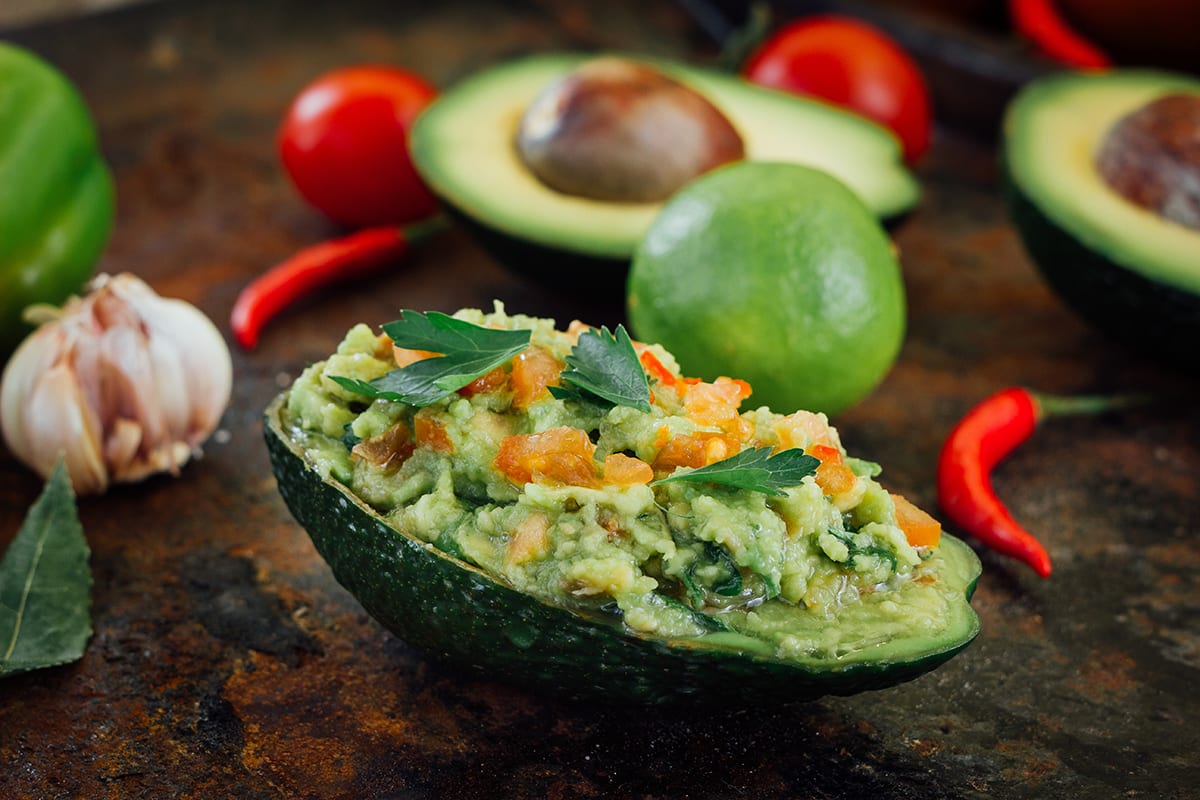 Ingredients:
1 large avocado
1 green onion, sliced
4 oz. shredded baked chicken
1 strip low sodium bacon
1 tbsp avocado oil
salt and pepper
Directions:
Cook bacon to desired crispness in avocado oil. Crumble bacon and add to a large mixing bowl.
Slice avocado in half, remove flesh with a spoon and transfer to the large mixing bowl.
Add chicken, green onion, salt and pepper to the large mixing bowl and mix until combined. Transfer mixture to both avocado shells. Enjoy for lunch on Tuesday.
Dinner: Chicken Lettuce Wraps
Serves: 1
Prep time: 10 minutes
Cook time: 10 minutes
Total time: 20 minutes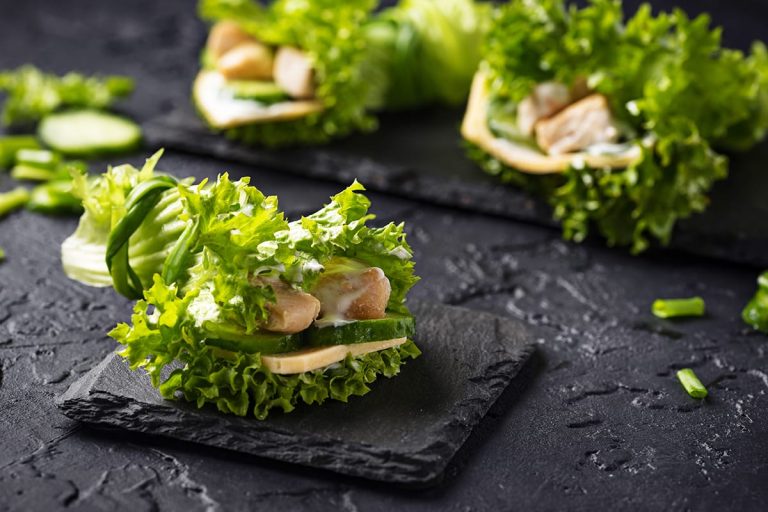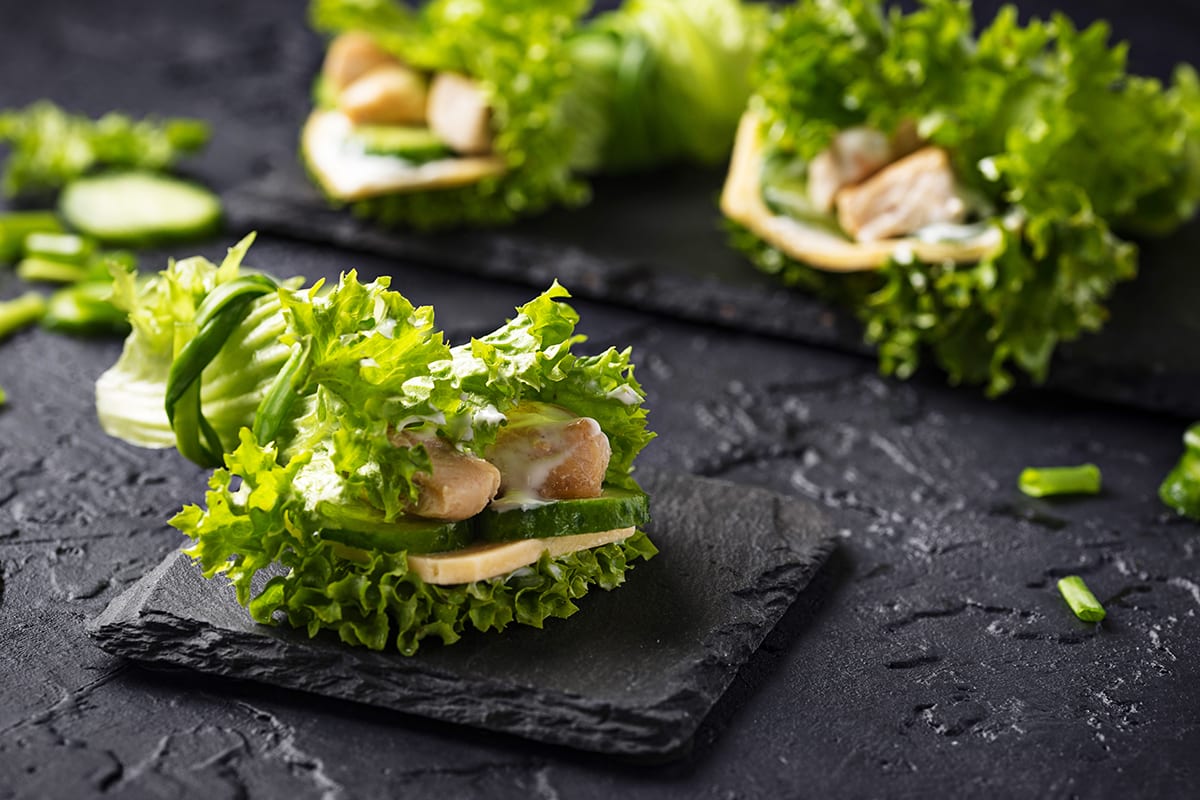 Ingredients:
5 oz. shredded chicken breast, cooked
8-10 romaine leaves
1/4 cup full fat plain yogurt
1/4 cup crumbled feta cheese
To taste: salt, pepper and chives
Directions:
In a large mixing bowl, mix together chicken, yogurt, cheese and seasonings. Spoon chicken mixture into romaine leaves. Save for dinner on Tuesday.
Wednesday
Breakfast: Breakfast Pizza Skillet (half of Tuesdays breakfast)
Lunch: Keto Spaghetti and Meat Sauce
Serves: 2
Prep time: 10 minutes
Cook time: 10 minutes
Total time: 20 minutes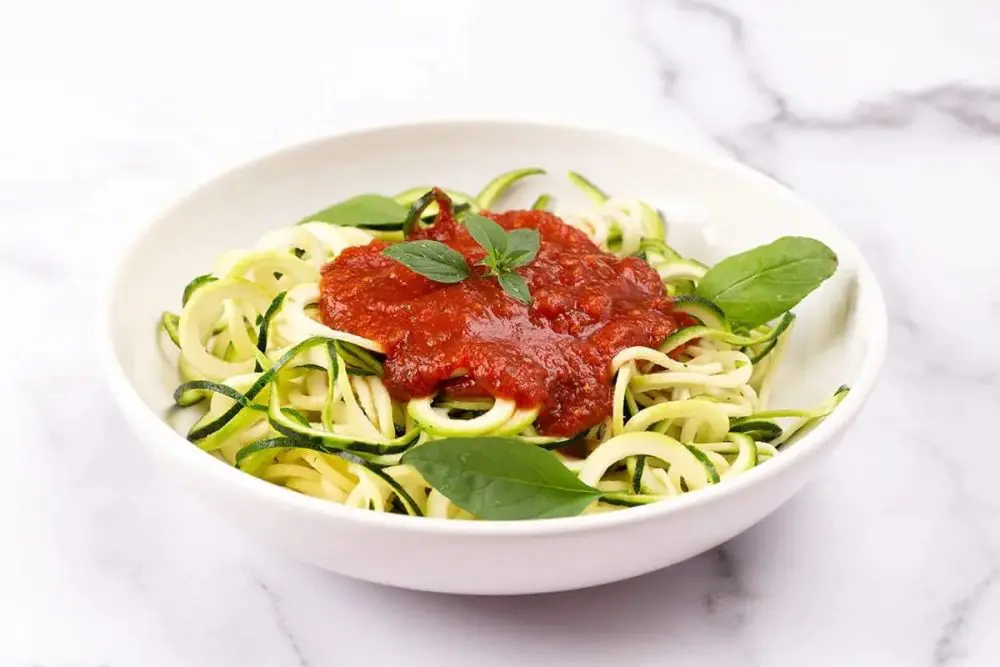 Ingredients:
8 oz. ground grass fed beef
1/2 cup no added sugar marinara sauce
4 cups zucchini noodles
To taste: salt, pepper, oregano
2 tbsp avocado oil
Directions:
Warm half of the oil in a large skillet over medium-high heat and cook zucchini noodles until tender. Transfer to two serving bowls.
Warm the remaining oil in a large skillet over medium-high heat and cook beef until no longer pink. Pour marinara sauce into skillet and continue to cook for another 2-3 minutes.
Add zucchini noodles back to skillet, mix and add seasonings. Enjoy half for lunch on Wednesday and half for dinner on Wednesday.
Dinner: Keto Spaghetti and Meat Sauce (half of Wednesday's lunch)
Conclusion
Planning your weekly meals is critical for keto diet success, but it also spares you time, money and stress throughout the week. By planning ahead, tracking nutrients and reusing keto-friendly ingredients when possible, you can much more easily reap the benefits of nutritious, keto-friendly meals. What's more – you'll enjoy the dining experience itself with meals that are already made and ready to eat!


Here are a few hand-picked articles for you to read next:
This article is part of the "Keto Series." Click here to learn more.
Disclaimer: This post contains affiliate links. If you buy an item through one of those affiliate links, Successible Life may get a small commission at no extra cost to you. This helps keep the blog running so we can continue to provide you with the best content.