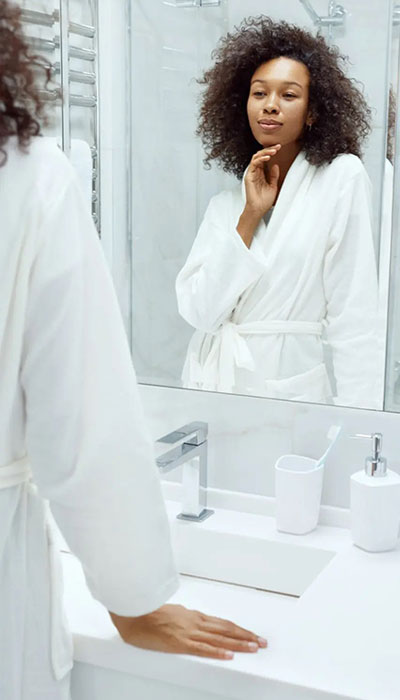 A skincare routine can be a very personal thing, and it can be hard to know what is right just for you. There are so many options out there on the market, and it can be very overwhelming to find out what works. Although individual results may differ, we're going to give you our best skincare routine for both the nighttime and daytime as well below in the order that you should apply them.
Cleanser
The first thing to start with in the order of a skincare routine is a cleanser. There are multiple types of cleansers for different skin types. We usually recommend staying away from gel or foaming cleansers because they tend to strip the skin of its natural oils. There is also the double cleansing method, where you start with an oil-based cleanser and then use a more gentle cleanser afterward.
The idea behind this method is that it works to remove all excess dirt or makeup someone may have left over after using makeup remover. We recommend this process to someone who wears makeup often or every day or just overall needs to clean their skin more. Here are the best types of cleansers for different skin types below.
(nighttime or daytime use)
The best gentle cleanser we would recommend is the Soy Face Cleansing Milk cleanser from Fresh Cosmetics. This is a lightweight non-foaming formula with white hibiscus flower extract that contains amino acid-rich soy proteins, which help maintain the skin's elasticity. This gentle cleanser is good for all skin types and leaves your face feeling clean, soft, and supple without feeling stripped of natural oils.
(nighttime or daytime use)
The best everyday cleanser that gently exfoliates the skin is Truth Juice by OLEHENRIKSEN. This cleanser uses the lowest chemical exfoliant called PHA to help lift dead skin, dirt, oil, and makeup. It's formulated with orange fruit water and different extracts like lemon, rose hip, and goji berry. This cleanser leaves your skin feeling refreshed, radiant, and energized. 
(mainly nighttime use)
The best oil cleansers are the Tatcha Pure One Step Camellia Oil Cleanser and the Juice Beauty Stem Cellular Oil Cleanser, both of which leave your skin feeling very hydrated while melting away makeup or any impurities left on the skin after using a makeup remover.
Toner
The next skincare item that should be in your routine is a toner. Toner helps your skin return to its normal PH balance as well as rids the skin of any excess oil and dirt. A common misconception is that toner needs to have alcohol in its ingredients to rid the skin of acne. However, alcohol strips the skin of its natural oils, which leads to a result of drying out your skin.
If someone is looking to treat acne-prone skin, we always recommend using toners that have glycolic acid because it is a known agent for treating acne. But it's always great to keep in mind that everyone's skin is different, so you have to choose what works best for you. We've listed a few different options of toners for different needs.
(nighttime or daytime use)
The best toner for balancing the skin while still hydrating is the Rose and Hyaluronic Acid Toner by Fresh. This toner is formulated with real rose petals as well as rose oil that cleans the skin while still giving intense hydration. There are many hidden uses for rose petals if you didn't know!
(nighttime or daytime use)
A very gentle toner that is at an affordable price is the Aloe Vera Toner by Mario Badescu. This toner is formulated with aloe and is good for sensitive skin but still does a great job rebalancing and hydrating the skin.  
(nighttime or daytime use)
The best toner for skin that may have excess oil or is acne-prone is probably the Clarifying Toner by MURAD. This toner is formulated without sulfates and uses grape seed extract, witch hazel and algae extract to clean the pores without stripping the skin.
Eye cream
The skin that's under the eye is the most sensitive area on your face. That's why it is best to apply eye cream before all other products so that it can act as a barrier. The best way to do this is by using the weakest finger, such as your ring finger because it applies the least amount of pressure to the sensitive area. We advise choosing eye creams that are light rather than heavy because those tend to clog your pores. All eye creams tend to target different things, but the best of them depuff, brighten and hydrate.
(nighttime or daytime use)
The best eye cream for reducing dark circles, fine lines, and dryness is the Banana Bright Eye Crème by OLEHENRIKSEN. It's a brightening, vitamin C-rich eye cream that targets signs of aging by reducing the look of dark circles while improving concealer application through banana powder. 
(nighttime or daytime use)
The best eye cream that visibly brightens the under-eyes is the Origins GinZing Refreshing Eye Cream. It's formulated with coffee beans, Panax ginseng, and magnolia extract to rapidly wake up, refresh and restore radiance to tired eyes.
Serum/Chemical Exfoliants:
Serums are where people can become versatile depending on what needs they have for their skin. Many different types of serums target different needs, such as fine lines/wrinkles, deep hydration, resurfacing, and brightening. There are some beliefs that exfoliating should be done with a sugar scrub or polish that is performed after washing the face.
However, this process can lead to creating microtears on the face and leave your skin vulnerable to more bacteria. The best way to exfoliate and resurface your skin is with a chemical exfoliant serum to remove dead skin cells and resurface the skin using AHA/BHA chemicals.
(nighttime or daytime use)
The best serums for chemical exfoliating are the Drunk Elephant Glycolic Serum and the Honeymoon Glow Serum by Farmacy. Both of these products are formulated with AHA/BHA chemicals to rid the skin of dullness along with uneven texture, pores, and skin tone.
(mainly nighttime use)
The best serums for brightening the skin are the Tatcha Vitamin C Serum and the Glow Recipe Pineapple-C Brightening Serum. The Glow Recipe Serum is formulated with vitamin C, pineapple juice, chamomile, and AHA, while the Tatcha serum has 20% vitamin C, 10% AHA, and some extract from the Japanese angelica root. Both serums, however, help to fight the look of dullness, dark spots, and discolorations while almost instantly increasing brightness, radiance, and luminosity.
(mainly nighttime use)
The best serum for anti-aging and fine lines is the Advanced Night Repair by Estee Lauder. This is a great serum to help combat fine lines and wrinkles, dryness, dullness, and uneven texture. There are a few better ways to wake up with youthful supple skin. 
Moisturizer
Moisturizer is the biggest key to any skincare and should be a staple in everyone's skincare routine. different moisturizers can aid in deep and simple hydration. Depending on someone's individual needs, these can be used during nighttime, daytime, or both. If you're looking for hydration, the key ingredient to pay attention to is hyaluronic acid. This ingredient is the best for giving intense hydration while also leaving your skin soft and supple.
(nighttime or daytime use)
The best daytime moisturizers that are light and can sink right into the skin are the Tatcha Water Cream and the Sunday Riley Tidal Water Cream. The Tatcha Water Cream is formulated oil-free, anti-aging, and releases a burst of skin-improving Japanese nutrients, powerful botanicals, and optimal hydration for poreless-looking skin. The Sunday Riley Water Cream, on the other hand, is formulated with papaya enzymes, Alpha-Arbutin 1%, hyaluronic acid, and tamarind extract to leave the skin brightened and feeling intensely hydrated.
(mainly nighttime use)
The best nighttime-focused moisturizer is the Tatcha Dewy Skin Cream. This is a thicker and more rich cream that feeds the skin with plumping hydration and antioxidant-packed Japanese purple rice for a dewy, healthy glow. 
(nighttime or daytime use)
The best moisturizer for intense hydration that might be best for someone prone to very dry skin is the Ultra Repair Intense Hydration by First Aid Beauty. It's at a more affordable price but still offers a rich formula that provides instant and long-term hydration for dry, distressed skin and eczema. This moisturizer is formulated with shea butter, allantoin, and colloidal oatmeal to help soothe and instantly absorb for immediate relief of parched skin.
Goat Milk Soap
One of the best natural-based cleansers is goat milk soap which contains no harsh or harmful chemical compounds. These soaps contain lactic acids which clean your skin by eliminating impurities. Alpha-hydroxy acids in their turn help to remove dead cells and create barriers that keep your skin away from air pollution. Goat soaps are rich in natural ingredients, which work gently without causing excessive dryness and always keep your skin hydrated.
Oils
Oils are a great product to add to your routine, especially at night if you want extra hydration and an added glow to your skin. I listed two great ones that you could use as your skin needs them
(mainly nighttime use)
A great facial oil is Drunk Elephant Virgin Marula Oil. This oil is rich in critical antioxidants and Omega 6 and 9. The main ingredient is Virgin Marula Antioxidant Face Oil, which leaves the skin feeling moisturized, nourished, and balanced while restoring a youthful glow.
Another great facial oil is the Superberry Hydrate + Glow Oil by Youth To The People. This oil is formulated with Maqui fruit and combined with açaí and goji berries to create a potent antioxidant elixir. It also has a balance of jojoba and sunflower oil to illuminate and revive dehydrated skin without weighing it down. 
Lips
Some people tend to forget about their lips when they think about a skincare routine. However, it's always important to remember to hydrate daily and exfoliate when needed. The best two products for this are the Advanced Therapy Lip Balm and the Sugar Lip Polish (both by Fresh).
The lip balm is formulated with orange extract and sea fennel to help in age-defying and improving volume/definition, making it ideal for overnight use or as a base layer for lipstick. The lip scrub has brown sugar crystals to buff away dry flakes along with shea butter and jojoba oil to nourish the skin.
Sunscreen