Orlando, known as The City Beautiful, is also a foodie's paradise. Together with the amazing weather and abundance of locally sourced food, it's no wonder we have so many choices for fresh and delicious local cuisine. Here are some of our readers' best Orlando restaurants that keep it fresh and tasty all year round!
1. Boxi Park at Lake Nona – Outdoor Venue
If you've ever had a hard time deciding where to eat, like my family does, then you should check out Boxi Park at Lake Nona. They offer a variety of eats, such as chicken, burgers, tacos, and my own favorite – the lobster roll and lobster waffle fries! There is also a variety of drinks, including craft beers, and my husband's very favorite – the spicy jalapeno margarita!
If it's a family night out, you'll also be able to enjoy a huge playground with the kids that includes volleyball courts or giant-sized Jenga. Then for the adults, we can often enjoy watching a live band or DJ at work. Either way, we absolutely love spending time at places that have a kid-friendly, warm atmosphere for everyone, and Boxi Park definitely ticks all of those boxes!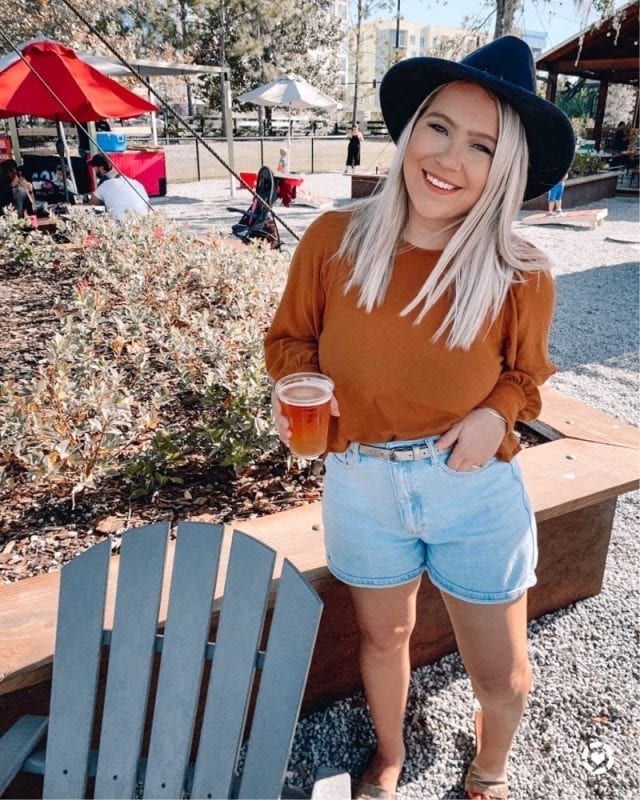 2. Pig Floyd's Urban Barbakoa – BBQ
If you ever find yourself hungry and in the Downtown/Mills 50 area, I suggest you head on over to Pig Floyd's. There's a reason it's such a local favorite. Why? Their fusion-inspired menu items are sure to please everyone in the family, including even the pickiest of eaters! And if you're feeling REALLY hungry, Pig Floyd's has the most amazing brisket and (without a doubt) the BEST, fall-off-the-bones ribs. Their "barbakoa" platters will also win over any meat lover's heart.
However, if you're in the mood for something lighter, they have a variety of fusion tacos that are not only unique but out-of-this-world delicious. Pig Floyd's always hits it out of the park with their flavors, which blend the best of different cultures. Even someone who isn't adventurous foodwise will find these dishes delightful, since there's always something comforting and familiar about the food. Is it because it's made with thoughtful love? That could be, but I do know it's downright delicious and a Central Florida must-try!
3. Black Rooster Taqueria – Mexican
Black Rooster Taqueria is one of our go-to food spots. Everything we get there is consistently amazing. Our favorite dish is the guacamole, as they have really mastered the perfect combination of avocados, onions, tomatoes, chile serrano, lime, and cilantro to create this heavenly starter dish.
Funny enough, we often come for the guac but stay for the tacos. We've tried pretty much all of their tacos, but we always end up ordering the carne asada one. It's so simple but flavorful, and the tortilla is so soft and fresh. That's actually the perfect word to describe this restaurant – "fresh". The food tastes so authentic to its Mexican theme. The ingredients are real, and each dish is crafted with so much passion and love. In our eyes, this restaurant can do no wrong, and it's always our go-to taco spot when we want something quick and tasty.
The Go-to Place for Everything
It's hard to pick a single favorite local spot in Orlando because there are so many good places to choose from! If you end up anywhere in the Mills 50 District, you're in good hands, but the place I keep thinking about the most is Black Rooster Taqueria. I started going there when they first opened a couple of years ago, and they never disappoint. In fact, I went there so much that at one point they knew my exact order, and it was just a matter of whether I was going to get two or three tacos.
Everything is so full of flavor, and you can immediately tell that the ingredients are fresh. I think it's hands-down the best guac and tacos in town. Actually, it's become my go-to place for everything. If I'm going to hang out with a friend, Black Rooster. Going on a date? Black Rooster. If I need something to pick up fast, Black Rooster. It doesn't hurt that it's right next to Guesthouse (my favorite bar in town) either. I'll usually head over to Black Rooster to grab a bite and finish off the night at Guesthouse with a drink.
4. Happy Snapper Seafood Restaurant – Seafood
Orlando is a hub for great seafood joints, but Happy Snapper definitely stands out amongst the rest. The restaurant located just south of Downtown Orlando, in Edgewood, serves really fresh and flavorful seafood dishes. Fittingly, the ambiance is minimalist to emphasize the delicious food and friendly staff.
The "Treasure of the Sea" is a prime example of the best seafood Florida has to offer with oysters, jumbo shrimp, king crab, stone crab, and lobster tail. This dish is the perfect medley of chilled seafood and works great as an appetizer. Another in-house masterpiece is the Red Snapper Fillet served with dill potatoes and mixed vegetables. This dish is perfectly seasoned with an abundance of balanced flavors.
Overall, this restaurant demonstrates obvious care when preparing each dish: the presentation is perfect, while the fish is light and tender. Happy Snapper Seafood Restaurant keeps everything very clean even as it displays few thrills. Don't be fooled by the simple exterior; the food speaks for itself. This hidden gem is the perfect place to gather with family and friends to experience delightfully prepared and freshly caught seafood from Florida's waters.
– Naya Palacio
5. Viet-Nomz – Vietnamese
Well, this is an easy one! My absolute favorite place to eat in Orlando is hands-down Viet-Nomz. Viet-Nomz never disappoints with their fresh ingredients, healthy options, strong flavors, and large portions. My husband and I especially love going there after a good workout session. I've watched their small business grow tremendously over the past few years – it's incredibly inspiring but unsurprising!
6. Dandelion Community Café – Vegan
I learned most of what I know about community from my mom. Although she passed away years ago, she was able to show me through her actions how to support your neighbors through positive deeds. She owned a local newspaper based in Deltona called the Southwest Volusia Reporter, served on the board for the YMCA and PTA, helped my elementary school with the yearbook, worked with the House Next Door, and even took photos at nearly every event in town. Her reach went far and wide, and I saw her help others even when we were struggling.
Thankfully, I now have the ability to reach a wider group of people through my own business, Dandelion Community Cafe. Together with my husband Chris, I've been running Dandelion since early 2016, sometimes trading roles to give him much-needed breaks to care for our son, Nathan. I'm very grateful to able to realize a dream of mine and run this restaurant. Sure, the job certainly has its challenges, setbacks, and drama. I work a lot and am almost always exhausted, but there are also glorious moments in between that make it worthwhile.
I'm not going to say that running every restaurant is the same, so I can only speak for this one. Dandelion's focus has always been on fresh organic ingredients, promoting sustainability, building community, and celebrating the vegetable. This brings a clientele along with it that is generally very thoughtful, empathetic, and generous. The staff I've had the pleasure of working with are passionate, creative, and excited to make a difference in the community. I've worked in many restaurants, but this is the first at which I've experienced this level of kindness and warmth.
A Place Full of Life
Before my first visit to Dandelion, I didn't know a place like this could exist in the restaurant world. A place so full of life, where creatives could express themselves, where customers left feeling great after eating the food, where employees shared tips gratefully, and where people were free to be themselves. This was a place where I could truly make a difference. Together, we have done that through numerous events, donation drives, food giveaways, park cleanups, environmental practices, and more.
Orlando is my home. It's where I have chosen to make my mark. I spent my formative years here, seeing shows at DIY Records and Sapphire Supper Club, socializing at BBQ Bar and Independent Bar, visiting our beautiful parks, and eating food all over town. It is the place I ran to when I was grieving or celebrating. The way I see it, giving back to the community that gave so much to me is the least I can do.
7. Ethos Vegan Kitchen – Vegan
In tense times like these, one vegan restaurant, in particular, is truly outstanding. This incredible vegan restaurant is Ethos Vegan Kitchen located in Winter Park, Florida. Not only is their food incredible, but the staff and owners are true exemplars of grace and humanity.
For me, walking into Ethos a few times a week means walking into a family that graciously provides cruelty-free and delectable vegan food capable of enticing anyone's taste buds. Some of my personal favorite dishes include the pancakes during brunch or the "chickun" bruschetta sandwich for dinner. In addition, their garlic knots are simply divine and will fill your belly with vegan goodness. It is an honor to be a patron at this establishment.
– Briana Sosa
And there you have it, our readers' opinions of the best Orlando restaurants with delicious, nutritious, and fresh options. What did you think of our list? Were there any places or food items you thought should be included? Let us know in the comments below or get in touch to add your thoughts!
Here are a few hand-picked articles for you to read next: