Disclaimer: This post contains affiliate links. If you buy an item for a What to Wear to a Winter Wedding through one of those affiliate links, Successible Life may get a small commission at no extra cost to you. This helps keep the blog running so we can continue to provide you with the best content.
Everyone loves a summer wedding. You get to enjoy your fave little summer dresses that show off *just* the right amount of leg while obtaining a tan even Jessica Alba would be envious of.
But we can't deny the magic and mystery of a winter wedding, either. Nothing is as charming and remarkable as a winter wedding on a brisk evening. The only problem is – what on earth are you going to wear?
If you're the lucky recipient of a winter wedding invitation, it's time to put your look together. Sure, it's not as easy as wearing that floral piece you save for all of your gal pal's spring weddings. But you can still look just as flawless with one of these top-notch options for winter weddings.
Keep reading to find top picks on what to wear to a winter wedding.
What to Wear to a Winter Wedding
One of the top picks for winter wedding guest attire is velvet dresses. Velvet fabric will keep you warm and cozy whether you're nestled on a wintery, snow-capped mountain or live in the Southernmost part of the state, where temperatures around the 50s are harrowing.

There are many options when it comes to a velvet dress code. We love this flirty maxi velvet dress available in fabulous winter colors, including dark forest green, wine red, peacock blue, and black. A halter neck and side slit with ruffle trimming complete this dashing look beautifully. Match with an elegant bag or clutch and high heels to elevate the look.

We're a big fan of this elegant off-the-shoulder look, too. Flowing down to the floor with a body con design and accenting ruche alongside the sides, this look is a stunner that won't disappoint at the next winter wedding. You might want to add a faux fur coat to this look, so you don't get shivered.
Dresses with sleeves – whether they're balloon sleeves, puff sleeves, or regular – are excellent for a winter wedding guest outfit. The best part is, there are plenty of choices to suit your style and personality. Regardless of your pick, you'll enjoy warm and toasty arms to see you through the wedding.

This flowy long-sleeved wrap dress is precisely what winter weddings call for. The wrap design ensures you can whirl and twirl on the dancefloor while also looking like a majestic princess with every step. With a subtle sheer puff sleeve and button emblems along with the cuffs, this piece is a sexy winter wedding dress you won't want to miss.

If you're a glitter-loving gal, you will love this charming glitter detailing on this fabulous winter wedding dress. This lovely a-line dress is designed to create a pleasing shape that isn't too loose or tight. You'll also love the stylish sleeves that go the extra mile to make sure you are shining yet warm.
Not everyone is a fan of dresses, and that's okay. If you find yourself more of a jumpsuit kind of gal, this one's for you. We've found two of the most stunning jumpsuits on the market that are undeniably suitable for the black-tie dress code.

Winter is the perfect time to sparkle and shine. If you want to look ad bedazzling as a winter night sky, consider this velvet cutout jumpsuit. Not only is the luxurious sheer mesh a flirty factor, but the v-neckline and back pull it all together for a genuinely knockout style. Wear with your fave heels to stand out from the crowd.

Want something a little more tame yet still fashionable? This mock neck jumpsuit is what you're looking for. The mock neck is refined, while below the loose and flowy bell-bottom style pants are playful. The look comes together with an edgy yet sophisticated chain around the waist.
When some women hear the term "wedding," they automatically think of a "gown." They want to feel like they're headed to the most glamorous ball of their lives. Sound like you? Then consider one of these gorgeous gowns that almost steal the show from the bride.

You can't go wrong with a fishtail gown, and this is one of our favorites. It's wowing. The royal blue and burgundy color options are fabulous for winter weddings, and with a bit of sparkle detailing around the bust and a backless construction, this is one of the most gorgeous black-tie gowns we've seen.

If you're kind of trying to steal the limelight, this sequined gown has you covered. The black gown is nothing short of flawless, with puffed sleeves and a V opening in the front and the back. Perfectly molded to your body from top to bottom, this luxe dress shows your curves while adding extra length and beauty with a mermaid's bottom.
Some women prefer a professional yet still flashy and fashion-forward look. For these gals, the best option is a fancy suit for their wedding attire. Here are two of our faves.

For a relaxed fit that makes a subtle statement, check out this single-button set. Available in dark colors that are winter-friendly, this suit set comes with a classy single-button jacket and form-fitting pants below. Wear with your favorite closed-toe shoes for a stunning combo.

Those that want a showier number consider this metallic blazer. Sure, the abstract print and bright shade are more out of the box for a winter color palette, but that doesn't mean it can't work for winter wedding guest attire. This excellent blazer set is sure to be the talk of the reception party.
FAQs: What to Wear to a Winter Wedding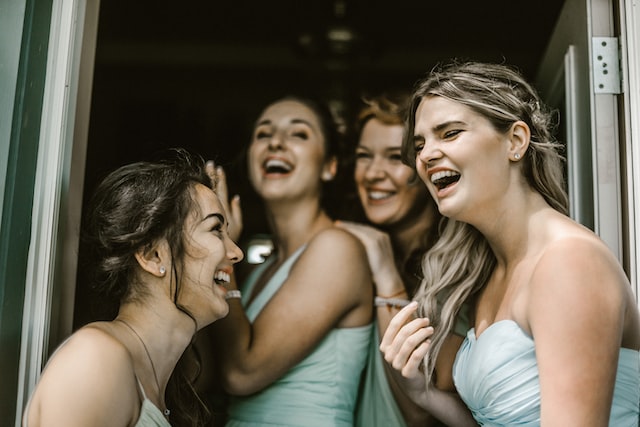 What color do you wear to a winter wedding?
There is no rule book about what colors to wear to a winter wedding. If you want to rock bright orange, go ahead and do it. However, the most common and recommended colors are dark shades (dark green, royal blue, plum, burgundy, and brown) and muted tones.
Is it OK to wear red to a winter wedding?
It's not recommended. Red can be loud and go against the winter wonderland theme. It's best to stick to darker hues.
Can you wear boots to a winter wedding?

You can successfully wear boots to a winter wedding, but you need to ensure they're not bulky or clumpy options. A bootie like this can work well, or you can be bolder with knee-highs. However, most winter wedding dresses and outfits will lean more toward low heels and open-toed shoes.
Can I wear a black dress to a winter wedding?
When it comes to what to wear to a wedding, most people say that black dresses are a no-no. Black dresses are more common at funerals than happy, exciting weddings. However, black dresses are a chic and favorable option for what to wear to a winter wedding. Don't hesitate to choose a black piece!
Final Words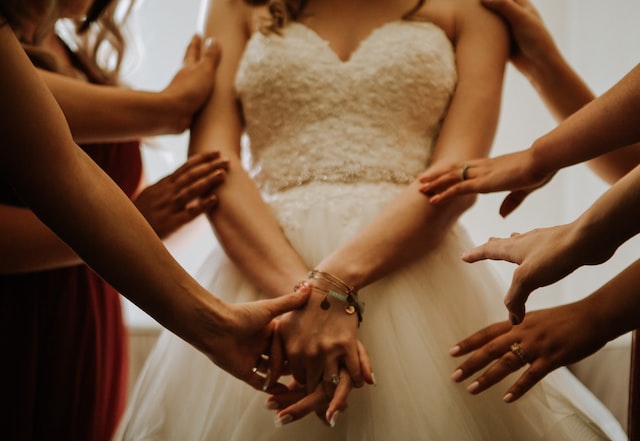 If you're wondering what to wear to a winter wedding, it's pretty simple. Opt for cozy yet still fashionable pieces like velvet or long-sleeved dresses. You can also opt for shimmery jumpsuits or professional-looking suits. If you need some extra warmth, faux fur coats always work wonders with almost any winter wedding attire. What are you planning to wear to your next winter wedding?
Want More? Check Out These Articles!
Remember, for our fellow Latinx readers, if you are also looking for more relevant content in Spanish, please visit our Spanish site at ellatendencias.com.
What do you wear to a winter 2022 wedding?
You can either go for a warm palette with the winter background colors such as olive green or burgundy. You could also go with a dark floral pattern if you like a more fun look!
Can I wear dress boots to a winter wedding?
Yes you can wear boots to a winter wedding! This is a comfortable yet stylish option that will make you last all night in the dance floor.
Should you wear tights to a winter wedding?
Yes you can wear tights with a nice short dress!