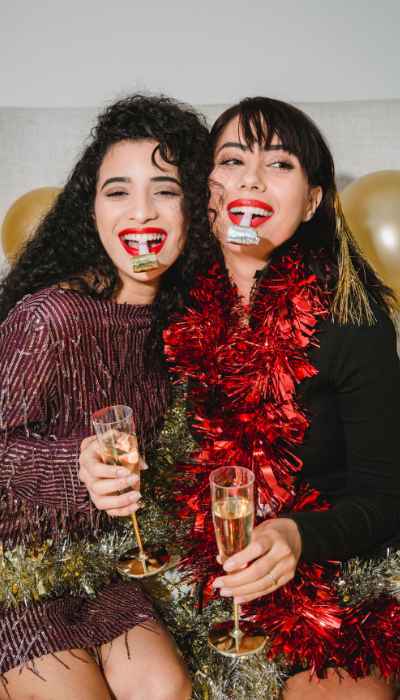 Disclaimer: This post contains affiliate links. If you buy an item through one of those affiliate links, Successible Life may get a small commission at no extra cost to you. This helps keep the blog running so we can continue to provide you with the best content.
The holidays are all about spending time with loved ones and giving to those we care about, but that doesn't mean our outfits shouldn't be on point. Whether you're getting ready for an office Christmas party or need holiday picture outfit ideas for your outgoing Christmas cards, we've got you covered with the perfect Christmas outfit ideas.
Below you will find some of our top choices for holiday Christmas outfits. But be careful – these Christmas outfits are so delightful, cheery, and festive that they just might steal Christmas better than the grinch did.
Christmas Outfit: Jumpsuit
When it comes to dressing up for the holidays, you can't go wrong with a jumpsuit. A jumpsuit is professional enough for the office party but is still comfy and casual enough to extend to the family dinner table, too. Being so versatile, it's an obvious choice. Here are three of our favorite designs.
This shimmery gold jumpsuit is exactly what you need to steal the show at any holiday gathering. Paired with black booties, a white sweater, and a matching bedazzled clutch, this look puts the "hey" in holiday "par-tay."

If you're looking for a jumpsuit that's a little tamer yet still has plenty of holiday cheer, consider this lovely red number. Complete with charming gold embellishments around the waist and flirty ruffled sleeves, it's a jumpsuit suitable for any holiday party.

If you're someone who enjoys the greens above the reds during the holiday season, you'll love this fashionable green jumpsuit that just so happens to pair well with your favorite heels. We love this jumpsuit because it has a fierce style with a belted waist and sheer sleeves to tie it all together.

Christmas Outfit: Dress
When it comes to holiday outfit ideas, there is no other classic staple than a dress. Whether you're whirling and twirling at a dance party or want all eyes on your at the dinner party, a dress never disappoints. There are plenty of choices when it comes to dressing outfits.
We're in love with this sexy red dress with a big slit that will make you feel sexy and elegant. If you are looking for a plus-size dress option, A charming off-the-shoulder design pairs well with a flowy, ruffled bottom. It's nothing short of a Christmas miracle. Create a sophisticated style by wearing a black sweater when it's chilly outside.

Going cozy but still utterly cute? This festive dress is sprinkled with Christmas-colored designs in red and white. You can easily wear leggings with this dress featuring accent colors like green, white, or black, or you can contrast patterns with snowflakes, candy canes, or another holiday favorite down below.

Miss Claus is in the house! With a fun yet snazzy dress like this, you can't go wrong. This dress truly is the epitome of the Christmas season and is undeniably one of the best photo outfit ideas. We love the red and white combo with faux fur around the shoulders and sleeves.

Fan of an a-line dress? Yeah, I thought so. If you're going a-line this year, I highly recommend this charming plaid dress design. Up top is solid and long-sleeved, but below is a beautiful plaid pattern of green, red, white, and black color scheme. It's all of the cheery colors of Christmas in one!
Christmas Dress: Plus size
If you are looking for plus-size options, we got you covered! This sequin mini-red dress will have all eyes on you this Christmas Eve! You can style the look with a pair of black strappy heels and your favorite dainty accessories.
Christmas Outfit: Skirt
Don't want to wear a jumpsuit or dress? That's okay. They're not for everyone. Some like to mix and match their outfit with a skirt on the bottom and a shirt and/or sweater combination up top. Sound like you? Then consider these adorable outfit choices with skirts.
This adorable plaid skirt looks just like a Christmas present with a beautiful color scheme of deep green and luscious red hues. It can go with various tops, but a favorite pairing is a black turtleneck. It will make the color pop on the skirt like never before!

To make all of your satin dreams come true this holiday season, consider wearing a gorgeous satin maxi skirt like this. The bow around the waist is utterly charming, while the swing design brings a glimpse of flirty charm wherever you go. Keep the maxi skirt the star of the show by wearing a basic black, white, or green top.

Calling all Christmas trees and Christmas tree lovers! If you're not afraid to get silly for the holidays, then you will love this set. It comes with a green funky skirt that's bedazzled with ornaments and a lovely cardigan on top. Being a complete skirt and cardigan set, you don't have to worry about styling anything other than your shoes.

Christmas Outfit: Jeans and Shirt
There is nothing wrong with skipping the bedazzled and feminine looks of jumpsuits, dresses, and skirts and going for classic jeans and t-shirt styles. But that doesn't mean you can't still enjoy a bit of Christmas spirit with your look. Here are a few of our favorite choices to pair with your blue jeans.
With charming patchwork, a glam button-down style, and fur around the neckline, this lovely long-sleeved shirt is exactly what Santa ordered His elves to design. It goes well with blue jeans and a pair of thigh-high black boots.

Do you think of a nice, warming glass of wine when you think of the holidays? Then you will love this knit shirt with plenty of holidays "spirit." This ultra-casual long-sleeved knit top is perfect for when you want to chill at home with the family. On the shirt is a sequined wine glass with a Santa hat – so festive!

By the way, if you're going cozy and casual, don't forget some comfy accessories, too. To go with your blue jeans and t-shirt Christmas outfit, consider adding a cute and colorful Christmas beanie like this, or keep your ears warm with some of the cheery ear muffs around.

Christmas Outfit: Suit
Don't forget that a suit can be styled to suit Santa's big day, too. The best part about choosing a suit is that most of the work is done for you. All you have to do is choose your undershirt, accessories, and shoes, and you're good to go.
This adorable snowman suit is exactly what you need for your holiday photo outfit. The blazer and pencil skirt combination is nothing short of alluring. Covered in cute snowmen, it gets a fun Christmas twist that you won't find elsewhere. Way to be unique, girl!

Like a pantsuit better? Then this green and the red plaid suit is for you. It's still bursting with holiday cheer and deep, look-at-me color combinations. However, it's a bit tamed down and more professional, making it a great option for photos and business parties.

Final Words
There are so many options for Christmas outfit ideas, whether you want something professional, casual, or somewhere in-between. You can't go wrong with a jumpsuit as it's an easy yet alluring look that can be easily styled up and down. Of course, a dress or skirt combo is also a classic option. Go for casual with blue jeans and a shirt, or make a statement with an incredible holiday-inspired suit.
What do I wear for Christmas?
The traditional holiday hues of red and green can be challenging to wear without making one look like an elf or a Christmas tree. For Christmas attire, gold, silver, and white are more elegant and wearable choices that can be matched to your skin tone.
What should a family wear for Christmas?
The colors red, green, plaid, and tartan go well with a holiday-themed photo shoot. Red plaid, green plaid, and the solid colors from the patterns work well together. A family can also mix plaids.
What is the dress color for Christmas?
Gold, silver, and/or white are frequently the preferred colors for those who do not love decorating in or clothing in the traditional Christmas hues of red and green. Although you may bring it down a bit for more informal parties, metallic gold hues are ideal for any elegant event.
The goal is to make the style yours by accessorizing to your heart's content. The options are limitless, but which look will you choose for your Christmas outfit this year?