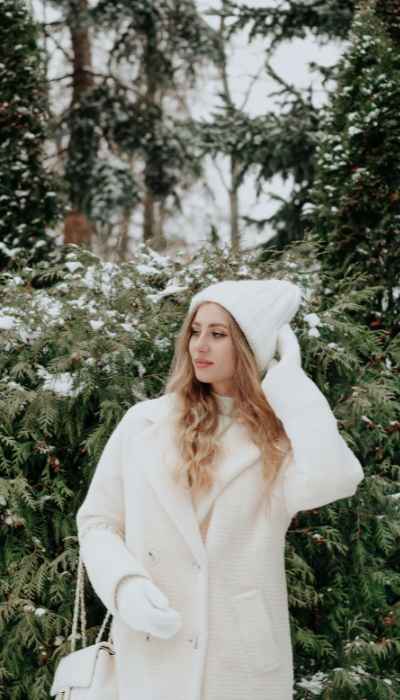 After a good number of years, most winter coats start wearing out and lose some of their warmth. Washing and wearing your coat daily causes the insulation inside it to slowly degrade, giving you less protection from the cold over time. And especially if you've been wearing your winter coat for more than a few seasons and it's feeling thinner than it used to, it's probably time to replace it.
While winter coats do tend to be expensive, you don't have to spend a fortune to replace your jacket. You can find stylish, warm jackets at affordable prices if you shop sale racks and avoid certain designer brands that mark up their prices.
Just to help you in your search for the perfect winter coat, we've put together this list of eight warm winter jackets that will keep you nice and toasty as the weather cools down. Let us know what you think of these picks!

If you're in a super cold climate, this is the coat you'll want to have in your closet this winter! Completely insulated and windproof, it's an excellent choice for extreme cold. The exterior shell has a special coating that makes it waterproof and windproof. The interior has a fuzzy lining that will keep you warm and toasty. This coat even has a detachable snow skirt that provides extra protection from the wind and snow.
But that's not all! This coat has a stormproof hood, five roomy pockets, and stretchable cuffs that will shield your hands from the cold. It's just the perfect jacket to wear in freezing temperatures because it's loaded with special features that are designed to keep you warm!

This puffer jacket is lighter than other winter coats but still just as warm! It's insulated with polyfill, which traps your body heat and helps you stay warm on chilly days. This coat is also completely water-resistant, so it will keep you dry in wet, snowy weather. It also comes in a variety of neutral colors like black and navy that will match the rest of your wardrobe.
This coat is also great for travel. It folds up neatly and slides right into the small travel bag it comes with, making it perfect for a ski vacation!

Peacoats have become a winter fashion staple! We think every woman should have at least one in her closet. Peacoats have a classic, elegant silhouette that elevates any outfit. They look equally great with either casual outfits or fancy dresses and are super versatile.
This peacoat from Lark & Ro will easily become the centerpiece of your winter wardrobe! It's got a timeless silhouette that will compliment all your outfits. It's also made of a durable wool blend fabric that will both keep you warm and last for many seasons to come. Featuring a double-breasted design with wide lapels that can be buttoned up to shield your neck from the cold, it comes in neutral colors like black and olive green that will fit in with the rest of your wardrobe seamlessly.

We also love long winter coats! They not only make a dramatic, elegant fashion statement but even look great with dresses and skirts. And they're much warmer than other winter coats because they cover your upper and lower body, which is another big plus!
This mid-length coat from Chouyatou hits a few inches below the knee and comes in striking colors, like wine red and army green. It also has a single-breasted design and a notched lapel, which adds visual interest.
Finally, it's made of a thick polyester fabric that will keep your whole body warm on chilly days and includes two big side pockets that you can stick your hands into for extra warmth. This jacket is just the perfect mix of stylish, functional, and affordable, so make sure you pick one up to wear all winter!

If you live somewhere warm like Florida or California, you probably won't need a heavy parka this winter. But you WILL need something a little warmer than your jean jacket for days when the temperature drops unexpectedly.
That's where this trendy statement coat comes in! It's made of a fuzzy faux shearling material that will keep you warm and cozy on chilly days but also won't overheat you like other winter coats.
Finally, it comes in a variety of stylish colors including steel blue, hunter green, and camel. It features two big side pockets that fit your phone, keys, and cold hands. Perhaps best of all, this jacket is super affordable, proving you don't have to pay a lot to stay warm and look great this winter!

If you want a cute, patterned jacket that will keep you nice and warm this winter, then check out this ski jacket from Andorra! It's one of the warmest winter jackets we've ever come across and is lined with two layers of thick fleece, keeping you cozy whether you're playing winter sports or running errands. This jacket also has a reflective thermal liner that helps trap and circulate your body heat to provide even more warmth.
Finally, it also has stretchable cuffs to cover your hands, a tall collar to shield your neck from the wind, and even a detachable hood and snow skirt. With all those special details and features, it will keep you warm this winter!
In addition to being warm and functional, this jacket is super stylish! It comes in lots of cute colors and patterns, including a multicolored star design and a purple geometric pattern. If you want to stand out this winter, this is the jacket to get!

Want a super warm winter jacket that won't break the bank? Then check out this parka from Grace Karin! It's made of thick polyester fabric and is padded with silk batting to provide insulation from the cold. It also has a fleece lining that adds even more warmth. It includes two roomy front pockets for your phone and keys and a big hood with faux fur trim to protect your face from the wind.
Finally, it comes in bright hues like red and army green that will add a splash of color to your winter wardrobe. And unlike a lot of winter coats, it's not bulky. It has a slim silhouette and a drawstring that cinches in at the waist to give your figure extra definition.

Down jackets are known for being warmer than synthetic coats, but they're also a lot more expensive. A down jacket from a brand like Canada Goose can cost you hundreds of dollars, if not more. But luckily, Eddie Bauer makes high-quality down jackets that you can get for a fraction of the price! Their CirrusLite jacket has a durable, water-resistant nylon shell and is filled with premium down. In lab tests, it's been shown to keep people warm in temperatures as low as negative ten degrees Fahrenheit. So, you can wear it in the coldest winter weather.
In addition to a super warm down lining, this coat has a high collar to protect your neck from the cold, elastic cuffs to minimize heat loss, and two big zippered pockets to hold all of your belongings. You can order it in a neutral color like gray or black or get it in a fun, fashionable color like dark plum or dusty blue.
Conclusion
We hope that this list has shown you that you don't have to spend a lot of money to find a stylish, warm winter jacket! If you don't care too much about owning name brands, you can easily find high-quality jackets made of durable materials for a fraction of what some designer coats cost. With all the money you'll save, you could buy some extra Christmas presents for your family or even put some additional funds in your emergency fund or retirement account. Talk about a holiday present!
Here are a few hand-picked articles for you to read next:
What material coat is warmest?
Wool is one of the options you can go with, apart from keeping you warm, it is lightweight, durable and water-resistant (perfect for the rain or snowstorms). Silk comes in second position in case you prefer it!
Should a winter coat be tight or loose?
It should be comfortable to wear while still fitting somewhat fitted to the body so no cold air can get in, and therefore keeping you the warmest.
How do I choose the right coat size?
A good trick can be to get the hem preferably end a hand's breadth above the knee.