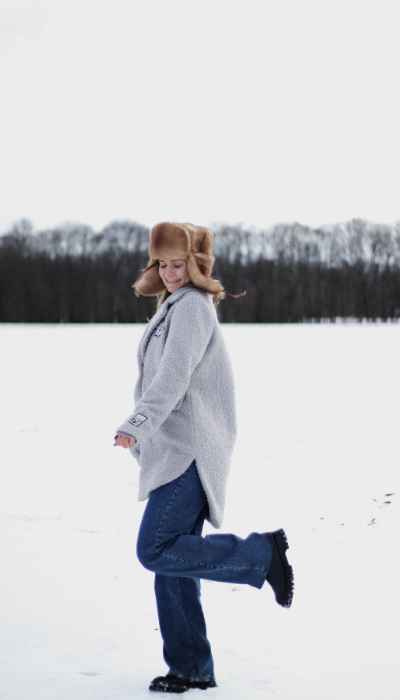 With every passing day, the weather is getting colder. Before you know it, winter will be here. Potentially bringing lots of snow, ice, and cold winds with it (depending on where you live).
Now is a good time to take stock of your current winter wardrobe and fill in any gaps. Is your pair of gloves from last year looking a little threadbare? Are the soles of your boots wearing down? Do you need a pair of earmuffs? Once you've figured out what you need, come back and take a look at this list.
We've put together a roundup of some of the warmest, most affordable women's winter accessories we could find to save you time and money. If you have things you need to buy or replace, keep reading to see our recommendations for hats, snow boots, scarves, and more!

This first women's winter essential accessory is a chunky knit scarf that is just what you need to keep warm this winter! Most jackets don't come up high enough to cover your neck, so a scarf is pretty much a requirement on cold days.
This knit scarf is long enough to loop around your neck several times and provides great insulation from the cold. It's made of a thick acrylic material that's super soft and warm. It also comes in lots of colors, including black, ivory, and burgundy, so it will match the rest of your winter wardrobe perfectly!

If you live in a cold climate, an insulated vest is a women's winter must-have. You can add a vest like this one underneath your jacket for extra warmth. It's quilted and insulated with polyfill to trap your body heat and keep you nice and toasty.
Unlike other puffer vests, it's thin and streamlined, so it fits nicely under a jacket and won't add extra bulk to your frame. It comes in a few different colors, including black, dark blue, and a beautiful jewel tone green. It will surely complement your complexion and the rest of the clothes in your closet.

This is the warmest women's winter beanie we've ever encountered! It's made of a thick knit material and lined with fleece to provide even more insulation. It has a stylish, slouchy fit and comes in a wide variety of colors. You can get it in a neutral shade like beige or gray to match everything in your wardrobe OR buy a fun color like purple or light blue to add a pop of color to your outfits. All good options!

Winter boots don't have to be bulky or ugly! These snow boots look just like regular leather riding boots but are much warmer. They're made of durable vegan leather that can stand up to heavy snow and ice. Also, they are lined with faux fur to insulate your feet from the cold.
Finally, they even have some beautiful details like quilting on the back and buckles on the sides that turn them into a real statement piece. If you're looking for a good pair of women's winter fashion boots that will keep your feet warm and dry all winter, then this is the one for you!

These fleece-lined jeans are the perfect pair of cold weather pants! They're much more fashionable and versatile than thermal leggings and snow pants because they just look like a regular pair of straight-leg jeans. They've also got a relaxed fit and a medium wash that will go with everything in your closet.
You can dress them down and wear them with a slouchy knit sweater OR dress them up and wear them with a nice blouse and a pair of ankle boots. No one will know that they have a cozy fleece lining and are as comfortable and warm as thermal leggings!

We think that earmuffs are the cutest women's winter accessory (not to mention the most essential)! Because our ears don't have much protective fat, they get cold much quicker than other parts of the body and are extra vulnerable to frostbite. So you should always wear some kind of protective covering, like earmuffs or a headband to keep your ears warm.
These earmuffs, which are made of a fuzzy terry material, are our favorite way to protect our ears. They're warm, stylish, and come in a variety of neutral colors, including gray, white, and black. Moreover, they're foldable, so they're small enough to store in your purse or pocket when you're not wearing them. Unlike other stiff ear muffs, they are very comfortable. And best of all, they're super affordable, so there's no reason not to get yourself a pair!

Even if you have a pair of extremely cold weather boots, it's still a good idea to wear thick socks for extra warmth and protection from frostbite. These socks from Carhartt are made of an acrylic and wool blend that will keep your feet warm and toasty even in cold temperatures.
They're designed to wick away sweat and moisture, so they'll also help keep your feet dry while you're trudging through snow and ice. They come in several neutral colors, including gray and khaki, and will blend right in with whatever outfit you're wearing.

Even if you already own a pair of winter gloves, you may want to upgrade to this pair! These thick knit gloves are lined with fleece to keep your hands extra toasty. They have windproof elastic cuffs and moisture-wicking fabric to keep your hands warm and dry in wet, snowy weather. But they're also touchscreen gloves, so you'll still be able to text and use your phone while you're wearing them.
They have a stylish cable knit design and come in lots of colors like burgundy and oatmeal. They'd make a great Christmas stocking stuffer, so pick up a pair for you and a friend!

Wearing a knit headband is a great way to protect your ears from the cold while adding some extra flair to your outfits! These crocheted headbands have a bow detail on the front that's very stylish.
They come in a pack of six, so you'll have lots of different colors to choose from, including burgundy, ivory, and warm brown. They're made of soft, thick yarn that will cradle your ears and shield them from the cold. And best of all, these cozy knit headbands are super affordable, so they won't break the bank!

If you're going to be spending a lot of time outside this winter, then you need a good pair of thermal underwear to layer underneath your clothes. This women's winter thermal underwear set comes with a long sleeve top and a pair of leggings. Both are designed to trap your body heat and keep you warm while you hike, ski, or snowboard.
Also, both items are made of a breathable cotton material that wicks away sweat and moisture, making them great for winter sports. They have a snug yet comfortable fit along with a range of colors, including dark purple, navy blue, and red. If you're going skiing this winter or live in an especially cold climate, then this thermal underwear set is a must-have!
Final Words…
In conclusion, it's important to invest in the right women's winter accessories to keep you warm. Let's face it: nobody enjoys getting frostbitten. But you don't have to spend hundreds of dollars on name brands to get well-made products that will protect you from the elements. The accessories on this list are all affordable and high-quality, so they'll keep you cozy all winter and last for many seasons to come.
Here are a few hand-picked articles for you to read next:
Successible Life is a participant in the Amazon Services LLC Associates Program, an affiliate advertising program designed to provide a means for sites to earn advertising fees by advertising and linking to Amazon.com.