What do Kim Kardashian, Jennifer Lopez, and Nicki Minaj all have in common? Besides being pop culture icons, these ladies are also known for making developed backsides popular. Commentators talk about their behinds, and these ladies regularly show off their butts in red carpet attire.
As a private weight loss coach for women, I hear my clients' goals for their health and their bodies, and a frequent one is to get a bigger butt or a more defined butt. As with any body part that you plan on toning, this all starts building up the related muscle groups.
Building up Your Butt Muscles
Your butt is composed of muscles that are generally referred to as the glutes. Your glutes are made up of the gluteus maximus (helps you walk), the gluteus medius (helps you rotate your legs and hip), and the gluteus minimus (helps you to extend your hip). So aside from filling out your clothes in all the right places, you're also going to be improving your posture and range of motion.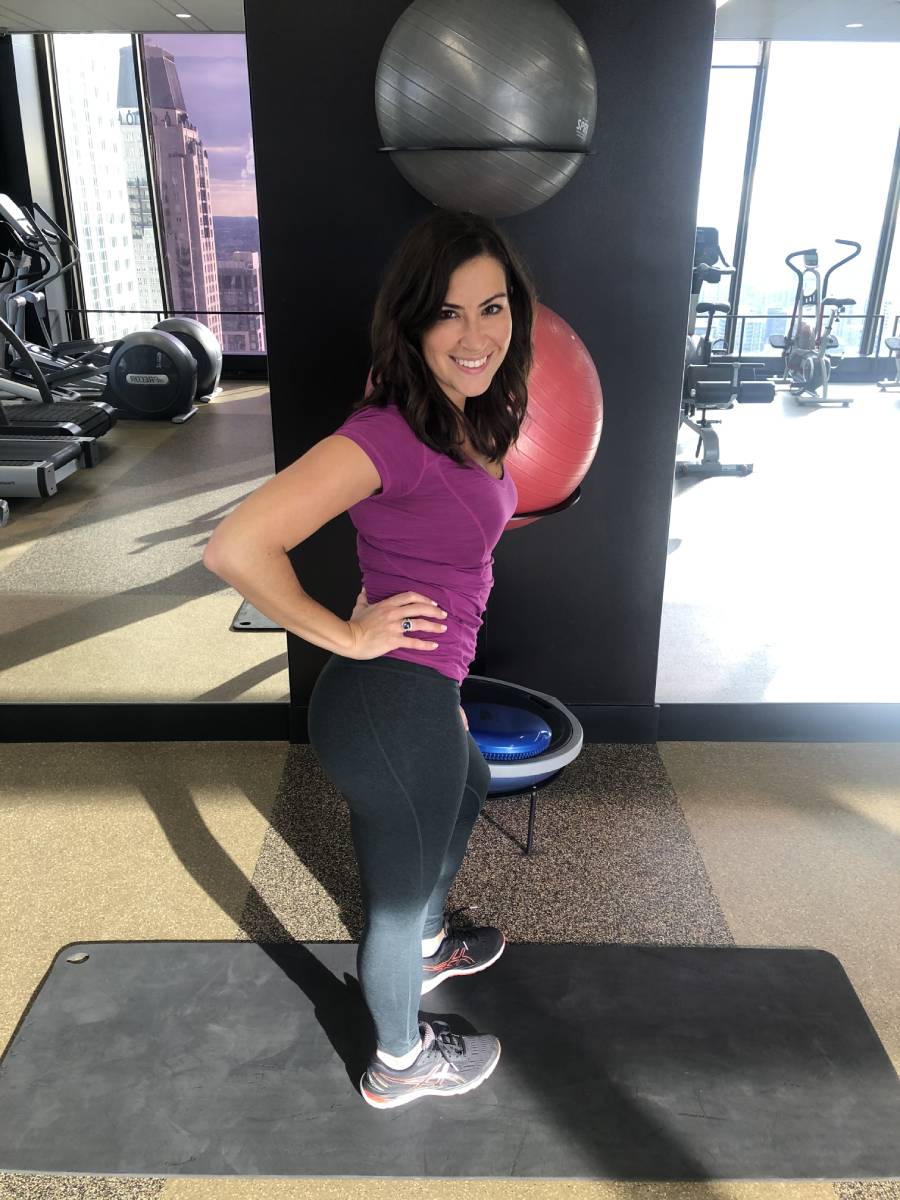 Building the muscles of your butt and getting a bigger butt can also help with burning fat faster! As the glutes and legs are already the biggest muscles in the body, building up just one of these even more can enable your body to burn more calories and lose more fat. Muscle burns fat faster than fat burns fat, so a more muscular butt can help you burn more fat even during cardio workouts versus a flatter backside.
Butt workouts for women can be done standing, on hands and knees, lying sideways, and even on the stomach. As you can see, there is a variety of positions to get started in to work your glutes! You can repeat each exercise below 10 times. I recommend doing these exercises every other day for two weeks to get the best results!
Standing Exercises
1. Curtsey Lunge with Side Leg Lift
Starting with your feet shoulder-width apart, take a step backwards with your right leg. Your right leg will cross behind your left leg while you do a lunge. From this position, you will push up with your right foot to briefly return to your starting position and transition into a right leg lift. Repeat with other leg and alternate 10 times to each side.
This curtsey lunge will work the back of the glutes and hamstrings to help get rid of cellulite. It also works the outer hip of the standing leg to help get a well-rounded butt. As a personal trainer for women, I love performing this exercise and having my clients do this exercise because it targets all of the areas of the glutes, hamstrings, and quads. Simply put, it's a great first lower body exercise to warm up this entire area.
2. Stationary Lunge with Leg Lift
Starting with your feet shoulder-width apart, take a step backwards with your right leg into a lunge. Then stop when your knee is around two inches above the ground. From here, lift your right leg straight back and work the glute. Repeat this 10 times and then repeat with other leg. For a great mobile alternative to this exercise, check out these walking lunges from the blogger Buzy Mum.
This exercise is like two exercises in one. You're performing a lunge with one leg. The front leg is doing the work in the lunge because the quad, glute, and hamstring are all contracting and stabilizing. Then when you lift the alternate leg, you're working the standing leg even more while strengthening the back of the lifted leg. With so many things going on in the lower body and glutes for this exercise, it's important to do this one slowly and precisely.
Hands and Knees Exercises
3. Raise the Roof
Starting on the ground while you're balanced on your hands and knees, bend your right leg and flex your right foot. To get into this position correctly, imagine you are kicking the ceiling. Lift your right leg up while keeping your right knee bent and your foot flexed. Repeat this 10 times and then repeat on the other side.
When you're on your hands and knees, your smaller core muscles have to work to stabilize your body. This means that your hips and glutes have to work extra hard too! While the roof-raising leg seems to be the one doing all the work in this exercise, the leg with the knee on the ground is forced to stabilize your body. The muscles of the glute, hamstrings, and quads kick in to maintain balance in this exercise.
4. Fire Hydrogen
Start on your hands and knees on the ground. Make sure your shoulders are over your hands and your hips are over your knees. Rotate your right knee outwards, making an approximately 90-degree angle with your body. Then reach the knee up and bring it back to the starting position. Repeat this 10 times and then switch sides.
In this exercise, it's easy to get off balance. It's important to slowly move through this range of motion so that the opposing leg and hip can help with stabilization. Pull your naval in towards your spine to maintain the integrity of your lower back and core in this exercise.
5. Straight Leg Tap Backs then Side Taps
On your hands and knees, straighten your right leg behind you and stay on your left knee. Lift your right leg up as high as your hips, reach it over towards the right, and then tap the toe down. Then lift this leg up, come back through center, and tap your toe at the starting position. Repeat this 10 times and then switch to the left side.
Stomach Exercises
6. V-Raises
Lying on your stomach, prop your hands on top of each other and rest your forehead on your hands. Bend your knees and try to open them as wide as your hips. Then touch the heels of your feet together and open your toes outwards to make a V shape with your feet. Pull your naval in towards your spine and away from the ground. Finally, press your feet up towards the ceiling as you contract your glutes and squeeze your hamstrings.
For this exercise, try to keep your upper back out of this. Perform the exercise by focusing on the lower body and simply using your upper body for support.
7. Swimming
Surprise! Even if you don't realize it, swimming on the ground without water is quite a workout – especially for your butt. Reach your arms out in front of you and your legs behind you. Pull your naval in towards your spine. Reach your right arm up and your left leg up off of the ground while keeping this leg straight. Contract your right glute and hamstring. Then switch and simultaneously lift your left arm and right leg up off of the ground. Repeat back and forth for a total of 30 seconds while progressively increasing your pace until you're "swimming" as fast as possible.
Swimming works your entire body, and surprisingly the movement of the arms actually makes it more challenging for your legs and glutes to stay turned on! The arms serve as a distraction in this exercise. And make sure to squeeze your glutes – trying to point your toes during this exercise can help.
The Complete Butt Workout
All you need to do is a total of three rounds of all seven exercises for a complete butt workout! This total butt workout will have the backs and sides of your booty burning in no time! Finally, remember to listen to your body and always work at your own level.
How can I get a bigger bum fast?
Banded side step
Donkey kicks
Walking lunge
Glute bridge
Single-leg deadlift
Jumping squats
Weight training
Clamshell
What foods make your butt bigger?
Protein shakes
Eggs
Salmon
Legumes
Avocados
Quinoa
Brown rice
Flaxseed
How long does it take to get a bigger butt?
However, depending on food, exercise, and body type, some people may discover that it takes 10–12 weeks to detect a change in their glute growth. You should exercise your glutes many times a week (2–3 times), and make sure you are consuming enough calories to create muscle.
Here are a few hand-picked articles for you to read next: