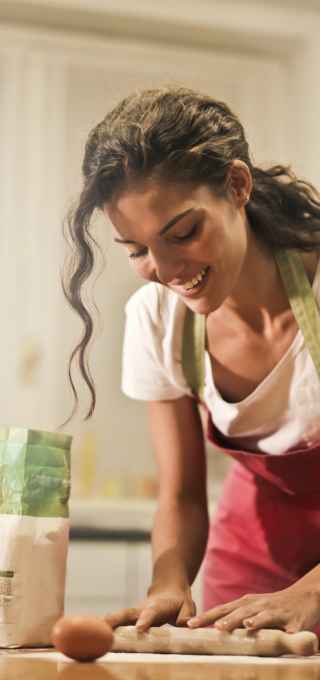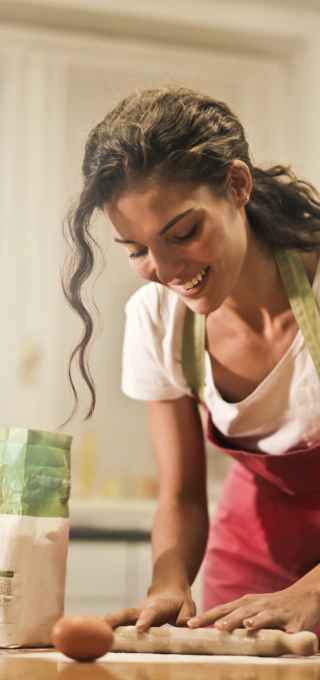 The Land Down Under (as it's especially known thanks to this worldwide hit) has no shortage of amazing food. With its multicultural influence, locals regularly enjoy cuisines from across the globe. But which meals are uniquely Australian, and which can Aussies claim as their own?
Thanks to both our traditions and modern, multicultural society, all of them! Below I've included four healthy Australian recipes that are truly time-tested and iconic dishes PLUS three everyday healthy dishes that Australians regularly enjoy from around the world. So let's start our journey of the various culinary traditions that come from Down Under!
Sanga Sandwich
"I'm starving; let's grab a sanga." Translation: "I'm hungry; can we go get a sausage sandwich to eat?"
Sanga is Australian slang for sausages, which are typically cooked on a BBQ or "barbie" in Australia. With our love for the outdoors and variety of wild game options to choose from, Aussies have embraced BBQ Australian recipes for centuries. Today, many Australian families own a BBQ, but outdoor picnic spots, beaches, and parks often also have BBQs to cook on. If you haven't had a sausage before, it's usually comprised of ground bits of meat and offcuts with additives like salt encased in skin. This is then cooked on a BBQ and put on a slice of white bread with sauce and eaten as a sandwich.
The classic Aussie BBQ sausage sandwiches are not a healthy option, but here is a healthy recipe version of a sausage sandwich:
Healthy Australian Recipes: Healthy Sausage Sandwich
Makes 4 servings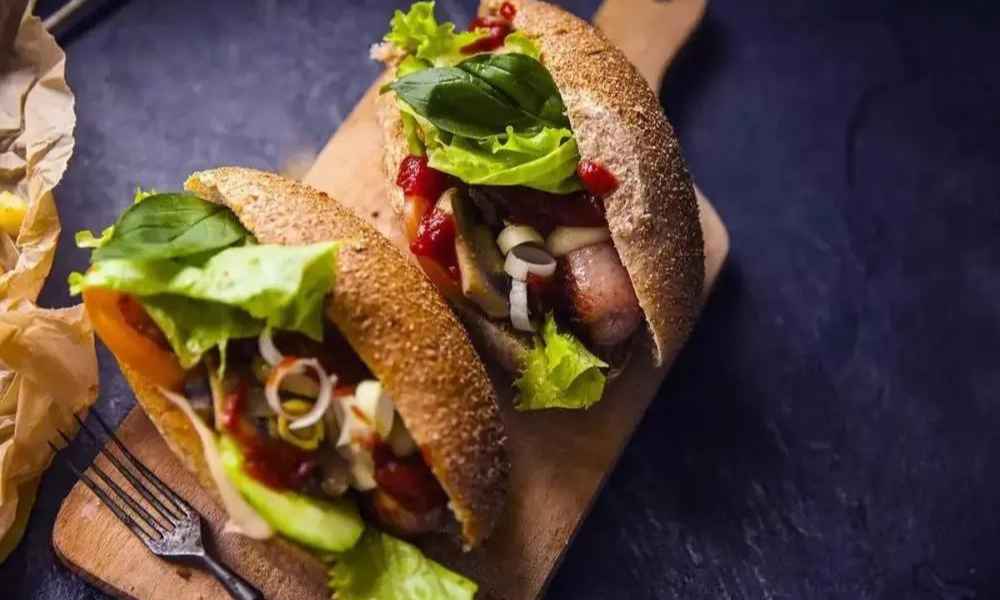 Ingredients:
4 lean, low sodium sausages – healthier options include turkey, kangaroo, or vegetarian sausages
8 slices of wholegrain bread
2 small brown onions, sliced
1 large tomato, sliced
Handful of mushrooms
1 tin (or can) of sliced beetroot
2 cups lettuce
2 cups of veggies of choice
Tomato or BBQ sauce – low salt, low sugar variety
Extra virgin olive oil
Method:
Prick sausages with a fork on both sides and cook on a heated BBQ with olive oil. Add onions and cook.
Serve on bread with veggies and sauce and enjoy!
TIP: You can make this recipe vegan or vegetarian by opting for vegan sausage. Always prick your sausages before cooking as this allows the extra fat to drain out whilst on the BBQ.
Meat Pies
Meat pies have long-standing Australian recipes that are especially popular at sporting events. They are made from a short-crust base filled with rich minced beef gravy. They are typically quite an unhealthy meal, high in saturated fat, trans fats, and salt, and sold everywhere from supermarkets to petrol (or "gas") stations. However, you can make a healthy version of this iconic Australian meal with the following recipe:
Healthy Australian Recipes: Healthy Meat Pie
Makes 4 servings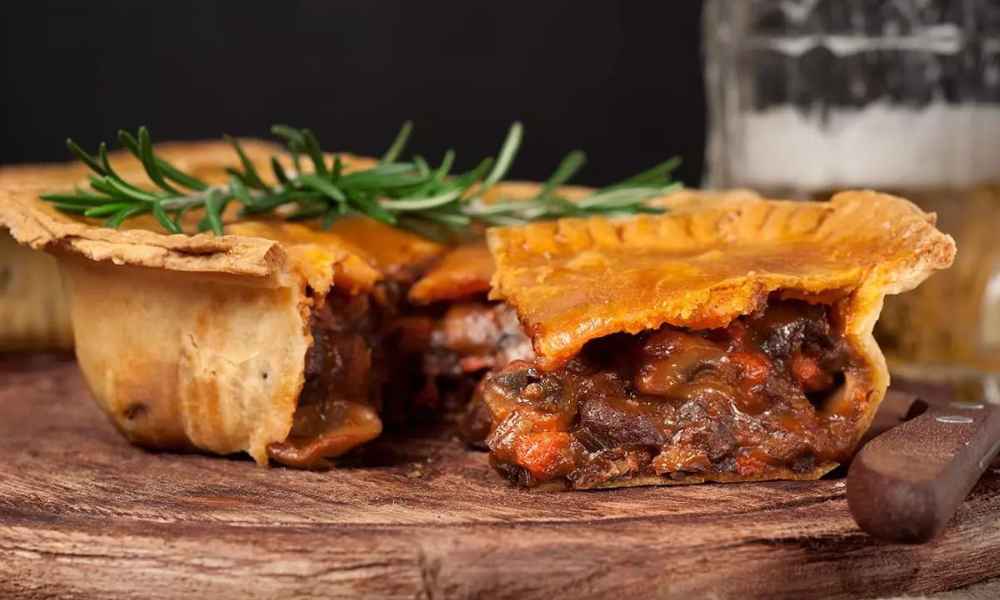 Ingredients:
2 tbsp extra virgin olive oil
3 cups wholemeal (or "whole-wheat") flour
1 onion, diced
420g (or 15 oz.) can of brown lentils, drained
200g (or 7 oz.) lean steak, fat trimmed
1 cup mushrooms, sliced
2 carrots, finely chopped
Method:
Preheat oven to 180° C (or 350° F) and grease a 20 cm (or 8-inch) pie tin (or "pie pan").
Mix 1 tbsp oil into the flour. Add 1 cup of water to the flour and stir. Knead and roll out thinly. Cut out a 30 cm (or 12-inch) diameter circle for the top and then roll out the remainder again. Place in a pie tin ("pie pan") and bake for 10 minutes.
Heat 1 tbsp oil in a pan and sauté onion. Add veggies and cook. Add meat and lentils and gently bring to the boil with a few tablespoons of water.
Once thickened, pour into the pastry base and top with the lid. Press the edges together and then make a slice in the center (or "center") of the lid. Place into the oven and cook for 30 minutes or until golden brown all over.
Remove from oven, slice, serve and enjoy!
TIP: You can make this recipe vegan or vegetarian by swapping all the steak for lentils. You can also transform this into other iconic Australian recipes known as Shepherd's Pie (originally British and Irish) by steaming a bunch of potatoes (or sweet potatoes), mashing them with a little margarine and milk, and placing this on top of the pie before cooking in the oven. This is a great way to add an extra serving of veggies to your meal.
Fish and chips
Fish and chips, originally a British dish that is itself inspired by Mediterranean immigrants, remains a classic meal commonly enjoyed from takeaway shops by Aussies outdoors and down by the beach. While hot chips are deep fried and fish is often battered, this meal can be made more nutritious by ordering grilled fish like salmon, barramundi, John Dory, or another local fish in place of battered fish. This can then be served with a side salad. You can also make your own healthy version of potato chips at home with this delicious, easy recipe below.
Healthy Australian Recipes: Crunchy Potato Chips
Makes 4 servings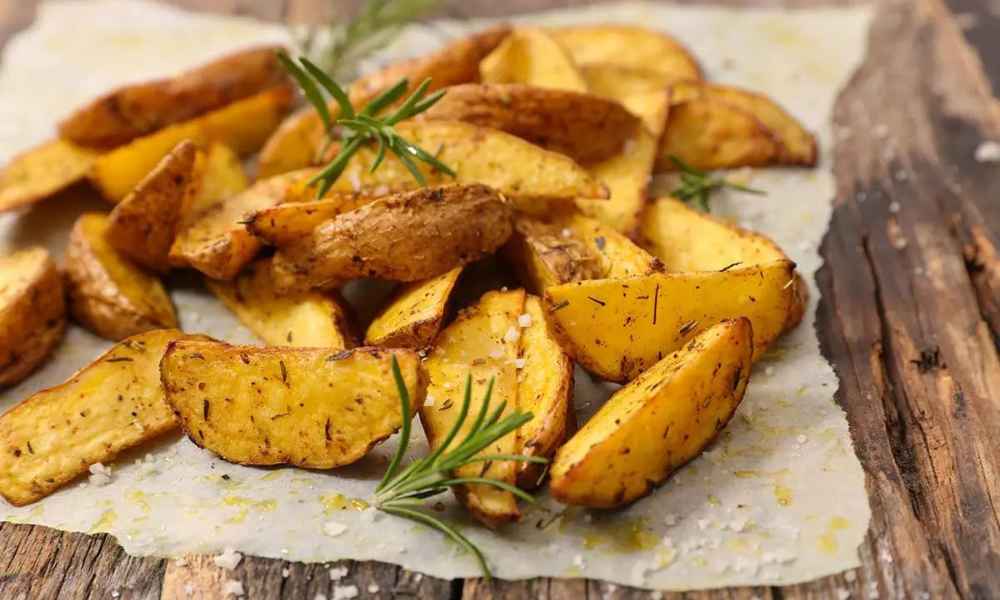 Ingredients:
4 large potatoes
2 tbsp extra virgin olive oil
A sprinkle of spices of choice e.g. dukkah, paprika, garlic powder, salt or pepper
Method:
Preheat oven to 180° C (or 350° F).
Wash potatoes & slice them into long, fry-shaped pieces.
Place the potato slices into an extra-large plastic sandwich bag with olive oil and shake to coat.
Place potato slices onto a baking tray & sprinkle with spices if desired.
Bake in the oven for 15 minutes or until crispy.
Enjoy!
Tip: Salt is always added to hot chips in Australia, so if you are watching your salt intake for your blood pressure or heart health, ask for no salt when ordering.
Chicken Parma
A dish of Italian origins, Chicken Parmigiana aka Chicken Parma (because Aussies shorten all their words) is now a classic Australian favorite seen on most pub menus Down Under. While not traditionally known as a healthy meal, you can definitely make a healthy version of this at home that will satisfy your taste buds and Parma cravings.
Healthy Australian Recipes: Healthy Chicken Parmigiana
Makes 4 servings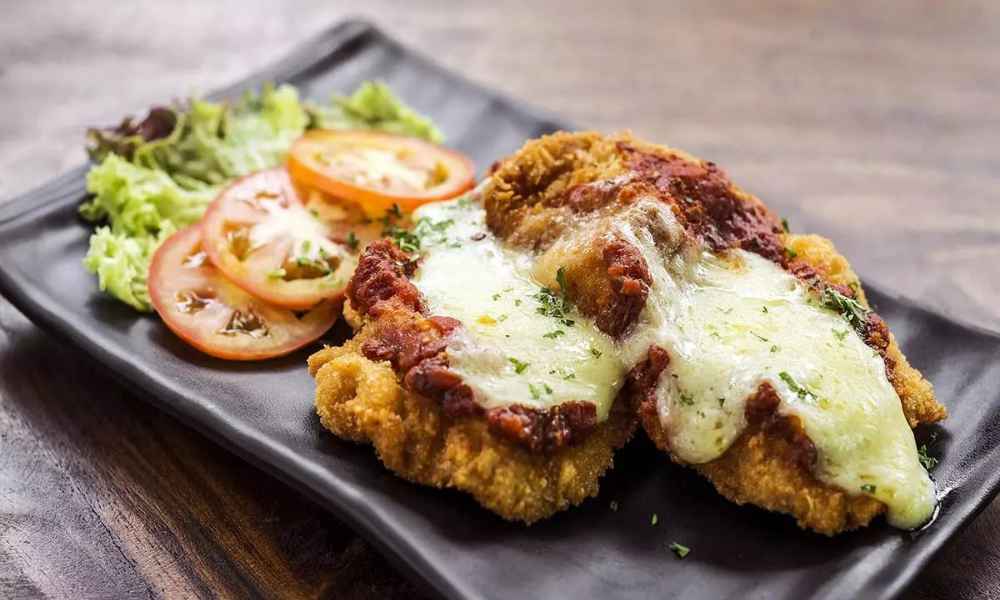 Ingredients:
4 chicken breast fillets, no skin
1 large brown onion, diced
2 tbsp extra virgin olive oil
1 clove garlic, crushed
1 eggplant, finely diced
½ cup whole wheat bread crumbs
1 tin (or can) chopped tomatoes
2 whole tomatoes, chopped
3 cups baby spinach
½ cup low-fat cheese
Fresh basil leaves to serve
Method:
Preheat oven to 180° C (or 350° F).
Heat olive oil on the frying pan and sauté chicken until cooked through. Remove from pan, place in a baking tray, and keep warm.
Brown garlic and onion in the frying pan. Add eggplant and cook until softened. Then tomatoes and simmer until the sauce thickens. Add baby spinach and remove from the heat.
Pour veggies and sauce over the chicken in a baking tray. Sprinkle with breadcrumbs and cheese and bake until the top is golden.
Garnish with fresh basil leaves, serve, and enjoy!
Tip: For tinned (canned) tomatoes, always look for "salt-reduced or reduced sodium" and "no added sugar" varieties.
Pasta
Australia is a multicultural society that enjoys cuisines from across the world. Italy has had a strong influence on Australian recipes, with pasta and pizza being common dishes in Australia. Australians enjoy pasta of all different varieties regularly at home as well as when eating out. Here is a healthy Sun-Dried Tomato and Mushroom Pasta you can try!
Healthy Australian Recipes: Sun-Dried Tomato and Mushroom Pasta
Makes 4 servings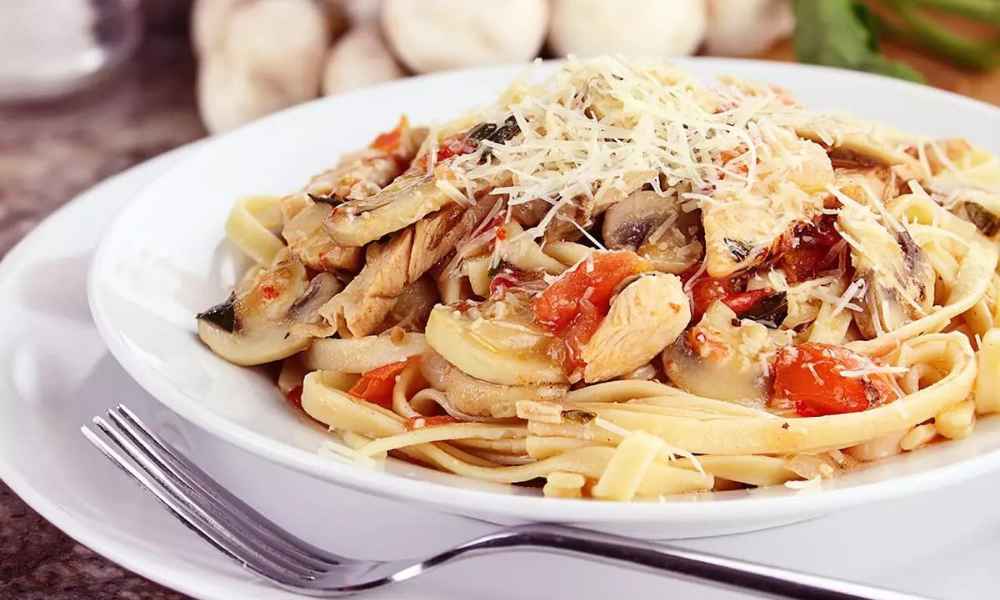 Ingredients:
1 x 300g (or 10-12 oz) pack of stone-ground pasta of choice
1 cup mushrooms, washed & thinly sliced
¾ cup semi-sun-dried tomatoes, drained & sliced
4 tbsp tomato paste
½ cup cashews
4 garlic cloves, peeled & crushed
1 tbsp extra virgin olive oil
Handful of fresh basil, chopped
Method:
Cook pasta according to packet instructions. Once cooked, run under cold water, drain & place in a large serving bowl.
Boil the cashews in water for 10 minutes. Drain and place in blender with ½ cup water & blend until smooth.
Heat the olive oil in a frying pan. Add garlic, mushrooms & sun-dried tomatoes. Sauté for a few minutes.
Reduce heat and add cashew cream. Add ½ cup water, tomato paste, and basil.
After a few minutes, add cooked pasta to the sauce and mix through. Serve with your favorite source of protein and enjoy!
Tip: When serving your pasta, aim to include ½ a plate of veggies or salad with your pasta meal.
Salads
Salads, which are popular around the world (often with different ingredients), are very common Down Under, especially during the warmer months of December, January and February in Australian Summer. Many Aussies enjoy salads at home for lunches and dinners as well as outdoors when having picnics. Aussies enjoy a diverse range of salads including Greek Salads, potato salads, Mediterranean salads, seafood salads, chicken salads, roast veggie salads, and cabbage salads.
With a choice of beautiful fruits, Australian recipes also like to add fruit, including peaches, figs, oranges, nectarines, apples, and mangoes, to their salads. Here is a recipe for a healthy Mango and Avocado salad that can be enjoyed when mangoes are in peak season in Summer in Australia.
Healthy Australian Recipes: Mango and Avocado Salad
Makes 4 servings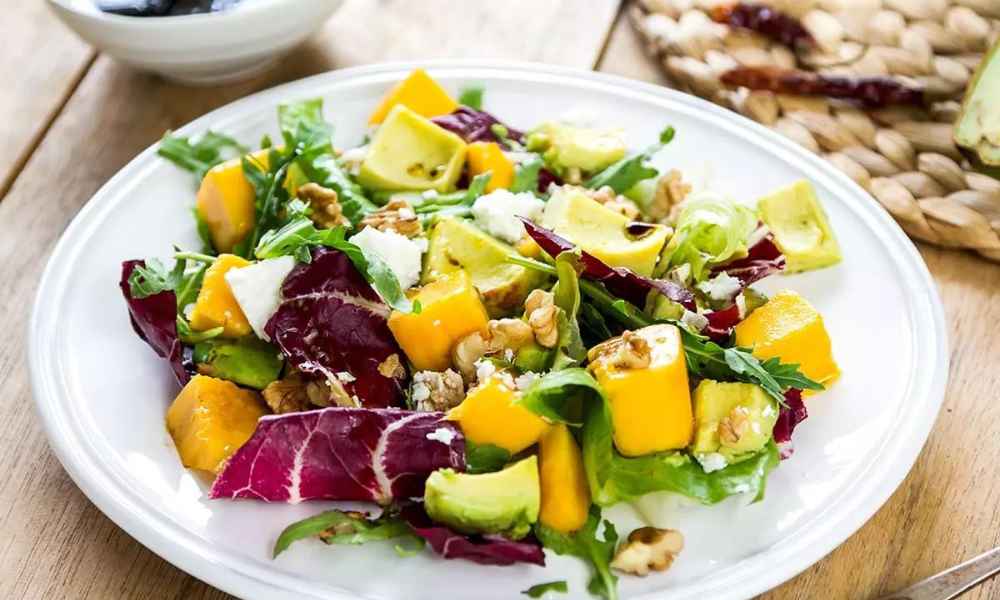 Ingredients:
1 large ripe mango, peeled, deseeded, and diced
1 large ripe avocado, peeled, deseeded, and diced
¼ cup pine nuts
1 small sweet potato, diced
2 cups baby spinach, shredded
1 cup pumpkin, diced
1 Spanish onion, diced
½ cup fresh coriander leaves, roughly chopped
1 tbsp sweet chili sauce
1 lime, juiced
5 tbsp extra virgin olive oil
Method:
Place sweet potato, pumpkin, and onion in a baking tray and drizzle with 2 tbsp olive oil. Bake until cooked through and slightly crispy.
In a small mixing bowl, mash mango and avocado together. Add lime juice, sweet chili, and 1 tbsp of olive oil. Combine. Mix in coriander.
In a frying pan, heat 1 tbsp olive oil. Toast pine nuts and set aside.
Place baby spinach in a salad bowl. Mix in baked veggies and sprinkle with toasted pine nuts. Stir through mango avocado salad dressing.
Serve and enjoy!
Tip: While salads are typically a healthy option be aware when eating out that some salads will still be high in saturated fats, trans fats, refined carbs, and sodium (salt). Watch out for salads smothered in creamy sauces and mayonnaise, those with processed meats like bacon, those with lots of cheese, and those with more pasta than fruits or vegetables. Instead, opt for salads with lots of colorful vegetables, dressings made with olive oil, healthy proteins like salmon or beans, and whole grains like quinoa or brown rice.
Asian Foods
Meals from China, Japan, Thailand, and Korea, to name a few, are very popular in Australian recipes and enjoyed by Aussies out at restaurants as well as at home. Rice is a common grain in Australia, and fried rice is eaten by many Down Under. Here is a healthy fried rice recipe with a boost of extra veggies you can try.
Healthy Australian Recipes: Healthy Fried Rice
Makes 4 servings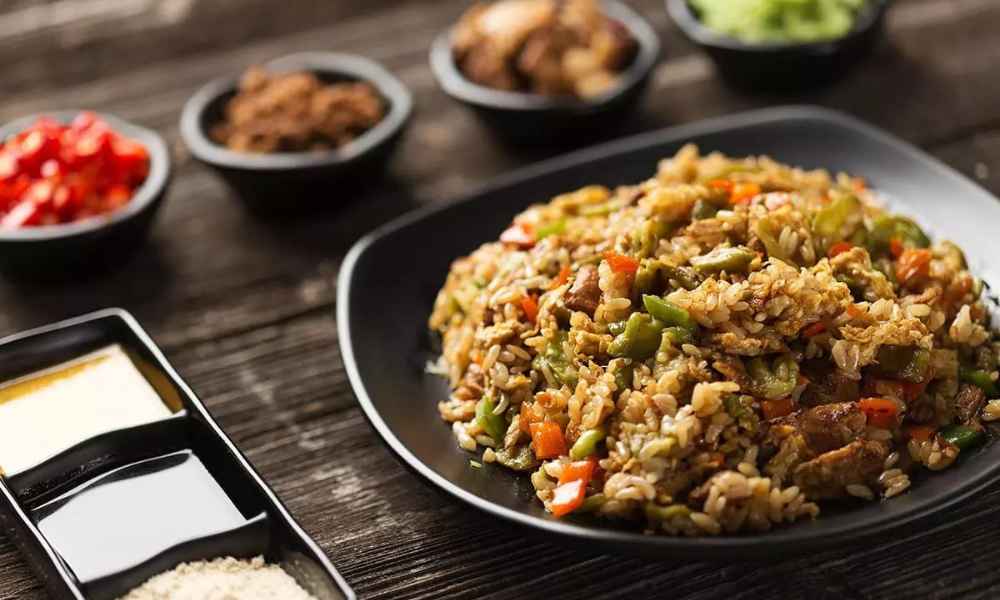 Ingredients:
2 cups brown rice
2 tsp extra virgin olive oil
1 carrot, thinly sliced
½ cup snow peas, finely sliced
8 spring onions, thinly sliced
1 capsicum, diced
½ cup peas
½ cabbage, shredded
2 tablespoons salt/sodium-reduced soy sauce
½ cup green beans, finely chopped
Method:
Cook brown rice according to packet instructions.
In a frying pan, heat oil and stir-fry veggies.
Add rice, stir, and cook for a further 1 minute. Add soy sauce and cook for another minute.
Serve and enjoy!
Tip: If you don't usually eat brown rice, you can use half white and half brown rice to help you get used to brown rice. To increase the protein of this dish, add a few eggs to the pan while cooking the veggies, mix around and then add rice. You can also add any other vegetables to this dish that you like such as broccoli or zucchini.
Final Words…
Whether you're from the Land Down Under, traveling to Australia for a holiday, or just want to try some good old iconic Australian recipes, these are just the meals for you! With healthy options for all and a variety of multicultural options, what's not to love about these healthy Aussie dishes? Made with substantial amounts of nutrients, culture, warmth, love, and hospitality, these recipes from Down Under most definitely "come from the land of plenty".
What should I be eating every day?
We advise consuming a majority of vegetables, fruit, whole grains, healthy fats, and healthy proteins, using Harvard's Healthy Eating Plate as a reference. We advise against drinking sugary beverages in favor of water and discuss frequent dietary issues including salt and sodium, vitamins, and alcohol.
What should I be eating to lose belly fat?
Aim to consume at least 25 grams of fiber every day when attempting to lose abdominal fat. Pulses, such as lentils and beans, apples and pears with the skin, nuts, and seeds, and cruciferous vegetables, such as broccoli and Brussels sprouts, are foods high in fiber.
What is the healthiest type of meat?
The healthiest selections are chicken and turkey.
Turkey and chicken should be at the top of your shopping list if you're looking for the healthiest meats that are the most nutrient-dense, according to Schiff. The nutritional value of the two is roughly identical, with turkey often being leaner than chicken.
Here are a few hand-picked articles for you to read next: