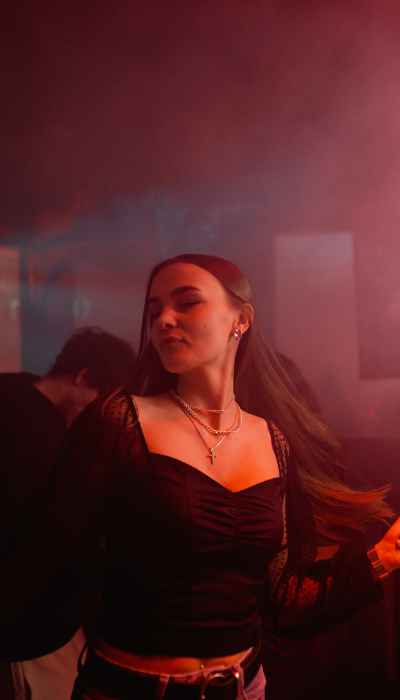 When you go to the club, you have one goal in mind: to steal the show. But what happens when you've picked out the perfect shoes and bottoms but find yourself stuck on a flawless matching top? Well, you turn to this article, of course!
Calling all clubbin' babes that want to take center stage: today, the focus is 100% on you, queen. Whether you're a fan of tube tops that show off just the right amount of skin or want to razzle-dazzle in a sparkly getup, you'll find the ideal clubbin' top below.
There are eight stunning clubbing tops to choose from, so you can easily find exactly what you're looking for. You might end up buying all of these clubbing tops so that you can put together a look-at-me 'fit all summer long.
Top 8 Clubbing Tops You Won't Want to Miss
Okay, divas – you ready? With these clubbing tops, you might get mistaken for Queen B Beyonce herself. But really, who would complain about that?! Get into it!
Sparkly Tops
Plenty of clubs are known for their bright lights and colorful atmosphere. Well, why not be a part of the bedazzling dramatization? Sparkly tops are all the rage in the club scene, and you're sure to stand out from the crowd.

If you're looking for something super slinky and risque, consider this alluring sparkly top. It's got a plunging neck crop that allows your neckline to show and a teeny-tiny halter strap to make you look oh-so-alluring in shiny metallics. Want something that allows a bit more coverage but shows off that lovely tummy? This sparkly cropped top is sexy yet has a flirty flare thanks to puff sleeves. Having a sparkly top is a must in your party wardrobe.
Bustier Tops
Who said bustiers had to be reserved for the bedroom? If you're looking for top-notch clubbing tops, look no further than the classic bustier top. A bustier top will work for gals in the itty-bitty-titty committee or ladies with delightfully large breasts.

This lovely bustier top is the ideal mix of tantalizing yet sophisticated party tops. In contrast, this sparkly bustier top is designed to "wow" with an impressively bright look-at-me pink and glitter from top to bottom that you can never go wrong as a going-out top.
Corsets
With all of the drinks at the club, you're going to be happy you went with corset clubbing tops. After all, you need something to help conceal a slightly bloated belly, right? On the other hand, a corset will create a stunning figure with an hourglass shape that can't be missed.

This neon pink corset detail crop top "lets it all hang out" in the best way possible, with cutouts in every direction. Looking for something a little more subtle yet doesn't slack on allure? Then you'll love this black corset crop top. This black faux leather corset top is perfect for showing off the girls. And crafted with faux leather, it has an edgy appeal that's great for clubbing.
Tube Tops

Tube tops may have been a must-have for 90s stylin', but they're making a fierce comeback; especially when it comes to clubbing tops. This metallic tube top will stand out even in the darkest club lighting, while this seductive tube top comes with a playful zipper with just the right amount of sex appeal.
Harness-Style Tops
Girls that love a little bit of edge and attitude in their getups will love harness-style tops. These tops are designed to look fierce and irresistible and are the type of clubbing tops that will turn heads.

You can go as simple or as risque as you please. For example, this slinky number leaves little to the imagination while this harness top has a bit more fabric with a gothic appeal that many will be drawn to. If you're a dark diva-like Elvira, you'll fall head over heels with this intricate harness-style top.
Satin Tops
Is there anything as luxurious and desirable as satin? There is something about satin that is undeniably appealing. Even the simplest satin clubbing tops will take center stage at any establishment they're worn to.

This satin crop top allows your belly button to play peek-a-boo. The added flowiness of the top ensures it's ready for even the most incredible dance moves, too. The bright minty shade is an eye-catcher, perfect for nights spent in the nightclub. Want something with a bit more flair? This satin bralette has a unique fluttery design that's quite head-turning. A black satin corset is always a secure choice that offers you that chic black.
One-Shoulder Tops
There is something instantly desirable about one-shoulder styles. Although some of these tops don't show anything but a bare shoulder, it's enough to get the attention of everyone in the crowd.

Go all out with a ribbed one-shoulder crop top like this, which exposes more of your enthralling figure. Or, go the metallic route with an exciting cutout in the middle. Either way, your one-shoulder top is sure to be the talk of the town – or nightclub.
Halter Tops
You know you couldn't get to the end of this list of the best clubbing tops without running into halter tops. Halter tops have a tempting vibe that can't be missed. Leaving both shoulders bare, they're an instant classic yet an utterly suggestive style that works well in any nightclub.

This halter top is the best option when it comes to clubbing tops. Not only are the colors perfect for dancing and drinking the night away, but the plunging cowl neck of a halter top allows you to show off plenty of that body-ody-ody. The bandage-style neck crop halter top is also quite popular. Wrapped around the neck, this top is uniquely attractive and captivating, with the right amount of showiness in the center, thanks to the ruched halter.
Quick Tips for Choosing the Right 'Fit
Still not sure which clubbing tops should make it into your wardrobe? Consider these quick tips before making a final purchase.
Make sure the top matches the rest of your outfit
Your clubbing top won't mean anything if it looks "wrong" with the rest of your outfit. Put the rest of your look together, then decide which top to buy.
Buy something you're comfortable with
If you know you're not comfortable showing too much skin, you might pass on harness-style tops and tube tops – although, honestly, babe, you shouldn't be uncomfortable regardless of your body type. Rock it, girl!
Buy something that matches your style
Confidence is key – especially when you want all eyes on you at the club. So, ensure you're buying a top that matches your unique personality and style. Are you more of a sparkle queen, a lace-loving princess, or do you prefer an edgier style?
Consider where you're wearing the top
Not all clubs are created equal, and some might be more suitable for certain establishments than others. Do your homework on the business before you buy (or purchase all of them and never worry about it again!).
Final Words
If you're looking to have all eyes on you at the club, you need a top that will get you there. Well, any of these clubbing tops will be a hit – whether you opt for the classic bright pink sparkly top or go with something a bit more daring like a black corset top. Just make sure to style the rest of your outfit accordingly, and don't forget the hair and makeup to match!
Which one of these magnetic clubbing tops will find its way into your nightclub wardrobe?
What is going out tops?
An enhancement that made a going-out top appear a little finer than an ordinary top was often present, such as sequins, gems, lace, ruching, a bubble hem, or a different neckline.
Are off-shoulder tops still trendy?
Recently, off-the-shoulder tops have become more popular. However, the off-the-shoulder tops from 2023 are more stylish than the ones we wore in previous seasons.
What is the hot trend color for 2023 fashion?
The color names for 2023 are Digital Lavender, Luscious Red, Sundial, Tranquil Blue, and Verdigris. Who selects the new colors' names? To ensure accurate translation on a worldwide scale, names are chosen by the WGSN and Coloro color teams before being confirmed by our internal Equality Vision Team.
Here are a few hand-picked articles for you to read next:
Successible Life participates in the Amazon Services LLC Associates Program, an affiliate advertising program designed to provide a means for sites to earn advertising fees by advertising and linking to Amazon.com. 
Disclaimer: This post contains affiliate links. If you buy an item of clubbing tops through one of those affiliate links, Successible Life may get a small commission at no extra cost to you. This helps keep the blog running so we can continue to provide you with the best content.