As a result of coronavirus, many of us have had to start working from home for the first time. At the beginning of lockdown, we were all too busy adjusting to our new routines and binge-watching Netflix to set up truly functional home offices.
But now that we've been telecommuting for a few months and will continue to for the foreseeable future, it's apparent that spending time and money to create a productive and creative space is worthwhile.
If you've been working from your bed or couch in your pajamas, setting up a dedicated office space can help you improve your performance at work and maintain a better work-life balance, which is a win-win. And with just a few affordable interior design hacks, you'll be well on your way there!
Remember, even if you don't have a big budget, you can still create a chic and efficient home office that you'll be proud to show off to your coworkers on Zoom. Here are our best affordable interior design tips to help you make your dream home office a reality.
Create some privacy
Ideally, your office would be a separate room in your home that you mainly use for work – maybe ⁠a spare bedroom. That way you can shut the door at the end of the day and leave your job-related stress behind. But if you live in a small apartment, it's probably not possible to dedicate a whole room to your office. You may have to put your desk in your bedroom or living area, which doesn't give you much separation from work after you clock out.
However, you can still create some distance between your workspace and the rest of your apartment by getting creative with your office décor. Here are a few ways you can section off your desk and create some privacy.
Putting up a privacy screen can help you create a defined office space within a larger room. This bamboo room divider from Amazon even has shelves where you can display books or store office supplies.
If you work in your living room or dining room when other people are home, hanging up a soundproof curtain is a great way to block out background noise and get some extra privacy. This sound-deadening curtain from Amazon is made of thick, insulated fabric and comes in stylish colors like taupe, navy blue, and charcoal.
Secretary desks are one of the best desks for home offices because they fold down when you're done using them. Closing your desk will signify that you're done for the day and help you separate your work from the rest of your life.
Actually, secretary desks have been around for two hundred years, so you may be able to find one if you go thrifting or antiquing. Remember, you can save hundreds of dollars just by purchasing furniture used instead of new.
If you can't find any used secretary desks in your area, however, this one from Better Homes and Gardens is a great substitute. It has a distressed gray finish that mimics the character of an old desk, and the gold hardware that will add a touch of glamor to your home office.
Invest in comfortable furniture
A big productivity killer is uncomfortable furniture. You can't do your best work if you're hunched over the kitchen table or sitting in a stiff chair that gives you back pain. That's why it's important to invest in ergonomic office furniture like the pieces below. They'll help you maintain good posture and get your work done in comfort and style. If you can't afford new furniture, however, don't worry – ⁠we have a few affordable interior design tricks up our sleeves to help you improve your current setup.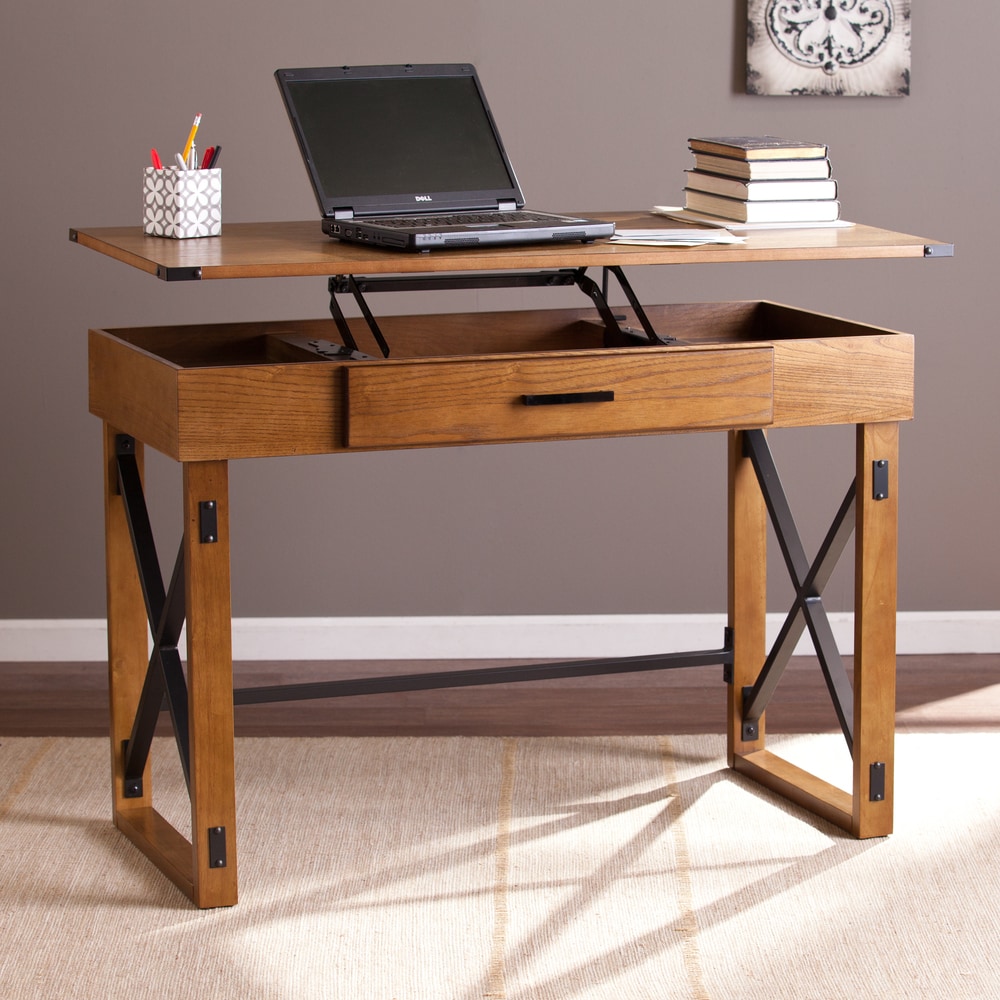 Photo by overstock.com
This pine desk from Overstock is one of the best desks for home offices. It's completely adjustable, allowing you to customize the height of your work surface for maximum comfort. It also has a beautiful distressed finish that will add a little rustic flair to your workspace.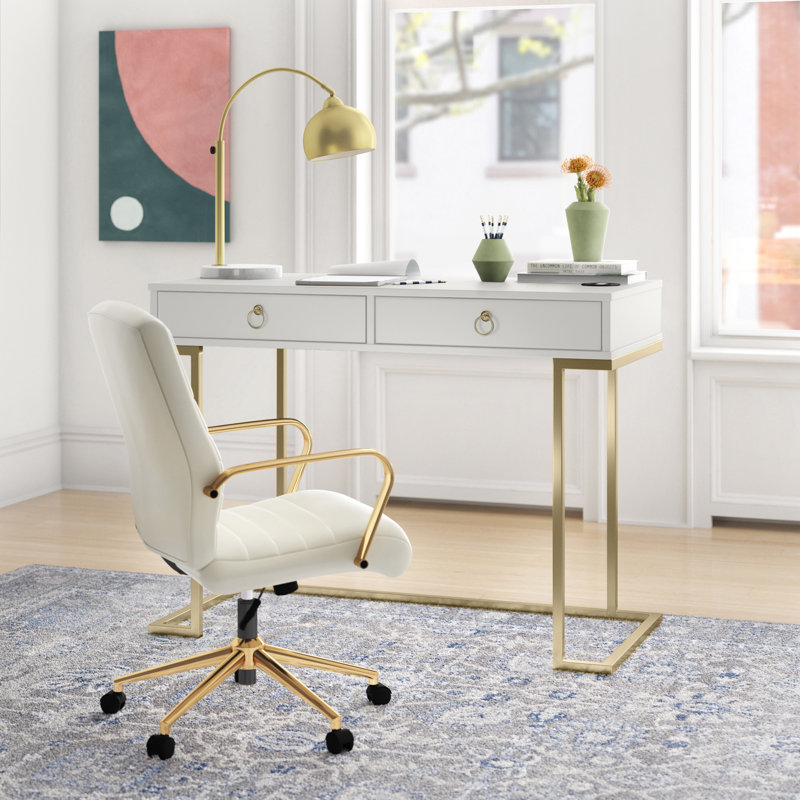 Photo by Wayfair.com
This white computer desk is just as functional as it is stylish. It has a sleek, modern design with gold-coated legs. It's about thirty inches tall, which is an ideal desk height for most people. It even has a wireless charging station to keep your phone and computer powered up and two drawers for storing office supplies.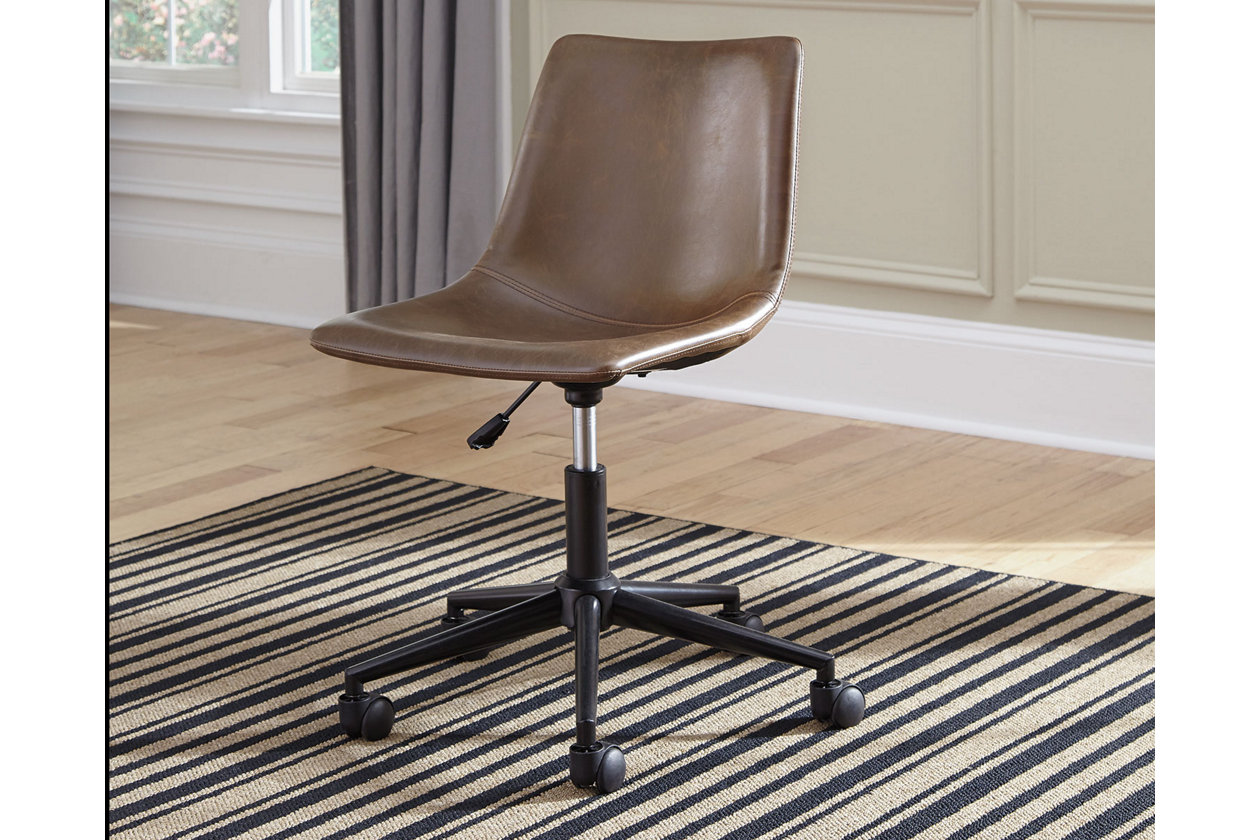 Photo by Ashley Furniture
This brown leather swivel chair has a comfortable bucket seat that's completely adjustable. It's on smooth casters for easy movement and has a mid-century modern design that will class up your home office.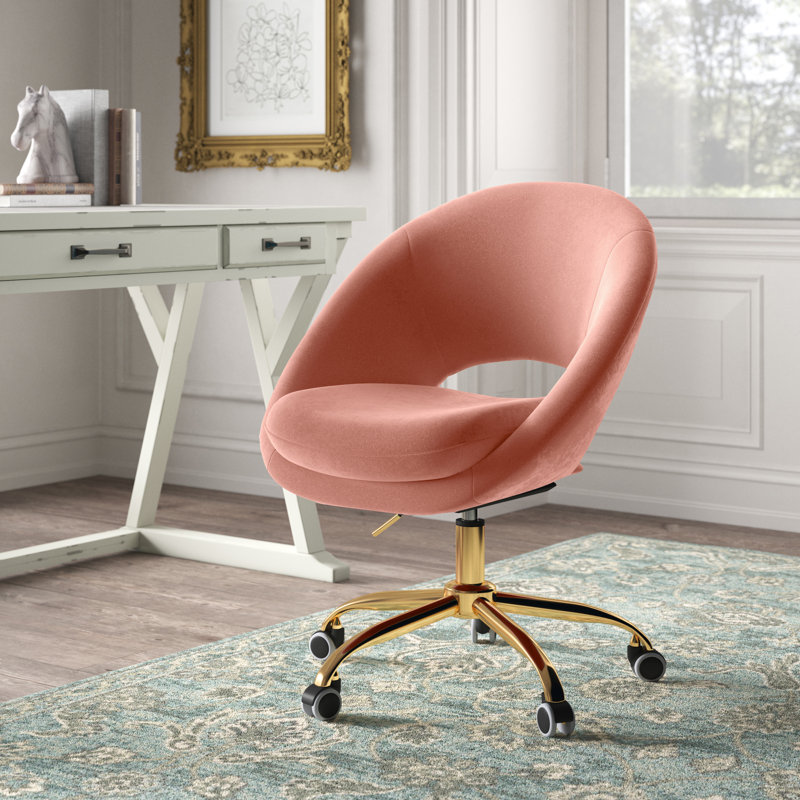 Photo by Wayfair.com
This velvet task chair has a wooden frame with foam filling that provides both comfort and back support. It has an adjustable seat and metal casters, allowing it to swivel with ease. It comes in a variety of fun colors like rose pink and emerald green that will compliment your office décor.
If you can't afford to buy a new office chair, you can use this lumbar support pillow to make your current seating arrangement more comfortable. It helps ward off neck and back pain by correcting your posture and supporting your spine.
If you have table that is too low but don't have the money to replace it, try getting an adjustable laptop stand. It raises the height of your laptop so you don't have to hunch over to use it. To prevent neck pain and eye strain, try to raise your laptop to eye level and keep it about twenty inches away from your face.
Choose the right lighting
If your workspace is too dim, it can make it hard to focus and cause eye fatigue. On the flip side, lighting that's too harsh can cause problems like eye strain and blurry vision. Therefore, choosing the right lighting for your space is essential. If your office has lots of natural light, you may only need targeted task lighting, while dark offices require a little extra illumination from table and floor lamps. Below are some of our favorite light fixtures that mix both style and functionality.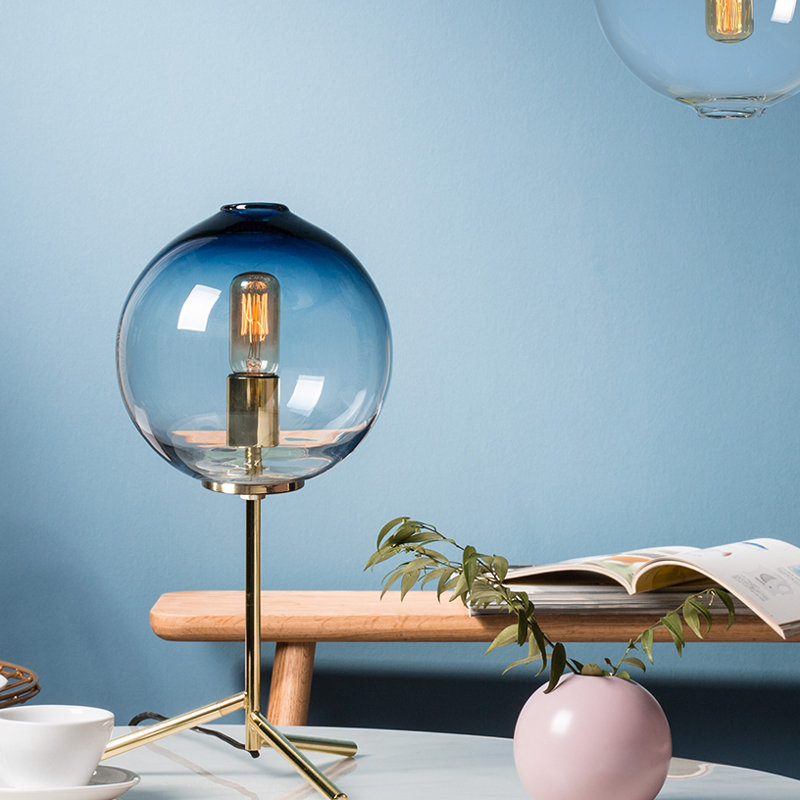 Photo by Wayfair.com
This elegant globe-shaped table lamp gives off a blue glow, which may increase your productivity. Studies have shown that blue light makes us feel happier and more alert at work, even potentially reducing eye strain.
Photo by Pottery Barn
This brass task lamp from Pottery Barn has a sleek, industrial design. Its adjustable gooseneck also allows you to point light exactly where you need it.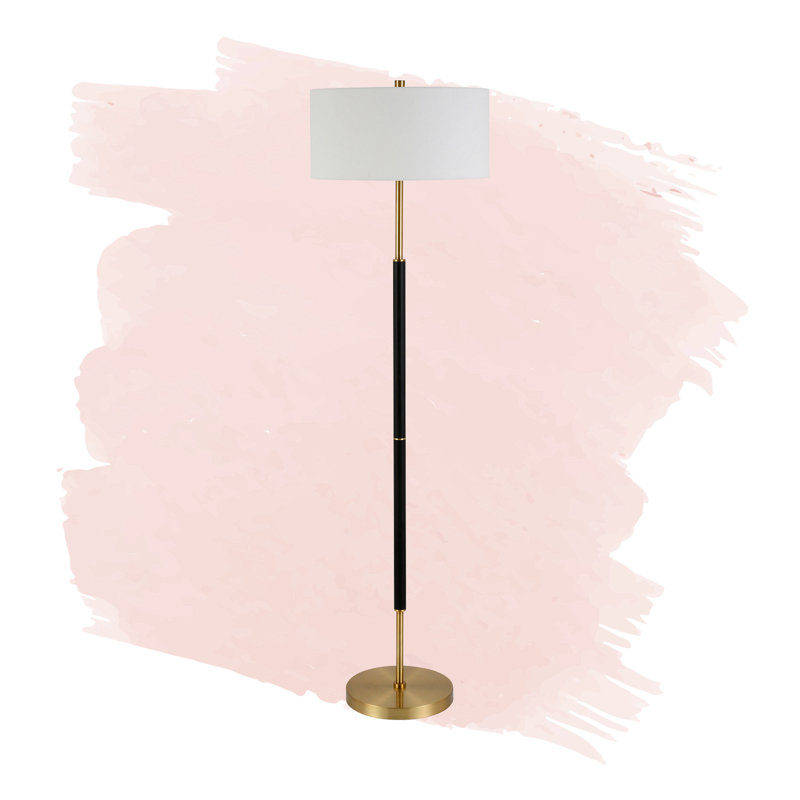 Photo by Wayfair.com
This contemporary gold and black floor lamp from Wayfair has a fabric shade that diffuses the light and prevents it from being too harsh.
Incorporate color and greenery
If your workspace looks like a bland, boring cubicle, you won't want to spend time in it. Your office should be a space that inspires creativity and makes you happy. Sprucing it up by adding bright-colored accessories and houseplants will go a long way toward personalizing it and turning it into a place where you want to be. Here are some of our favorite affordable interior design ideas that will inject life and color into your office space and make it feel more like home.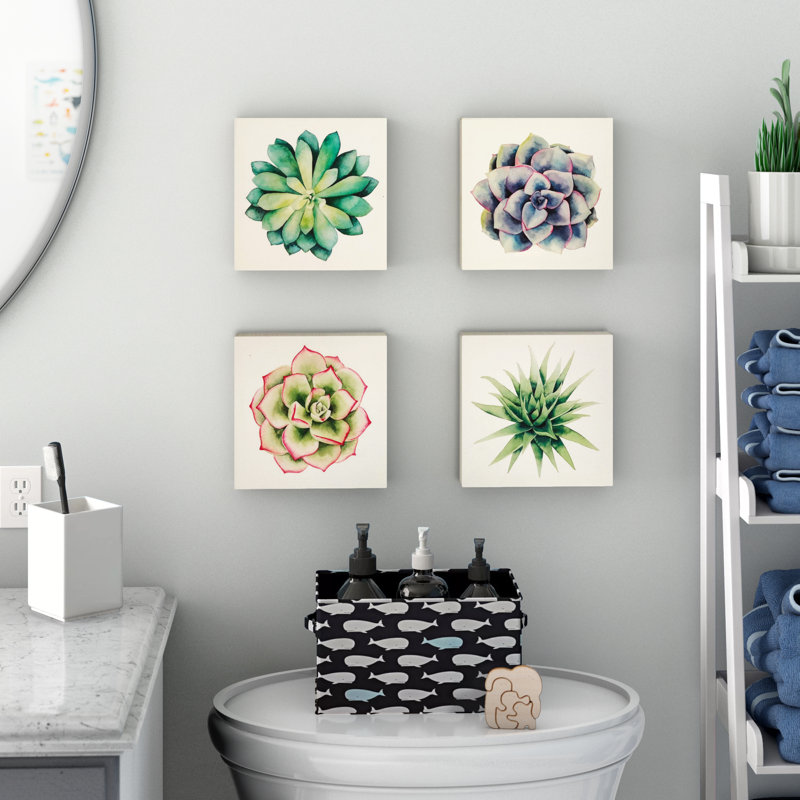 Photo by Wayfair.com
Creating a gallery wall is a great way to add a pop of color to your office. You can buy fun prints like these succulent canvases or get a set of colorful picture frames and use them to hang up your family photos. There's no right or wrong way to do it, which is the beauty of a gallery wall.
Did you know that putting plants by your desk could increase your productivity by up to fifteen percent? Studies have shown that plants do a lot more than just look pretty. They can lower stress, improve well-being, and even increase attention span, all of which can help you get more done during your workday. That's why it's a great idea to keep a plant or two in your home office. We love snake plants, which have beautiful green and yellow leaves and extra air purifying qualities.
Photo by Rugs.com
Laying down a colorful rug can make your office space feel cozier, especially if it has hardwood floors. You can also try adding a rug pad under your rug for an even cozier feel that will protect your hardwood floors too. Try to find a rug that pulls from your existing color scheme to tie your room together. Having said that, you may consider rug stores in San Francisco to get more ideas or options for choosing the best quality rugs and rug pads.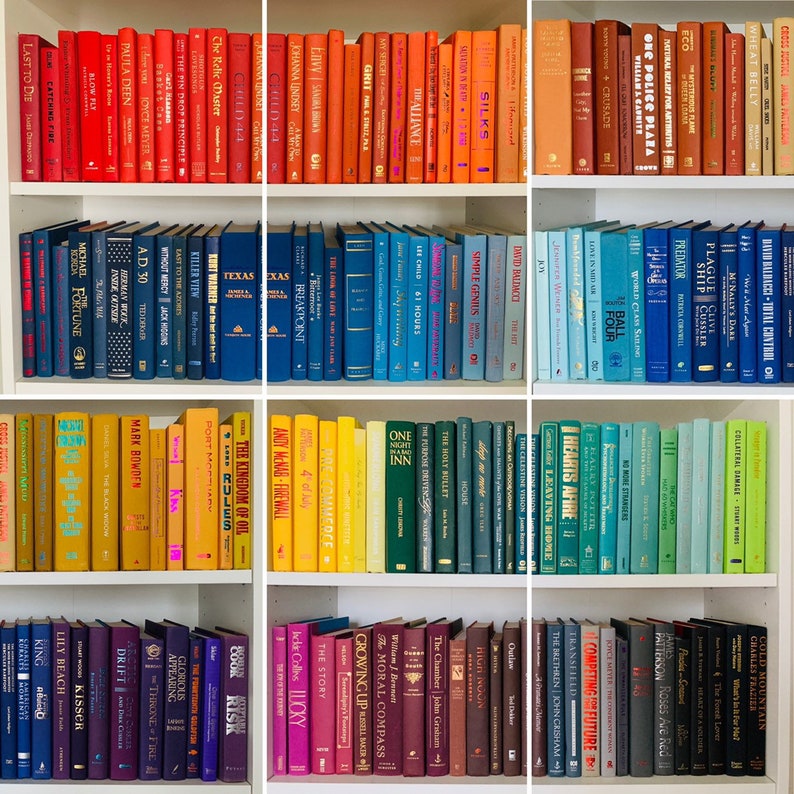 Photo by Etsy
Sorting your books by color creates a fun rainbow display that can brighten up your office space.
Get organized
Studies have shown that having lots of clutter in your office drains your energy and makes it harder to concentrate on your work. But if you don't have a lot of space, it can be a challenge to keep all of your paperwork, books, and office supplies organized. Here are some affordable interior design ideas you can do to contain the clutter and keep your office looking chic.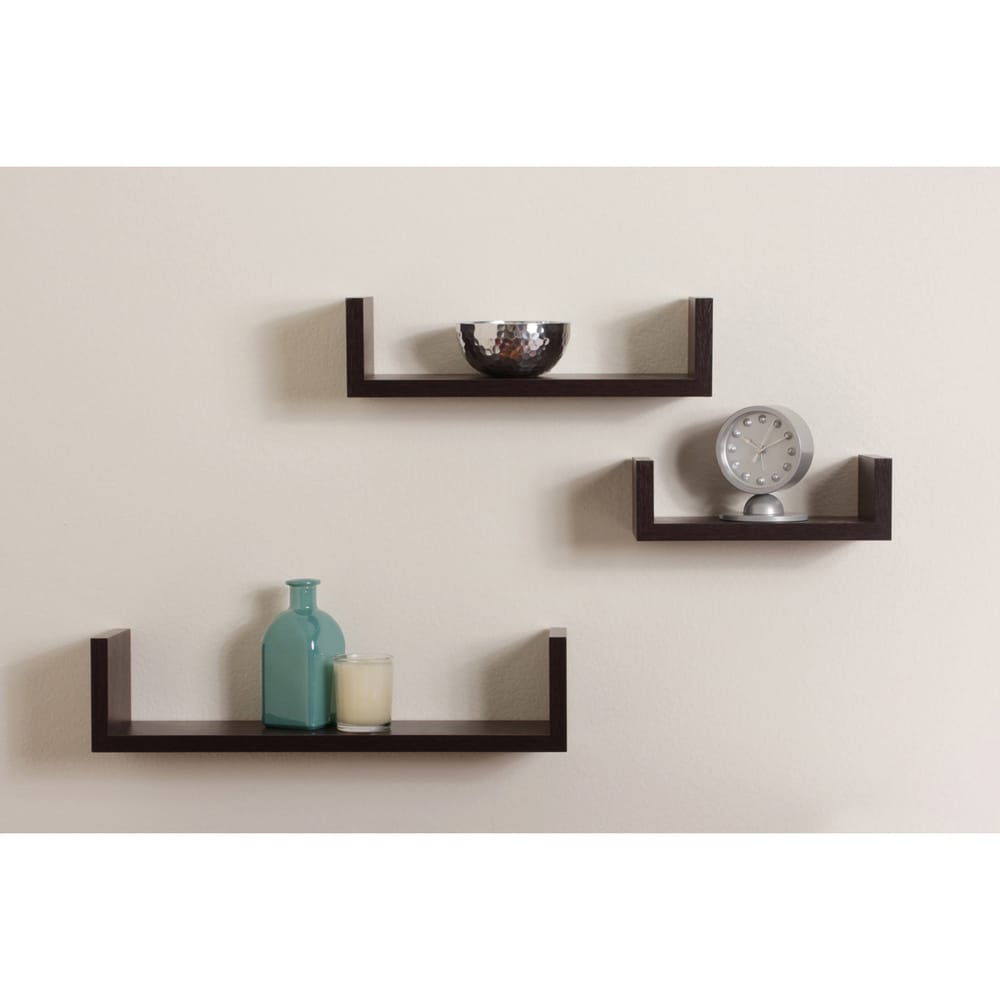 Photo by overstock.com
If you don't have enough room in your office for a bookshelf, hanging up some floating shelves will give you a space to display your books and random knick knacks.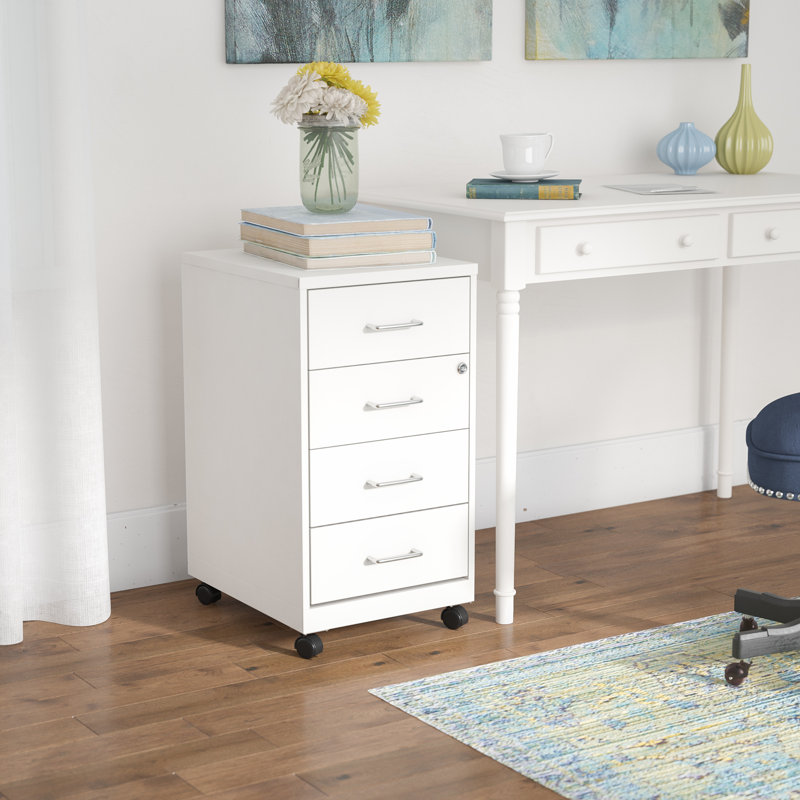 Photo by Wayfair.com
Do you feel like your desk is being overtaken by papers? It may be time to get a small filing cabinet that you can keep beside your desk –⁠ or even underneath it –⁠ if you're short on space. This rolling file cabinet from Wayfair has a slim profile but still has plenty of room for your office supplies and paperwork.
Photo by Pottery Barn Teen
This chair back organizer from Pottery Barn will give you a place to put all of your pens, papers, and office supplies instead of leaving them scattered on your desk.
Another creative way to conceal clutter is to put a cute storage basket under your desk. You can use it to store all of your random cords and cables, and no one will be the wiser.
Upgrading your home office doesn't have to take a lot of time or money. With a few affordable interior design tweaks like getting a more comfortable chair and creating a gallery wall, you can transform your office into a space that you genuinely want to spend time in, which will improve both your productivity and mental health.
Here are a few hand-picked articles for you to read next:
Successible Life is a participant in the Amazon Services LLC Associates Program, an affiliate advertising program designed to provide a means for sites to earn advertising fees by advertising and linking to Amazon.com.
Disclaimer: This post contains affiliate links. If you buy an item through one of those affiliate links, Successible Life may get a small commission at no extra cost to you. This helps keep the blog running so we can continue to provide you with the best content.