As the saying goes "if you look good, then you feel good." I think everyone wants to know how to dress fashionably but may fear they don't have the means to do so. And this is not the case. Speaking personally, I've always found fashion to be a part of who I am ever since I can remember. Since I come from a very modest background, I learned early on that I could be creative by using the pieces at hand, modifying them and putting together new outfits. It's not always about wearing the trendiest or priciest clothes.
To dress fashionably, all it takes are tiny tweaks to create a fresh, next-level look – one that most importantly helps underline your individuality and makes you feel good.
So here are 10 ways to make your outfit instantly cooler:
#1: Mixed Prints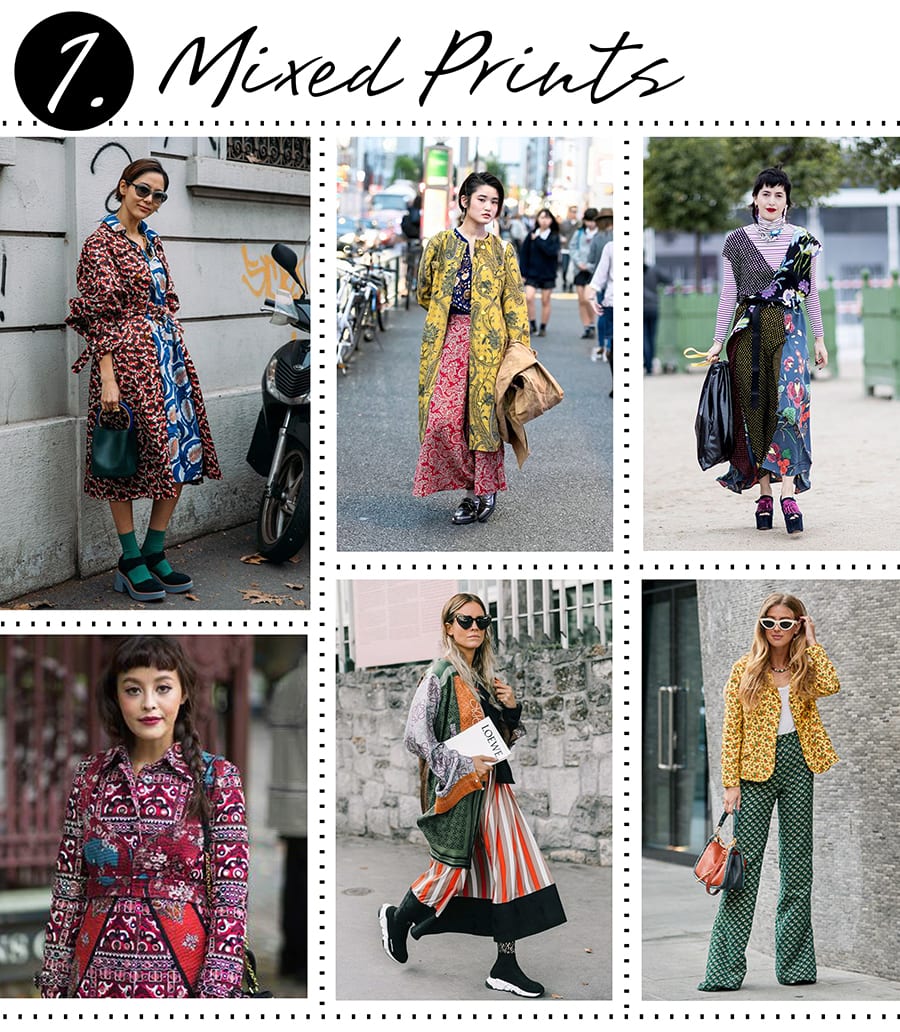 If you're wondering how to dress fashionably, then the first thing you should know is when it comes to creating the boldest, most eye-catching outfits mixing prints is a must. Mastering the art of pairing patterns can sometimes be tricky and super intimidating. It may seem there are no rules, but you have to make sure that the prints harmonize well together. When this is done right, you will be sure to turn heads.
Tips on how to dress fashionably:
Don't go for plain, small prints that lack color. Step outside your comfort zone and give the more fun, colorful and bold prints a try. Not sure if your prints will play well with each other? When trying to style bold colored prints, try to use complementary colors. These are colors that are exact opposites of one another such as black and white, red and green, or blue and yellow. This is a tried and true method used by those trying to attain the perfect color balance.
Play with scale. The phrase opposites attract applies to more than just color. You can use your creativity and judgment to put together prints that may be small or large, intricate or simple, floral or geometric. When paired together these opposing patterns can create show-stopping looks.
Treat stripes and leopard print as neutral. These are simple prints that can easily be paired with other more bold or colorful pieces. Don't be afraid to try something new!
#2: Neck Scarf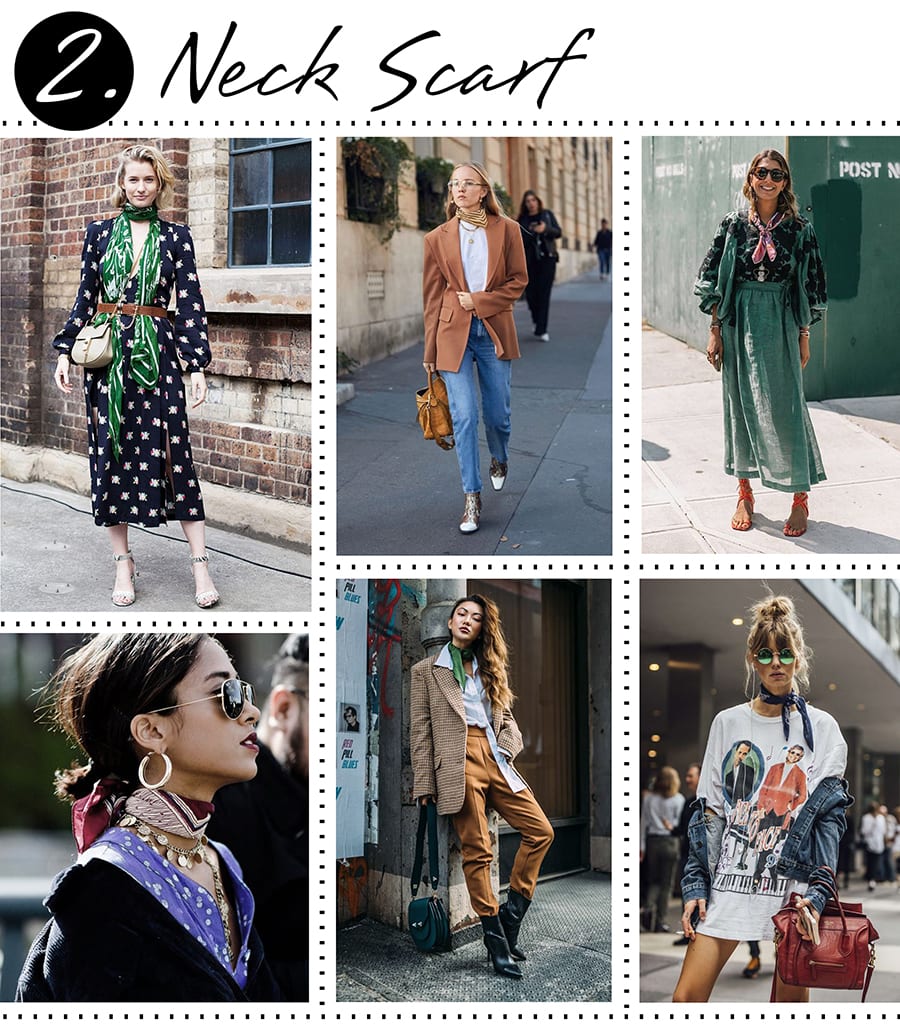 When I think of neck scarves, I think "powerhouse accessory". Silk scarves are definitely having a moment. When tied loosely in a knot or wrapped several times to create a "choker effect", a silk scarf adds an instant air of chic to any outfit. What I love about this trend is that it's very easy to do and makes a huge difference in your outfit – one that shouts confidence and style.
Tips on how to dress fashionably:
Shop for the most unique patterns, colors, and designs. When used properly, these unique colors and designs can be the perfect statement piece added to any outfit. Even if you're just trying to dip your toes in, a simple design but bright color can really level up your look.
The key is understanding which ones to buy and how to tie them properly.
You could look for a neck scarf that is a small square (like a bandana). However, the ones shaped like rectangles tend to be easier to work with. New to the scarf game and not sure how to start? Try an infinity scarf! These are super easy to loop around your neck and come in tons of great colors and prints.
#3: Pants Under Dress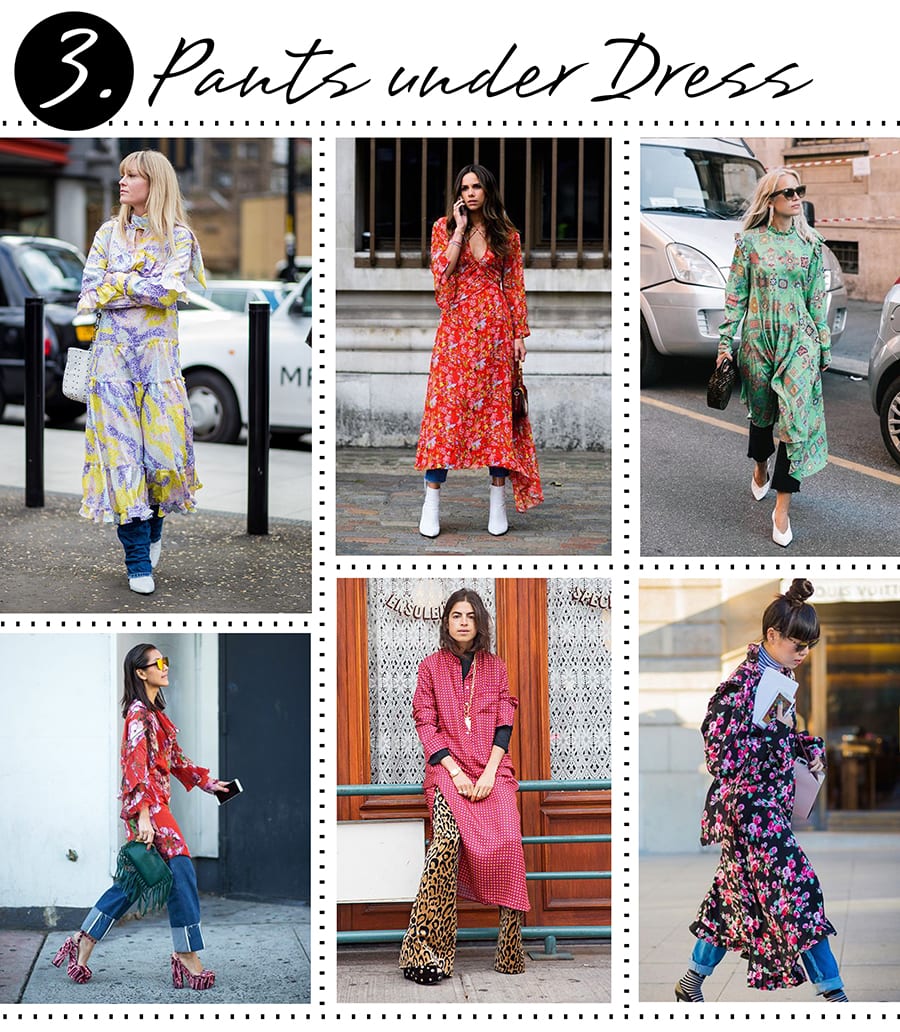 Time to swap out your statement tops for full-blown dresses. We all have that go-to dress we wore one too many times but just can't get rid of. Try mixing it up by adding pants underneath – this will undeniably put a cool new spin on your dress. You might think this is a ridiculous concept, but I call it clever layering.
Tips on how to dress fashionably:
Choose an over-sized dress shape or go a size higher than you usually would, but you want to avoid looking bulky or lumpy. It's all about balance.
I also recommend sticking to a skinny or straight-leg style jean rather than a flare. It creates a more streamlined look.
If you like this idea, you can also try a long sleeve or turtle neck under a dress. This can act as the perfect pop of color to any outfit, or a stylish and effective way to layer for the cold.
#4: Belt It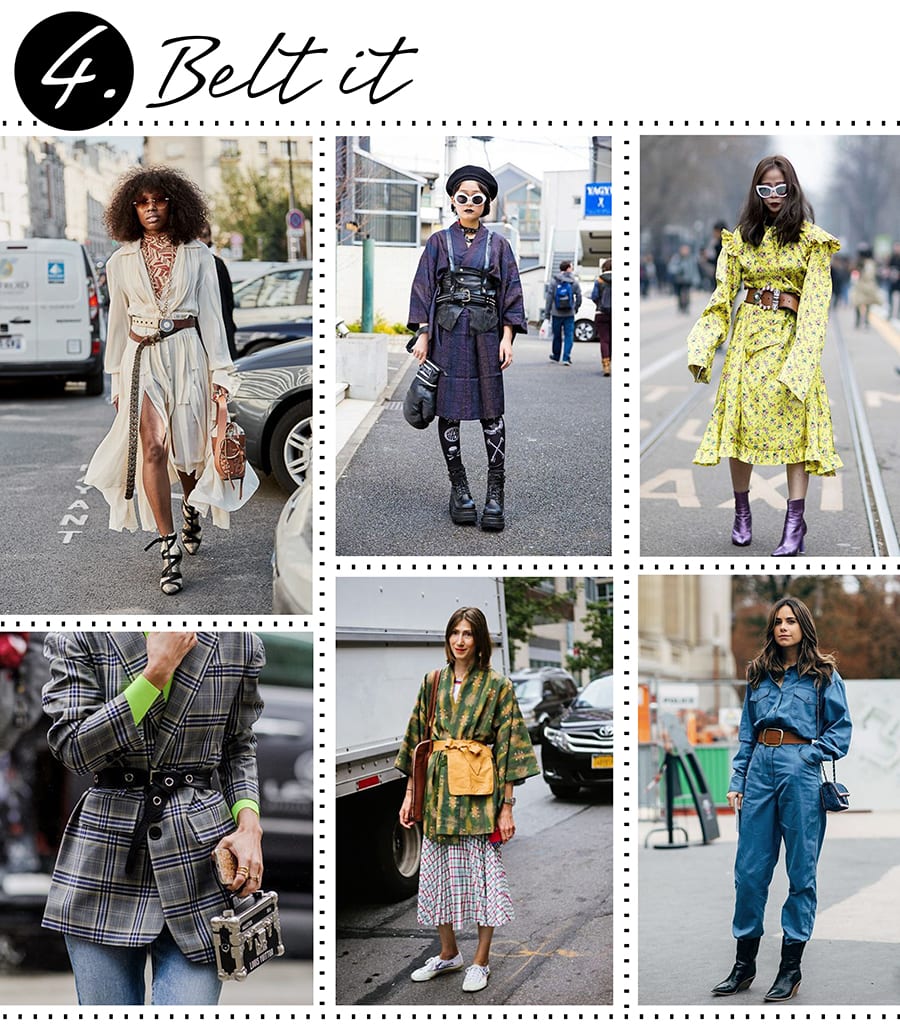 It's all about getting creative with your accessories. Belts are definitely a great way to change up an outfit and make it look fresh while adding an extra dimension to something that may have been considered dull or outdated. There are so many different ways to wear belts with an outfit. You can wear it with a flirty dress, an over-sized shirt or even over a masculine blazer to help create the illusion of an hourglass shape. I've been amazed by how many outfits I've been able to revamp just by adding a belt.
Tips on how to dress fashionably:
Make sure your belt compliments your style. The right belt will flatter your waist and add an extra twist to your outfit.
Choose the right width for your body type. When it comes to your waist, the golden rule is to keep it cinched.
My go-to stores when it comes to shopping for belts are thrift shops and vintage stores. You can find amazing, one-of-a-kind signature and statement-making belts for half the price.
#5: Put a Hat on It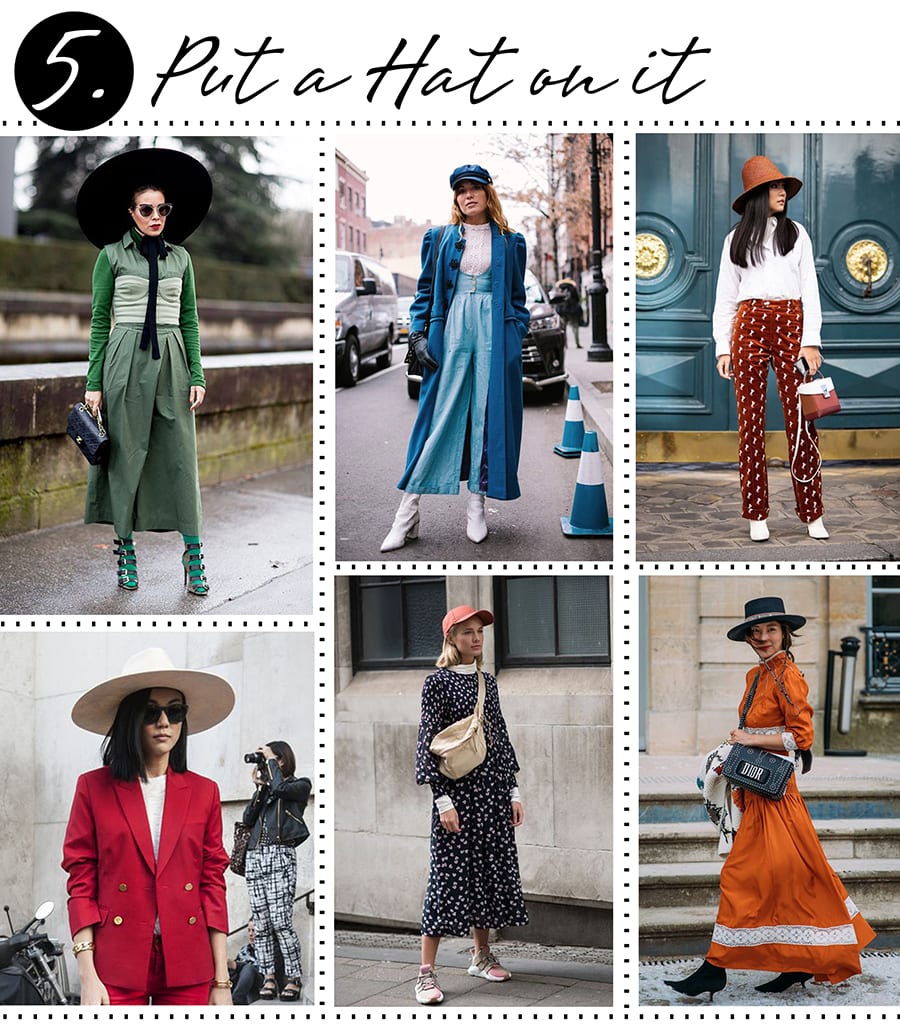 Hats have been and always will be my favorite staple accessory. Aside from hiding a bad hair day or shielding yourself from the Sun, hats can totally change the game and completely transform your outfit from "basic" to instantly cooler. It's all about having the confidence and attitude to pull off a hat.
Tips on how to dress fashionably:
Find the right hat that fits your head properly. This can come down to actual sizes in some cases but also often proportions depending on your height, face shape and hair color. You want to make sure that the hat is right for you and suits your style.
If you're only purchasing one hat, make sure you find a color that goes with pieces in your wardrobe. In this case, it can be helpful to get a more neutral hat that maybe has some more unique features. Such as a black hat with a button or buckle detail. The color makes it easy to pair with different outfits while the detail gives it a unique look.
Test if you like the look your hair straight or curly with a hat on. You may find that if you use a good straightening iron, you'll love your new straight-haired look over a natural, curly style.
#6: Shades On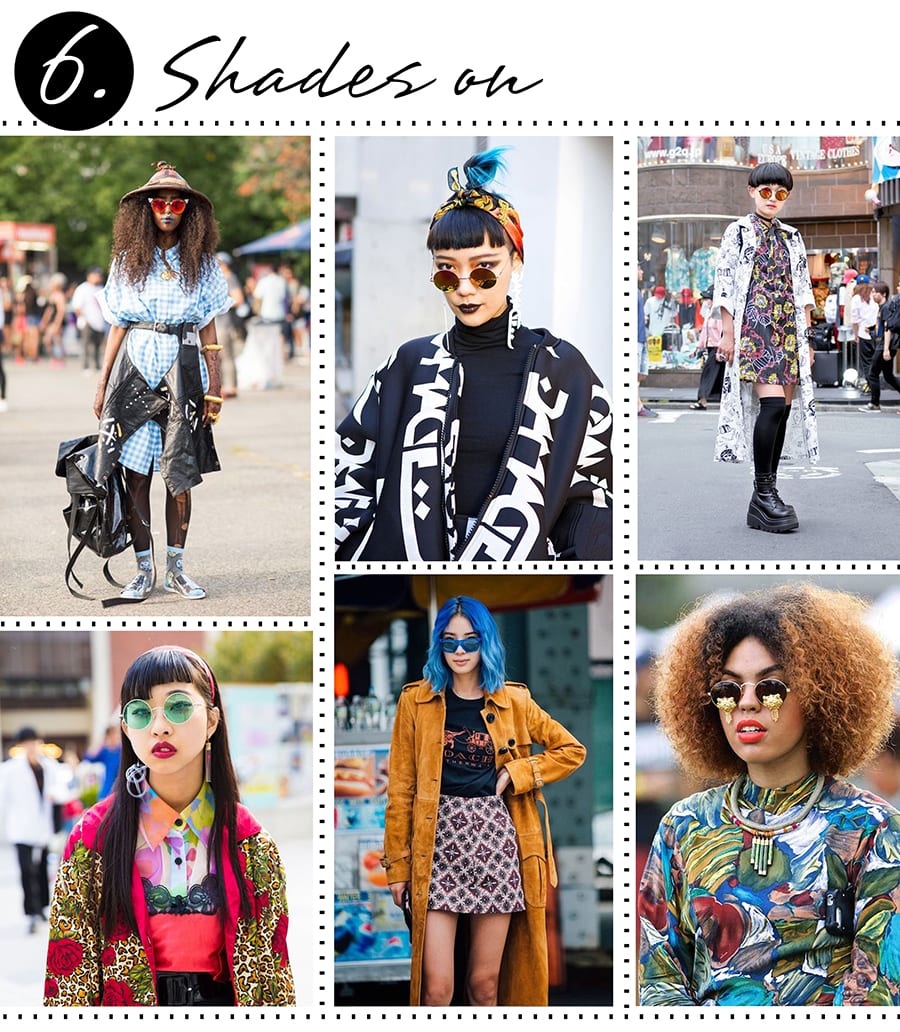 Nothing says casual-cool like an awesome pair of sunglasses. Whether worn on your face, on top of your head or hanging off the neckline of a blouse, a good pair of sunnies are an essential style enhancer and can always be utilized as a statement-making addition to any outfit.
Tips on how to dress fashionably:
Are you a person who wears gold or silver jewelry? Your glasses should complement these accessories, so look for glasses that have gold or silver on the frames. This will keep your look consistent.
Find that perfect fit for your face shape. Whether you're into classic styles, modern shapes or funky prints, the sky is the limit in terms of choices.
Look for glasses that complement the colors you most often wear. This can mean the color of the frames, lenses, or both.
#7: Knotted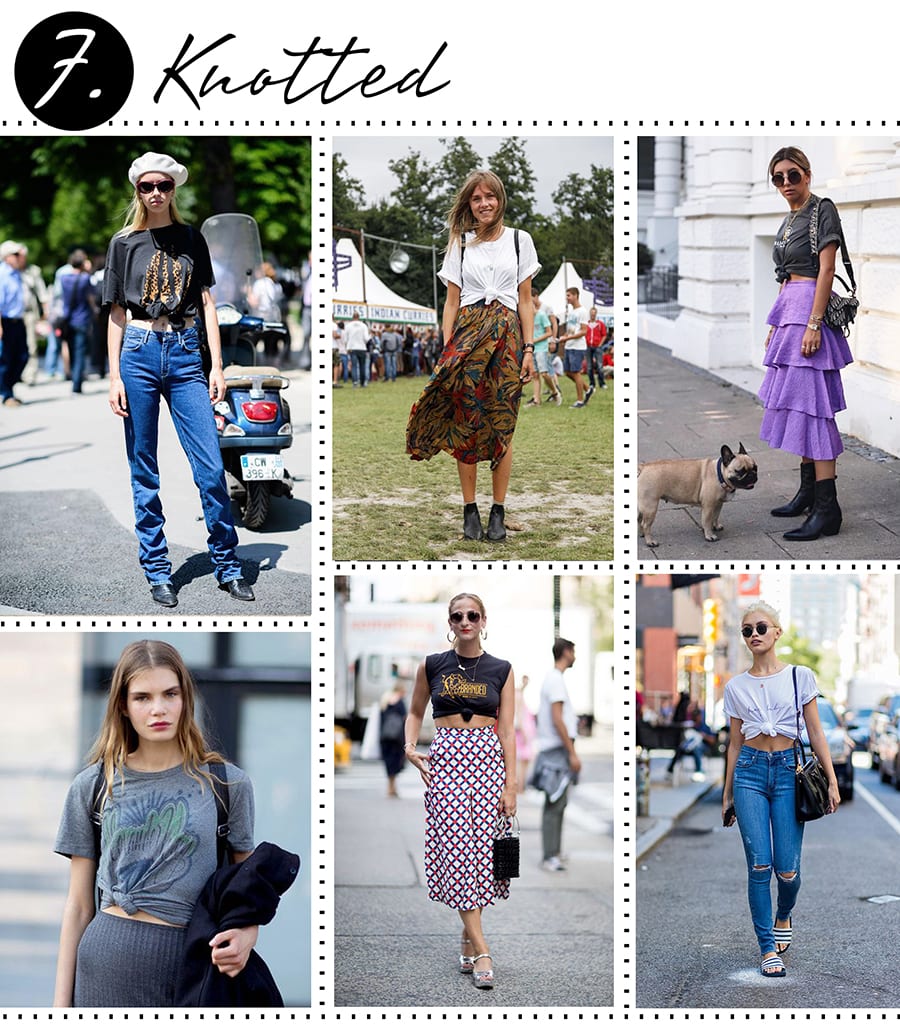 If you feel like your outfit looks a little boring, knots are the solution! Give a new and stylish lease on life to tops that have been sitting in your wardrobe. You can tie a knot on any shirt you've got (or even borrow one from your husband, brother or boyfriend) and kink the voluminous fabric to help accentuate your waistline. If you've got it, flaunt it!
Tips on how to dress fashionably:
One idea is to not show your belly button but instead show some skin above your belly button. This would expose a sliver of a midriff that might be appropriate for more settings.
If you're going to knot a t-shirt, blouse or tank top, make sure to always pair it with high-waisted jeans, skirts or shorts. Showing a bit of your midriff and balancing your silhouette is what we're going for.
You can tie a knot on a side, in the front or in the back. It can be as loose or tight as you like. The choice is yours!
#8: Unusual Color Combination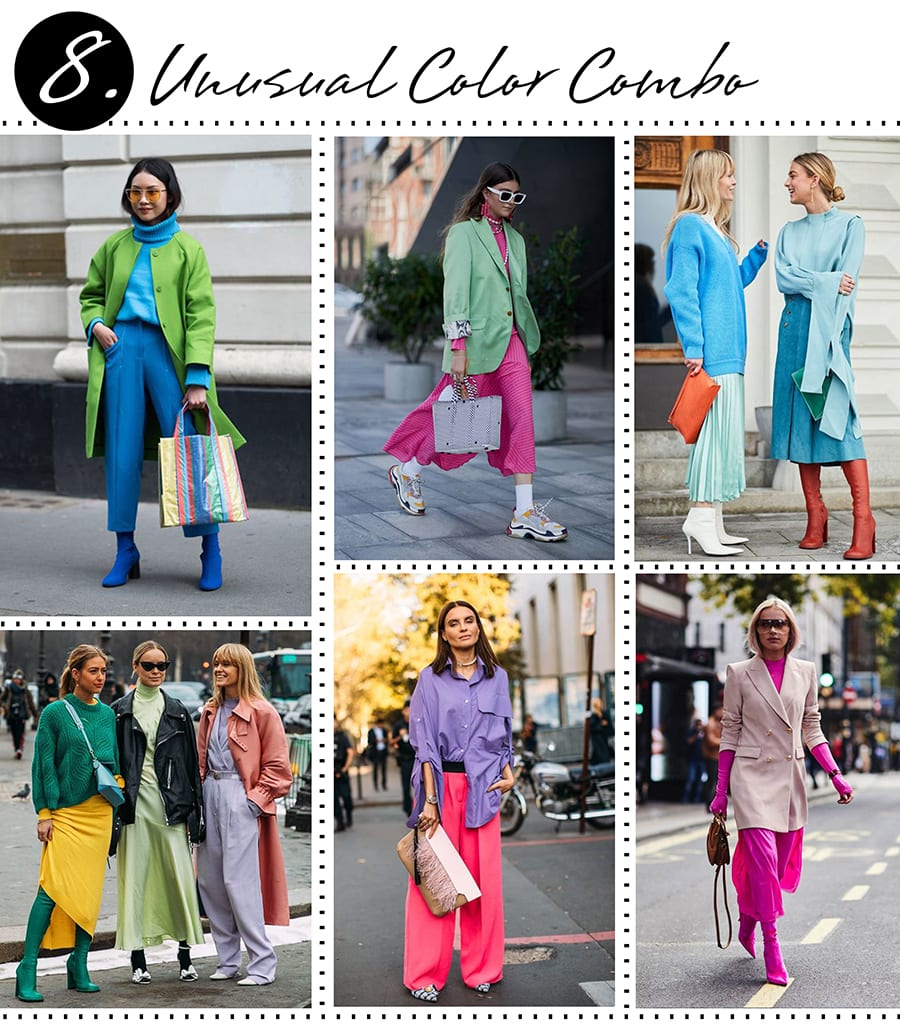 Trying a new color combination can innovate a seemingly dull wardrobe and completely transform a look. It's time to try an unusual color combination. Wear rust with teal or lavender with yellow. Go all out and choose weird, contrasting combinations and step up your creative game.
Tips on how to dress fashionably:
Don't overthink what matches and works, just go for it! Make color clashing an art form. If you are new to bright colors and don't know where to start with your color pairing, take a look at complementary colors! Like we mentioned earlier, these color opposites attract.
As always, confidence is key! You've got to like what you're wearing before asking anyone else's opinion.
#9: Draped Shoulders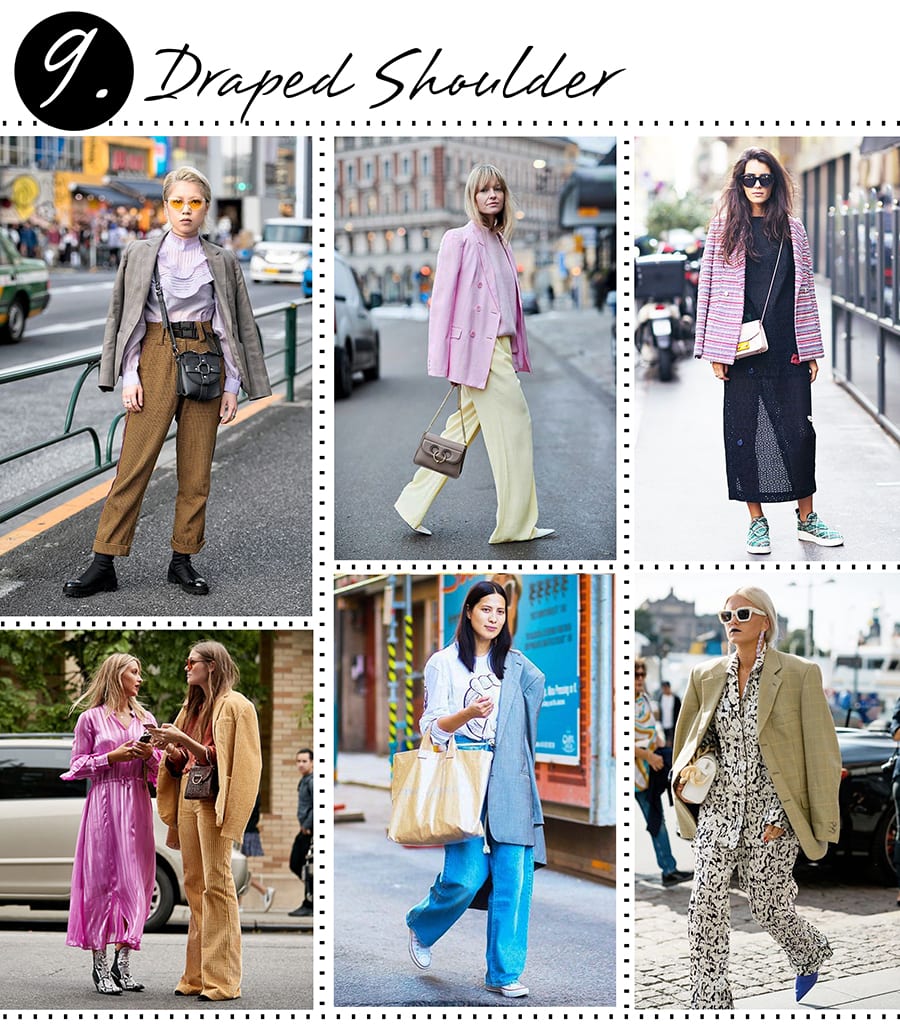 Spring is among us and we all know that means – shedding layers! Say goodbye to heavy coats and hello to "Blazers"! There are so many unconventional ways to wear a blazer – for example, draped over your shoulders or hanging off to one side. But don't think of your Blazer as a blazer. Think of it as a cape with sleeves – ones you are never to put your arms into. It's the perfect way to add a dose of originality and flamboyance to your look.
Tips on how to dress fashionably:
Size up! You want a slightly over-sized blazer to create a shape that seems to add volume and gives a more avant-garde look. Let's not forget about the length: we want the blazer to hit just below your hip or even a longer, mid-length blazer that will simply flow over anything you don't want to draw attention to.
Carry a clutch rather than a bag with a strap. Your shoulders are taken.
Don't forget to check out the men's section. You're looking for a blazer that has wider shoulders and no tapering at the waist. Remember that we're looking for a slightly over-sized fit, not a massive one.
#10: Cool Shoes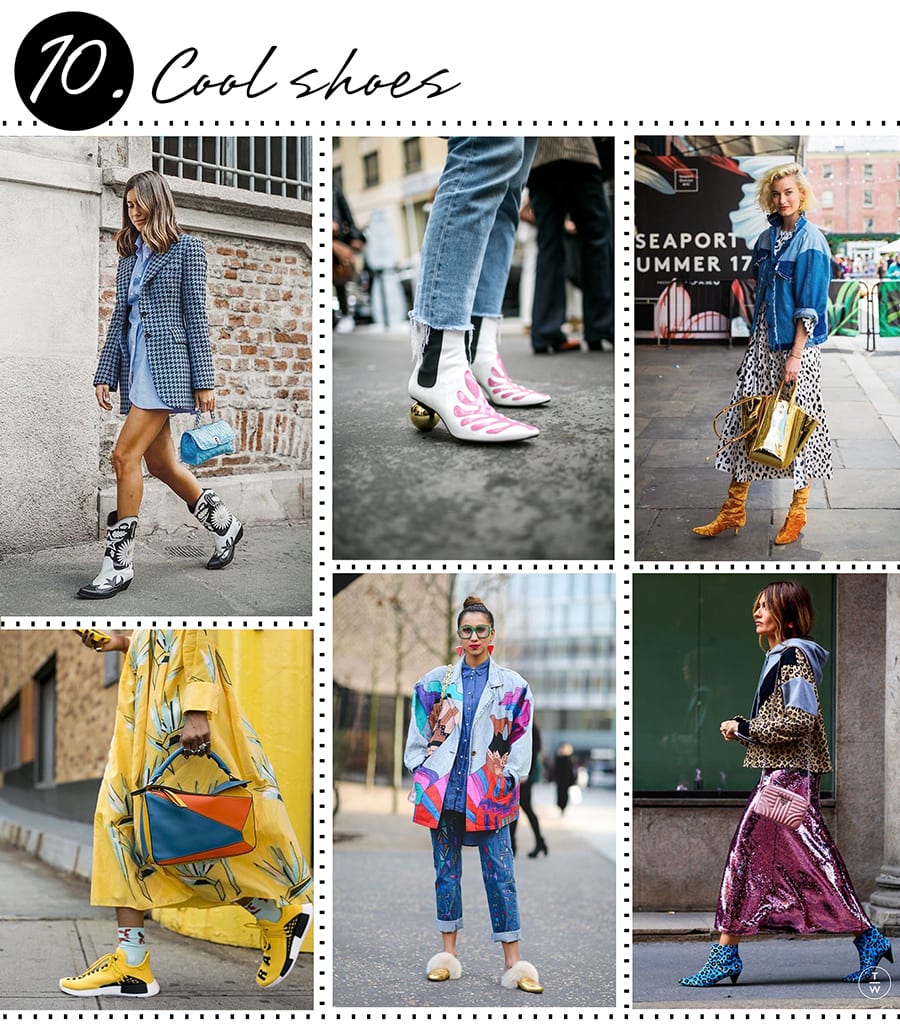 One thing is for certain: you can never have enough shoes. With that being said, shoes that make a statement are the perfect way to upgrade your outfit. From cheeky and playful to sporty or modern, shoes can take your outfit from "good" to "knockout".
Tips to dress fashionably:
Never talk yourself out of "investing" in yet another pair of shoes, especially if it's one that you love. They are definitely worth spending your money on. Trust me – they will last!
Always go for the most eye-catching, bright shoes that make the loudest statement. You live just once, so this is your time to shine!
And there you have it: my top 10 ways to dress fashionably by upgrading your outfits and elevating your wardrobe without breaking the bank. Next time you're out fashion "thrifting" or shopping, just remember to focus on finding that one special piece – the one that YOU like the best. Doing this will help set you apart and make your outfit all the more special.
What does it mean to dress fashionably?
To indicate something that is carried out in a fashionable manner, use the adverb stylishly. If your mother is known for her stylish wardrobe, she always has a sophisticated style.
What is fashionably chic?
intelligent style, particularly in terms of attire or demeanor. wears her clothes with outstanding chic: a distinctive way of dressing or behaving that is connected to a current way of life, philosophy, or goal.
Why is dressing fashionably important?
Create a favorable first impression. Often, the first thing people notice about you is how you look. Putting on a professional appearance helps make a good first impression on coworkers.
Here are a few hand-picked articles for you to read next: