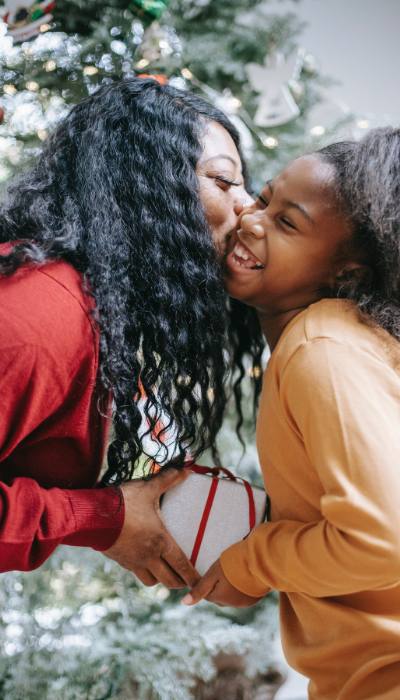 "A thankful heart is not only the greatest virtue but the parent of all the other virtues."
—Cicero
The coronavirus SARS-CoV-2 (i.e., COVID-19) pandemic has caused significant disruption to our everyday lives which made us realize there are a bunch of Things to Be Thankful for. As we enter the holiday season, it's easy to focus on the negatives – too much time at home, distancing from family and friends, economic hardship, and ongoing health risks—rather than the positives in our lives.
We all carry some sort of hurt or disappointment that can cause feelings of dissatisfaction with life. Such feelings may be heightened this year. However, when we dwell on what's lacking in our lives, it becomes more difficult to find joy and to have a spirit of gratitude and thanksgiving. Gratitude is recognizing and appreciating the goodness in our lives. When we practice gratitude, we notice and are thankful for what is valuable and meaningful in our lives.
In this year of discomfort and confusion, we must look beyond our immediate circumstances to achieve and maintain an "attitude of gratitude". Doing so will allow us to be thankful for all that we have and help us open our hearts to give and receive on a deeper level.
In addition, the health benefits of gratitude are far-reaching and include improving one's ability to cope with stress, reducing the risk of anxiety and depression, and enhancing immunity to just name a few. Gratitude amplifies positive emotions and helps us to develop resilience so that we are better able to face the challenges in our lives.
Despite our difficult times, we all have profound things to be thankful for.
Here is Our Top Ten List for 2021:
I am thankful for POSITIVITY.
The people I come across every day who greet me with a smile (yes, even if you have a mask on, you can smile with your eyes!) really mean so much to me. In our joint celebration of this wonderful thing known as life, we can find something good in each other every day. As an additional plus, positivity is something that can be especially contagious in the best possible way. When someone passes their positivity onto you, you're just as glad to pass it onto the next person!
I am thankful for my HEALTH.
During my lifetime, health has never been such an important societal focus as during the COVID-19 pandemic. Tragically, over 16 million people in the United States have contracted COVID-19, and over 300,000 individuals in our country have died. Health has never been such a blessing. Staying healthy and COVID-free or even recovering after a COVID-19 diagnosis is something that we can all be thankful for.
I am thankful for CREATIVITY.
The COVID-19 crisis has been disruptive by its nature. With this disruption has come the opportunity to innovate and to be creative. I've been forced to work differently, spend more time at home, refocus my priorities, and restructure my days. For all of us, the pandemic has forced us to do things differently.
I am thankful for FAMILY.
Despite the forced family time, I took the opportunity to connect with my partner and son. Whether that involves cooking, dining, playing games, or binging on Netflix, I realize that our time together is sacred. We bonded. I realized that family relationships, like all relationships, must be nurtured and cannot be taken for granted. Like most of us, I realize I will never again have this opportunity for so much quality time at home with family. These moments in life need to be taken advantage of to create amazing memories!
I am thankful for FOOD.
Americans are lining up in historic numbers at food banks across the country. I am grateful that I did not have to worry about where my next meal would come from. Everyone should be able to feed their family with quality and healthy foods. I am grateful to be able to donate to Feeding America and local food pantries so that fellow Americans in need can eat.
I am thankful for NO COMMUTE TO WORK.
I typically travel regularly for work. Since March, like so many people, I've worked from home. I've appreciated having my own schedule, and I've managed to save time and money on business travel.
I am thankful for PERSPECTIVE.
I've taken time during the pandemic to prioritize and realize what makes me happy, including determining what I'd like to accomplish during this time in my life. I have never been more privileged to be a physician and to support the good health of others during these challenging times.
I am thankful for BOOKS.
I have always enjoyed reading but never so much as during 2020. Prior to the pandemic, I would often tell myself that I did not have enough time during an average week to read a good book. Typically, my reading time was relegated to planes, trains, or rainy weekend afternoons. This year, near-daily reading or listening to audiobooks has given me an opportunity to learn new things or simply to escape, especially when things are stressful.
I am thankful for SELF-CARE.
Self-care is not selfish. I have taken the opportunity to practice self-care during the pandemic – to sleep an extra 30 minutes, to enjoy a long shower, to exercise daily, eat a healthy diet, and spend time outdoors. It is normal to feel stressed or overwhelmed during uncertain times. Self-care is a key to maintaining good health and well-being.
I am thankful for our INTERCONNECTEDNESS.
The worldwide reach of the COVID-19 pandemic has brought back a sense of global community. We are all interconnected. We are all in this together.
Despite the challenges of 2020, there is much to be thankful for this year. Gratitude reminds us that even in difficult times, we can still find opportunities for appreciation and joy. Gratitude expands awareness and shifts one's attention from the negative to what is positive in life, even during stressful times.
If you are new to a gratitude practice or if you just want to refine your skills, consider the following.
Five Ways to Cultivate Gratitude:
Write down three (or more) things for which you are grateful before you go to bed each night. Review your gratitude list entries in your journal over time.
Set aside time each day for gratitude reflections.
Sit in a quiet place and identify experiences in your day that you are thankful for—focus your attention and let these experiences sink in.
Say "thank you".
Write a short, hand-written note or email expressing thanks to someone who has offered you an act of kindness or who has positively influenced your life. You might also consider writing a note of thanks to an essential worker or healthcare worker.
Be kind.
You never know what people are going through. You can offer kindness through simple gestures—thank the cashier at your grocery store for her service, show compassion to your co-workers during virtual work meetings, or drop off some flowers to an elderly neighbor who lives alone. Positivity and kindness will go a long way and help to spread some much-needed cheer during this holiday season.
Give back.
Giving back is especially important during the holidays. Consider donating clothes, toys, or food to local organizations in need.
We have a choice. We can let negativity take over. Or we can choose to take this time to focus on the goodness in our lives and in the world. Let's choose gratitude. Remember, there is always something to be thankful for.
What are 25 things to be thankful for?
Enjoying life. 
The gift of life itself is something to be thankful for.
The capacity for emotion, freedom of speech, friendship, and so forth.
eating something….
The goodness of strangers.
The air that you breathe. The experiences that shaped you.
What am I thankful for in my life?
Even though I lost love, I am grateful to have had it. I am grateful for the difficult times because they will make me value the good ones even more. Failure is something I am grateful for because it makes me stronger. Because it enables me to make the necessary changes in my life, I am grateful for my anger.
What are the 10 things I am grateful for?
Your household
Close companions
Decent health.
Your house
You're duty.
Wholesome food
You're education.
Your animals