Disclaimer: This post contains affiliate links. If you buy an item of spider web eyeliner through one of those affiliate links, Successible Life may get a small commission at no extra cost to you. This helps keep the blog running so we can continue to provide you with the best content
Trick-or-treating, candy corn, makeup ideas, and costumes – what do all of these things have in common? Halloween. And if you're looking to put together a "spooktacular" look while you're munching on Reese's Pieces and Twizzlers, you won't want to miss out on one of this year's hottest trends – spider web eyeliner.
Although this spider web makeup might appear challenging, requiring some experience in makeup artistry, even newbies who have never touched a piece of makeup will be able to master this look.
Say goodbye to your "regular" Halloween eyeliner options and switch things up for this spooky season by following this simple spiderweb eyeliner tutorial to create your cute minimalist spider web makeup!
Spider Web Eyeliner Makeup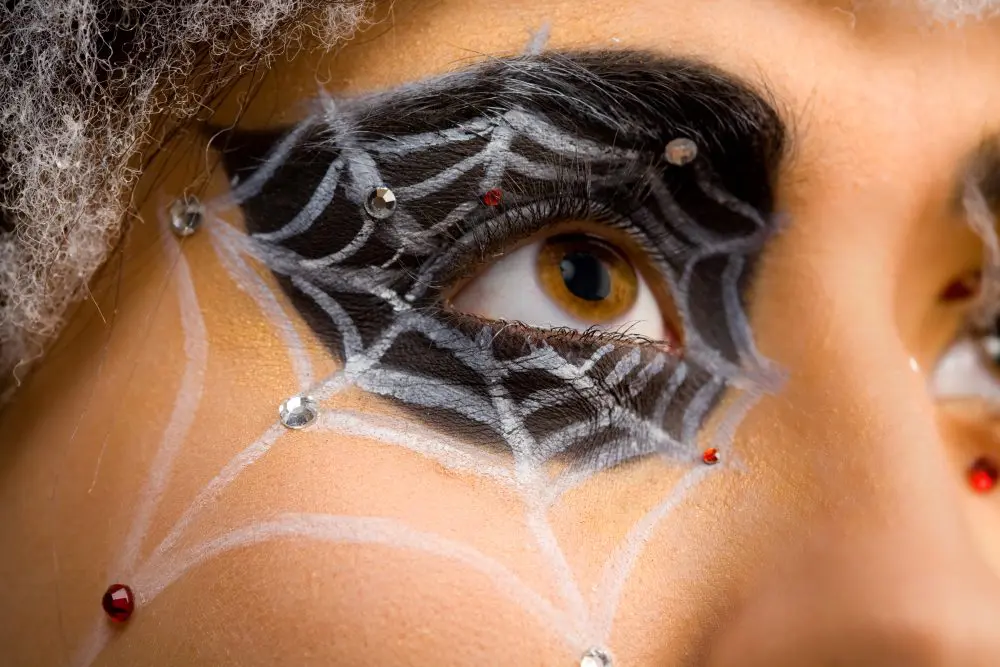 Almost everyone's afraid of spiders and that's like their personal horror story. So, whether you're adding this spider web makeup look to your aesthetic to complete an outfit or simply want your spider web makeup look to be a statement on its own, you can rest assured you'll be the picture-perfect declaration of what Halloween's all about.
What You Will Need for This Cute Spider Web Eyeliner Makeup Kit
First and foremost, you'll need to gather your supplies for your spider web makeup kit. Don't panic – the spiderweb makeup design only requires one product, although you can use up to three. for a spooky makeup
Black Liquid Eyeliner
The obvious product you'll need to create this spider makeup magic is liquid eyeliner. You want to go with the darkest shade you have (black is recommended to achieve that spiderweb makeup magic!). Why? Because, well, go ahead and check out a nearby spiderweb. What color is it? Black.

Neon Eyeliner for Fun (Optional)
Are you tired of the same ole black eyeliner? Want to try bright-shade eyeliners? Don't worry, honey! You can shake things up a bit with some vibrant neon color eyeliner shades that still fit into the spooky makeup category. Who said spider webs had to be dark and dreary? Go with exotic hues and watch them all go gaga. Neon orange and green are fantastic selections that would go amazing with false lashes for dramatic makeup with dramatic eyeliner!

Rhinestones
If you're a woman that likes a bit of dazzle with her cute makeup, don't forget to throw on some rhinestones. This will make your eyeliner pop. Nobody will be able to take their eyes off of, well, your eyes!

How to Create Spider Web Eyeliner
Now that you have your supplies, it's time to bring your spider web eyeliner to life. Don't worry – it's just three simple steps!
Apply Eyelid Primer and Eyeshadow
Start with some eyelid primer. Primer will enhance your eye makeup's longevity, which is an essential makeup step on the scariest night of the year. It will also make your spider makeup look "on point." (Do people still say that?)
Once your primer has dried, you can apply eyeshadow. This isn't essential, but it can add that wow factor thanks to the magic of makeup to your Arachnid makeup. You can opt for some daring and mysterious shades like dark purple or blood red for frightening makeup.
Make Dots to Map Out
Now, using your eyeliner (black or neon eyeliner), draw dots to map out the spider web. You'll add some dots where you want to place your spiderweb, such as underneath your eyes or on your eyelid.
They don't need to be in any specific pattern, but the dots should be about the same length apart, with wider dots near the bottom.
Weave the Lines with Black or Neon Liquid Eyeliner
Satisfied with your "dot map?" Don't ditch the eyeliner just yet! Use it to weave the lines together. You want to make small curved horizontal lines, or half circles, rather than straight lines. This will create the "spider web" appearance that makeup artists want to achieve. Continue until all dots have been connected.
Finishing Touches (Optional)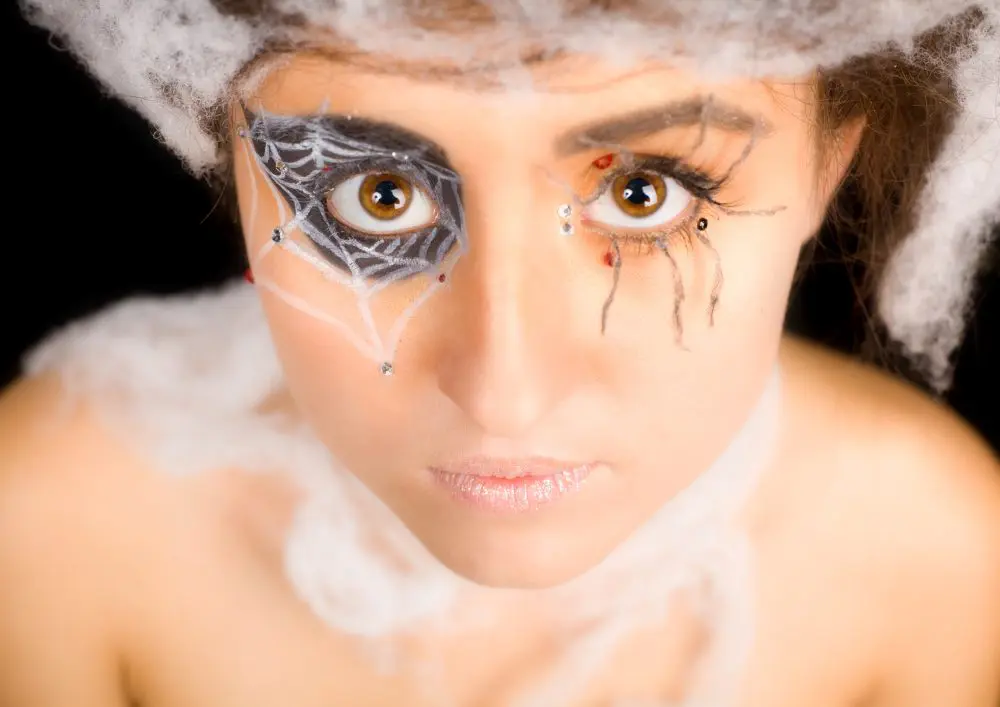 Take a good look at your spider web eyeliner and ensure you're happy with the design. If so, you can move forward to the finishing touches if desired. Here are some of the top choices:
Stick on Rhinestones
Be the "star" of Halloween night by bedazzling your spider eyeliner. Remember, ladies – you can never go wrong with rhinestones. Also, this is the best option when it comes to makeup removal time.
Draw Spiders with Eyeliner
For the artistic crowd that isn't afraid to play around with makeup products and creative makeup ideas, use your eyeliner to create terrifying baby spiders on your spider makeup.
Add Glitter
Not a fan of big, bulky rhinestones on your eyes but want to make a vivacious impression? Girl, you don't need diamonds to wow the crowd. Opt for a spritz of glitter and make your spider eyeliner come to life as sparkly spiderweb makeup that's secured with a lightweight makeup setting spray.
Spider Web Eyeliner Makeup – The Perfect Halloween Costume Makeup Trend!
Regardless of which costume you'll be sporting on fright night, spiderweb eyeliner will always be the perfect complement to your aesthetic. Bust out your favorite primer, eyeshadow, and eyeliner, and create a mystical and slightly horrifying spider web that will be the talk of the Halloween party!!