The Lake Tahoe region is and has been a popular travel destination for over a century. With its scenic untouched wilderness and snow recreation, it's quite the draw for both tourists and nature lovers alike. Despite the relatively extreme landscape, the mountain trails cater to both beginner and professional athletes.
Resorts that offer winter sports, such as skiing and snowboarding, typically close between mid-April and late May. In past years, some Lake Tahoe resorts have closed as late as July. So before you book your next winter excursion to the Jewel of the Sierras, check out some of the best accommodations and ski resorts the area has to offer.
Northstar California Resort
Named the "premier family destination" by Travel + Leisure, Northstar California Resort offers one-of-a-kind adventure and relaxation. Hidden in Martis Valley at North Lake Tahoe, this luxury resort places their guest's comfort first. Enjoy exemplary dining, family activities, shopping, a spa and wellness center, events and classes. Experience skiing and snowboarding, as well as tubing, snowshoeing and fat tire biking, on the diverse and breathtaking terrain. Guests can partake in both clear-cut trails and the backcountry, where you can pave your own path.
Heavenly Mountain Resort
Another one of the best Lake Tahoe resorts is the Heavenly Mountain resort. Situated on the California/Nevada border, Heavenly Mountain Resort is a playground for sightseers and athletes alike. For starters, you can eat, shop or enjoy the spa. Once you're situated, try skiing, snowboarding or tubing down breathtaking slopes (or all the above)!
Also, definitely take one of the scenic gondola rides for one of the best views of Lake Tahoe and the Sierra Nevada mountains. At the top, you will have a stellar panoramic view at the Observation Deck, where you will have the opportunity grab a bite or get a drink at Tamarack Lodge. For thrillseekers, there is the Ridge Rider Mountain Coaster, a two-person gravity-powered coaster that whips you through both forests and natural rock formations.
Squaw Valley & Alpine Meadows
The site of the 1960 Olympics, Squaw Valley Ski Resort is a well-known destination for skiers and snowboarders. The terrain consists of trails and zones appropriate for a variety of experience levels, including learning zones with bowls and chutes. Nearby Alpine Meadows offers an experience for athletes of every level plus some chalet-style lodging.
Alpine also boasts better views of the lake than Squaw Valley, particularly from the appropriately named "Lakeview chair". While neither one of these Lake Tahoe resorts is located directly on the lakeside, it boasts beautiful views of Lake Tahoe and the surrounding scenery. Presently, the two resorts are not connected, but construction is underway and lift tickets work at either location. In the meantime, guests are able to utilize on-site shuttles for transportation between the two.
Sugar Bowl Resort
Home of the first chairlift in California, Sugar Bowl Resort is dominantly for intermediate and advanced athletes. However, lessons are available for both children and adults. Other available activities include on-mountain dining, shopping, a fitness center and spa and loads of opportunities for cross country adventures.
The Hotel at Sugar Bowl offers guests modern accommodations in a setting that features "old-world charm with a hint of European flair". Newly remodeled, the slopeside lodging presents visitors with easy access to fresh powder. There are also plenty of dining options as well at the new Sporthaus, which works as a spa, athletic fitness and training facility. More specifically, this facility includes a spa, a sauna, steam rooms, a yoga studio, cardio and weight training facilities, a family pool and two hot tubs.
Sierra-at-Tahoe
A conveniently located resort, Sierra-at-Tahoe is just South of Lake Tahoe and the closest major ski resort to Sacramento and the Bay Area. As the third-largest ski area, with over 2,000 acres of slopes and over 200 acres of backcountry trails, Sierra-at-Tahoe allows guests to have a blast on their impressive terrain. They offer learners areas for parks, pipes and even adventure zones.
If you aren't into skiing or snowboarding, there are snowshoe trails and a tubing trail just perfect for a family excursion. While Sierra-at-Tahoe does not offer lodging, there are a number of nearby options that they can suggest, some of which offer Sierra attendees exclusive perks.
Donner Ski Ranch
Family owned and operated, Donner Ski Ranch is a budget-friendly resort northwest of Lake Tahoe. The slopes are ideal for skiers and snowboarders of all abilities. This includes bunny slopes, "aggressive high-mountain and backside terrain" and even the option for onsite lessons. For children, there is also a tubing park. Their rustic main lodge offers visitors a cozy place to relax between runs or grab a bite to eat. With a wraparound deck, it is the perfect place to watch other visitors finish out their runs. Local accommodations, like the Rustic Cottages, make Donner Ski Ranch a stone's throw away from the foot of your bed.
Homewood Mountain Resort
Situated directly across from beautiful Lake Tahoe, Homewood Ski Resort offers visitors some of the best mountain views. In fact, their signature two-mile Rainbow Ridge trail is regularly awarded titles for the best ski run with a view. Their first lift is a mere 280 steps from the parking lot, and from there you will have access to a variety of terrains and trails, including terrain parks.
Homewood also offers a unique activity called snowcat adventures, where guests will experience a guided backcountry trip beyond the park's boundary line. Adding on to the convenience, Homewood Mountain Resort offers visitors not one, but two lakefront lodges! If these accommodations are booked, they have partnered with Airbnb to provide local vacation home rentals, many of which are so close to the slopes you could ski straight to the doorstep.
Mt. Rose – Ski Tahoe
If you're not staying at one of the Lake Tahoe resorts, you can visit Mt. Rose in Reno, Nevada where you can experience a base elevation of 8,260 feet. For first timers, that means you can expect the best snow conditions on their diverse terrain. There are beginner slopes, forests for novice skiers and steeps for more experienced skiers/snowboarders. It also has one of the longest continuous verticals in North America.
If you're looking for an adrenaline rush, we recommend a trip to the terrain parks, where you will find jumps, rails and other trick spots. If you need a few more tips before heading out on your own, lessons and a children's school are available onsite. Mt. Rose does not offer lodging, but there are plenty of accommodations in the Reno and Lake Tahoe areas.
Soda Springs Ski Resort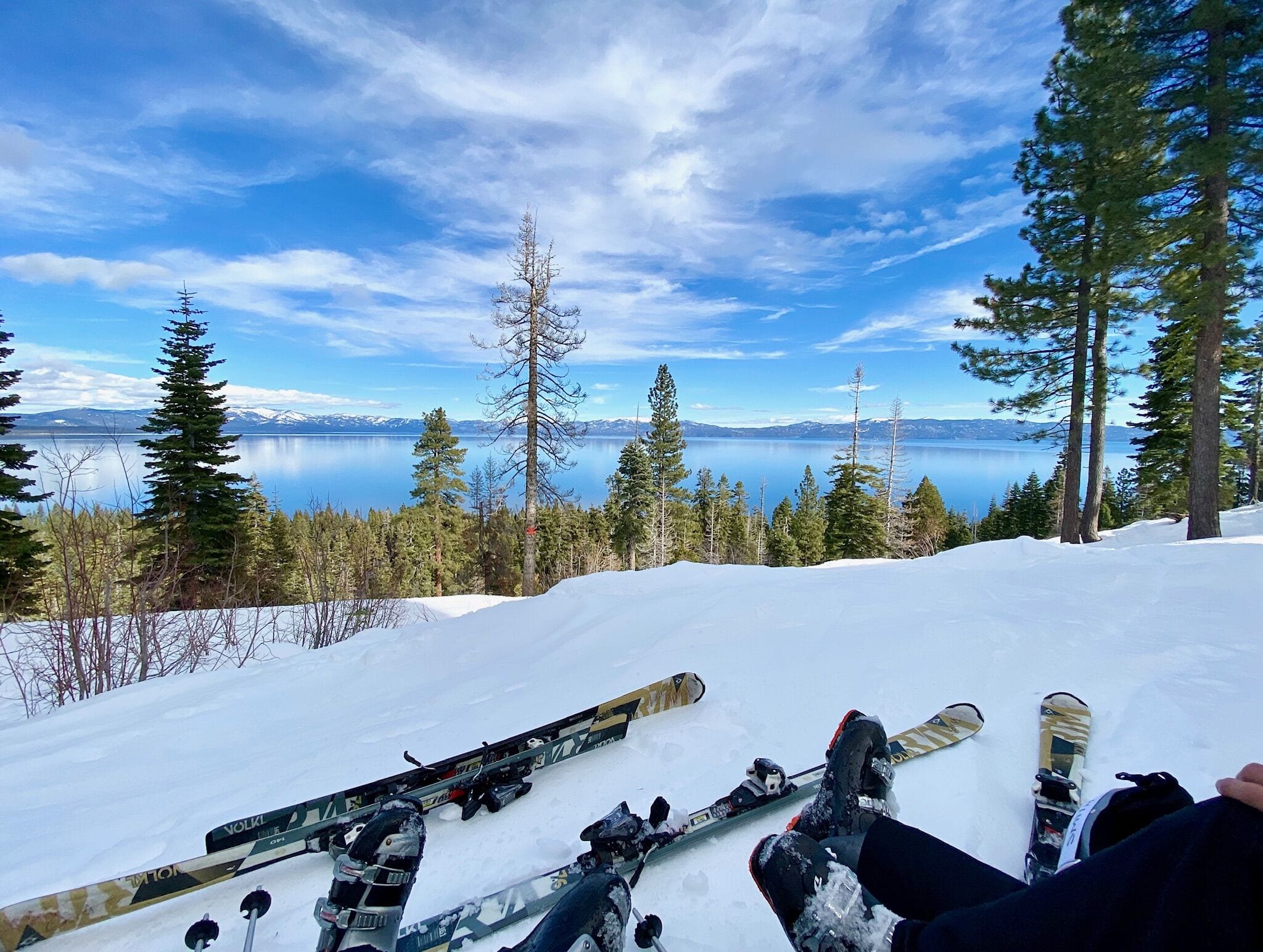 A small distance from Lake Tahoe, Soda Springs Ski Resort is an easy to access resort that is perfect for families. The mountain hosts a variety of trails for both beginner and experienced athletes. This includes a lot of diverse terrain, from glades to racing zones. If you have kids in tow, you will love the Soda Springs Mountain Adventure. A separate purchase from the slopes, this all-inclusive park features snow tubing, "sleigh" rides, a ski/snowboard learning area, a start park zone and snow play areas. Although this section primarily caters to kids, adults are welcome if your inner child is calling.
Boreal Mountain California
With a sizable beginner zone, Boreal Mountain California is a great place for first-time skiers to adventure out onto the slopes. In addition, their unique Woodward Start Park offers daily classes and clinics to help you prepare for your first run. However, more advanced skiers and snowboarders will have just as much fun on the advanced trails and terrain park. Should you prefer something different, their popular tubing area allows for all-day thrills and plenty of snow play. And to top it all off, there are a number of nearby dining options and shopping retailers to choose from after a long day.
Tahoe Donner Downhill Ski Resort
Committed to being "the best place to begin", Tahoe Donner Downhill Ski Resort provides lessons and uncrowded spaces for beginners to branch out. Their mountain trails primarily suit beginner and intermediate athletes, but there are four trails for advanced riders. For thrill-seekers, there are also terrain parks, featuring jumps, ramps, boxes and more. Out of our top choices for Lake Tahoe resorts, this one is relatively small. Tahoe Donner prides itself on their ability to offer a personal touch. While the resort does not have lodging available, they do offer two convenient restaurants and a bar onsite.
Diamond Peak
A medium size resort, Diamond Peak is a community-owned destination. It is located above Incline Village in Nevada on the northeast corner of Lake Tahoe. Their mountain terrain consists of areas for both beginners and experts (just try out their impressive steeps and stashes). A newer feature is the Village Terrain Park at Diamond Peak, which concentrates a variety of trick setups in a lower-mountain zone.
In addition, they offer onsite provisions, including a bar, a BBQ joint and food court. While Diamond Peak Resort does not offer accommodations, they have partnered with local businesses to provide discounted ski & stay deals as well as discounted lift tickets.
Conclusion
If you haven't already made plans to visit this breathtaking winter destination, now is the time! Let us know your experiences at the aforementioned Lake Tahoe resorts or if we missed any. If you plan on vacationing near Lake Tahoe any time (winter or otherwise), let us know which activities you are most looking forward to!
Here are a few hand-picked articles for you to read next: