As an animal lover, I want to give my husky the best life possible. For that reason, I'm always looking for products to enhance his daily life, and hopefully make mine a little easier too! I scoured Amazon to find the highest-rated products for my Siberian husky, including a portable dog water bottle, a cooling blanket, and a pet hair remover tool.
Although these items received rave reviews from dog owners on TikTok and Amazon, I wanted to try them myself to see if they are really worth it. Here's my honest review.
Portable Dog Water Bottle
My husky overheats easily because he's a long-haired breed with insulating fur. For that reason, I like to bring water whenever I go out with him to keep him hydrated and cool.
However, carrying around a bowl plus a bottle of water isn't convenient, so I was delighted when I found this all-in-one pet water bottle. The bottle has a small, built-in bowl at the top, which you fill with water by pressing and holding a button. I love that the button has a lock, so there is no chance of accidental leakage.

Once the bottle arrived, I used it immediately. I was pleasantly surprised by how sturdy it was. True to its promise, it didn't leak, which was a relief as the last thing I wanted was water in my bag.
My only complaint is that the water flows into the bowl area slowly. However, it's a small price to pay for such convenience. Overall, this portable dog water bottle holds a decent amount of water. It serves my husky well for both long walks and fun at his favorite dog park. For under $20, this product is well worth it for any high-energy dog breed.
Cooling Blanket for Dogs
Although long-haired dog breeds have an undercoat to keep them cool, they can still overheat. My Siberian husky gets hot quickly when we play outside during the summer. As a result, I need something to cool him off that's less messy than an ice bath. Enter this cooling blanket for dogs.
Upon opening it, I realized that it was too small for my 92-pound fluff ball. Unfortunately, I didn't pay enough attention to the dimensions of the blanket in the Amazon description. Although the product image showed a Labrador sitting on the blanket, it wasn't large enough to cover my husky. Regardless, he seemed to enjoy resting his head on it!

I still appreciated the fact that this cooling blanket didn't require refrigeration, freezing, or water. It's cool to the touch because of a proprietary double-sided material that's 100% machine washable. The blanket features mesh on one side and a silky material on the other.
Although I was impressed with the blanket's features and affordable price, I wish it felt more refreshing. Its cooling sensation wasn't strong enough for my dog, who enjoys extreme cold.
Pet Hair Remover Tool
If you have experience with dogs, you know that some breeds shed more than others, especially those that are double-coated.
Double-coated dogs such as huskies, German shepherds, and golden retrievers shed their old, dead fur, which means they don't need haircuts frequently. Although you'll save money on grooming, your home or car will be covered with fur. As a Siberian husky owner, I find dog hair everywhere!
Although chom-chom rollers are a popular solution, they don't always pick up fur quickly and easily. Sometimes hair gets stuck in hard-to-reach places and cannot be removed by either a chom-chom roller, sticky roller, or vacuum.
My dog loves car rides, but he always leaves a furry mess on the floor mats. No matter what I tried, I could never seem to remove the hair. However, after extensive research, I finally found the perfect tool!
This pet hair remover tool is truly fantastic. Firstly, the triangle shape makes it easy to get into corners and smaller areas, such as around the seats in the car and the corners of the floor mats. Secondly, the teeth pick up every single hair effortlessly. Check out this before and after below to see for yourself!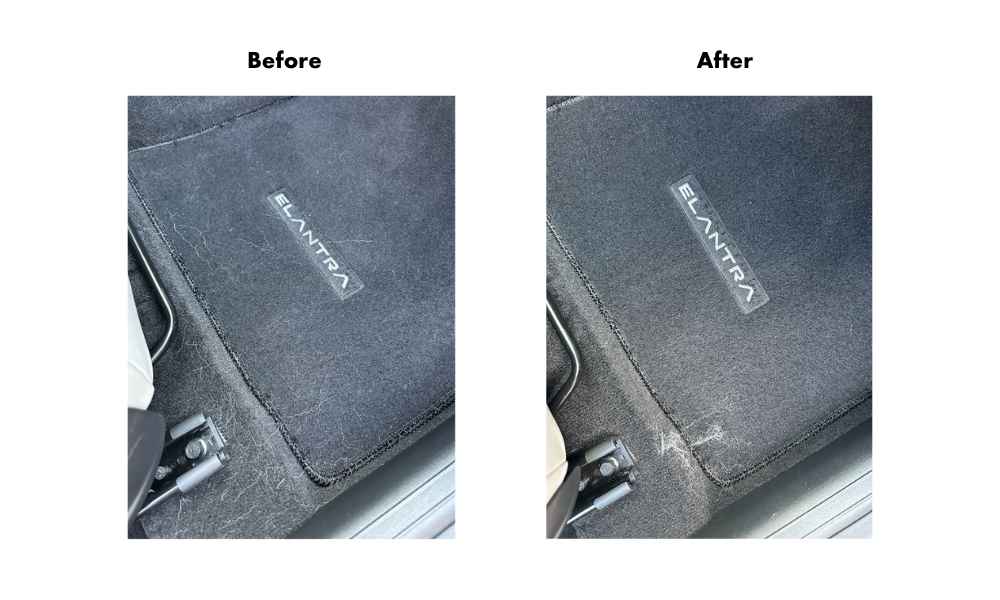 After using it on my car's carpet, I found lots of other places to test this tool. It worked very well on the dog bed and couch, removing fur that wasn't even visible. I was amazed!
Another benefit of this tool is that it's very lightweight and efficient, so you won't get achy hands. Additionally, the plastic material can be washed if it gets dirty while cleaning up wet, muddy fur. Overall, this tool is affordable and highly effective. It is hands-down my favorite item that I reviewed and I highly recommend it.
What should I get my husky?
Here's a list of basic necessities for your husky:
– A high-quality puppy food
– Food and water bowls
– An ID tag
– A harness and/or collar
– A leash
– Grooming tools
– Toys
– A bed
– A crate
– Baby gates
What kind of toys should I get my husky?
Huskies need engaging toys to hold their attention, such as:
– Kong Ultra
– A stuffed toy like the Goughnuts Chew Ring
– A chew toy like West Paw Jive
– Chuckit, the best fetch ball for huskies
– A ball launcher
– A soccer ball dog toy such as Happy Soccer Ball, Hide-A-Squirrel, Planet Dog Orbee-Tuff Squeak, Hyper Pet Flippy Flopper, or Planet Dog
How do I give my husky the best life?
Exercise is key to maintaining your husky's interest. As a high-energy dog breed, Siberian huskies need at least an hour of exercise daily. To fulfill your dog's need for mental and physical stimulation, consider playing fetch, doing obedience training, teaching it to swim, and giving it toys and puzzles.