Raise your hand if you love brunch! I mean, who doesn't?! It's the perfect excuse to dress up, get together with all your favorite people, and day drink. When you think of brunch, there's no doubt that cute brunch dresses come to mind. If you're looking for the perfect dress for your next brunch event, then look no further. We have found some of the cutest dresses just for you, brunch fashionista!
Our Favorite Brunch Dresses

First, we have this cute front tie, off-the-shoulder dress with cutouts from Shein. It has an almost fit to flare bodice, being tight at the top and ending with flowy ruffles at the bottom. It comes in six different colors with a dainty flower design all over it, making it perfect for the summer.
The next piece isn't technically a dress, it is a two-piece skirt set you may be familiar with. This corset top and skirt set from Pretty Little Thing was huge on Tik Tok a few months ago. The original tie-dye design comes in nine different colors. However, there are more colors and different designs on the website as well. This outfit is perfect if you are going for a more upscale brunch while still staying on-trend.

Midi dresses are back again, and a cute floral one makes the perfect brunch dress. This dress from Amazon has an A-line bodice with a front tie. It comes in 43 different colors and designs, so you are guaranteed to find one that best fits your personal style; our favorite is the periwinkle one with pink flowers! It typically is $39.99 but is currently on sale for $27.99. On top of this discount, there is an extra 20% off coupon available, so get this one while you can!
Another midi dress with a splash of class is from Pretty Little Thing. This satin dress features a cowl neckline with a gathered skirt, similar to the style of the skirt set we mentioned earlier. This dress comes in three summery colors as well as a tie-dye green. The gathered side makes it perfect to pair with lace-up heels to show off those details.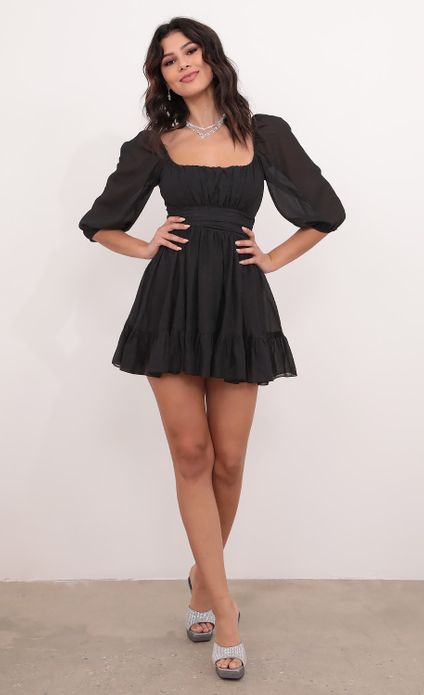 Next, we have a cute, yet elegant, and almost babydoll style dress from Lucy in the Sky. It features a puffed quarter sleeve, ruched bust detailing, and an open tied back. It comes in eight different colors ranging from black to baby blue, so you can find the color perfect for your brunch plans.

Want the dress look without actually wearing a dress? Rompers are the way to go since they give the illusion of the dress while being shorts. Amazon has this cute, long-sleeved romper with a ruffled skirt that comes in 11 different colors and designs. It is super easy to wear and has very comfortable material, so you can wear it to brunch and then tackle the rest of your day's activities (if you can make it haha).

This next dress from Shein is perfect for the transition from summer to fall. It features a plunging v-neck going into flowy ruffles with a long bell sleeve, making it perfect for those soon-to-come cool mornings. It comes in five neutral colors, making it easy to create a cute outfit.
Thought we forgot about all you bodycon dress lovers? No way, we saved this one just for you. We have the Penney Mini Dress from Princess Polly. This dress features a gathered top with a ruched bodycon body. It comes in eight different colors, some of which have cute flower designs, making it the perfect summer brunch dress.
Another trendy bodycon dress is the backless halter neck dress. This particular one from Shein comes in three different colors. We've seen this dress all over Tik Tok. It is super cute and simple, yet the halter neck helps make a statement. The best part is, it's only $9…brunching on a budget!
Last, we have a dress style that is classic yet on-trend. The buttoned-up shirt dress. You can find this specifically made as a dress, such as the one we linked here, or simply create it yourself with an oversized button-up shirt. They come in a variety of different colors and styles. You can also throw on a half corset to create a more structured look. Pair this dress with heels for the summer or make it more fall with some knee-high boots. No matter how you wear this, you are bound to stand out at your next brunch event.
You cannot show up to brunch without showing out. Luckily, there isn't a specific dress code for it either, so you are able to wear any dress that you feel confident in! Hopefully, one of our many brunch favorites will help you decide what you'll be wearing to your next brunch!
Successible Life is a participant in the Amazon Services LLC Associates Program, an affiliate advertising program designed to provide a means for sites to earn advertising fees by advertising and linking to Amazon.com. 
Disclaimer: This post contains affiliate links. If you buy an item through one of those affiliate links, Successible Life may get a small commission at no extra cost to you. This helps keep the blog running so we can continue to provide you with the best content.