Disclaimer: This post contains affiliate links. If you buy an item through one of those affiliate links, Successible Life may get a small commission at no extra cost to you. This helps keep the blog running so we can continue to provide you with the best content.
Did you know that you put hundreds of chemicals on your body every day? A study by the Environmental Working Group revealed that women use an average of 12 products when getting ready in the morning, and these collectively contain over 150 different chemicals. Many of these chemicals, including endocrine-disrupting parabens and phthalates, actually end up in your body. To guide you in your search for clean beauty, we've put together this list of the most common harmful ingredients and the best skincare brands that don't use them.
The 3 most common harmful ingredients in skincare
If you want to start using cleaner products, here are three of the most common harmful ingredients in skincare that you should try to avoid.
Synthetic fragrance
Like most beauty lovers, we're huge fans of great-smelling products. But once we learned how damaging fragrance can be, we ditched artificially scented skincare for good.
Research has shown that synthetic fragrance is one of the main causes of skin problems like redness and irritation. And even if the scented products you're using haven't caused any noticeable irritation, they could still be damaging your skin by stripping away your skin's protective barrier over time and causing inflammation.
Finally, another reason to avoid synthetic fragrance is that companies don't have to disclose the ingredients they use in their perfume blends. So if a scented product has harmful additives, you may not even know it.
Phthalates
Phthalates are just one of the damaging chemicals that are lumped in with fragrance and aren't listed separately on labels. They're possible endocrine disruptors that have been linked to early puberty in girls and endometriosis in women.
Many retailers including CVS and Target are starting to take phthalates out of their products. But to play it safe, try to avoid artificial scents. Look for skincare with naturally fragrant ingredients, such as vanilla, melon, cucumber, mango, and coconut. They're good for your skin, smell amazing, and won't negatively impact your health.
Parabens
Parabens are preservatives that are commonly used in moisturizers and other skincare products to prevent fungi and bacteria from growing. Although the FDA says they're safe, the EU has banned five different types of parabens and restricted the use of many others because of their potential side effects.
Luckily, it's pretty easy to find amazing paraben-free products. Many of the best skincare brands, from Indie Lee to Juice Beauty, have stopped using them. You'll be able to find plenty of safe, effective products at your local drugstore or Ulta.
How can you avoid harmful ingredients in your skincare routine?
The chemicals above are some of the most common harmful additives in skincare, but there are dozens more that could hurt your body and skin over time. So how do you keep all the nasties out of your skincare routine?
Follow Kourtney Kardashian's lead and check the Skin Deep database before you buy a product. It was put together by the Environmental Working Group to help consumers evaluate the health and safety of cosmetics without having to do hours of online research.
It gives a safety rating for each product, with one being the best and ten being the worst. Also, it gives you a breakdown of the product's ingredients and tells you which ones may be harmful.
Kourtney says she mainly uses the best skincare brands that are rated a one or two but may make an exception for certain products that get a three on the scale if she really likes them. Here are some of her favorite clean skincare products that you should consider adding to your routine.
Photo by Ulta
This soothing gel cleanser lathers into a soft foam and gently dissolves makeup and grease without stripping your skin. It's doesn't contain sulfates, alcohol, dyes, fragrances, phthalates, parabens, and other harmful ingredients so that you can feel good about using it.
Photo by Sephora
Kourtney follows up the Peach and Lily cleanser with this detoxing mask from Caudalie.
It contains pink clay, coffee, and papaya enzymes to remove excess oil and brighten your skin. It's also cruelty-free, hypoallergenic, and formulated without chemicals like sulfates, parabens, and phthalates.
USE CODE FREESHIP TO GET FREE SHIPPING AT SEPHORA
Photo by Hora Skincare
Kourtney uses this hydrating CBD serum every night. It contains hyaluronic acid, CBD, and vitamins to help moisturize and soothe the skin. It scores a 1 on the EWG scale and has 98% natural ingredients. It's also cruelty-free, fragrance-free, and vegan.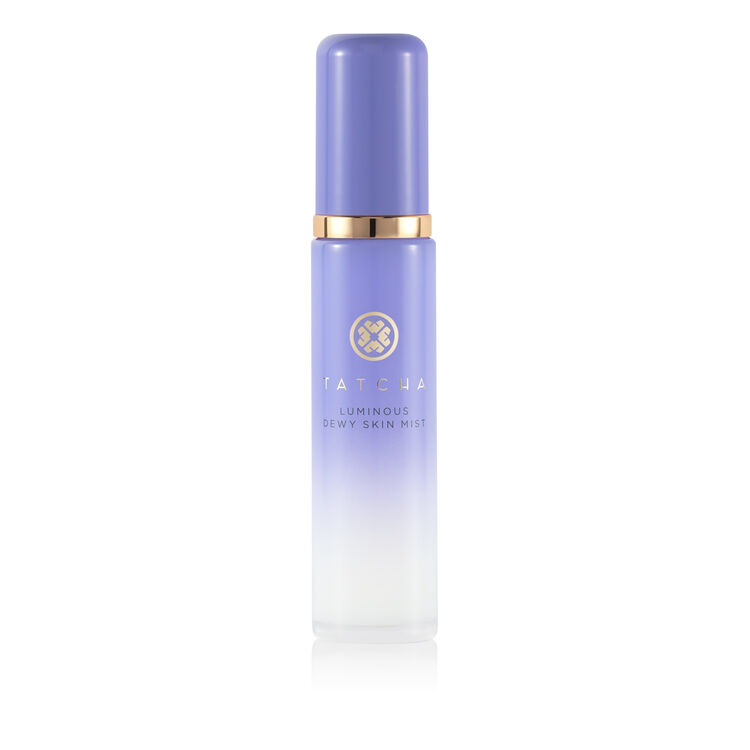 Photo by Tatcha
Kourt's makeup artist sprays this natural skin mist from Tatcha all over her face before applying foundation. It helps hydrate the skin, making your foundation go on smooth and imparting a dewy glow. It also contains anti-aging ingredients like green tea and algae to give your skin a more youthful appearance.
The 5 best skincare brands that don't contain harmful ingredients
Need some more products to round out your skincare routine? Here are five of the best skincare brands that formulate their products using natural, healthy ingredients.
Indie Lee was inspired to create this line of clean skincare after being diagnosed with a rare brain tumor that was caused by environmental toxins. All of her products are cruelty-free and without more than 1,300 potentially damaging chemicals like formaldehyde and parabens. Vegans will also love this skincare brand because most of the products don't contain any animal-derived ingredients.
Here are a few of our favorites from Indie Lee.
The

Brightening Cleanser

works for all skin types and contains natural ingredients like tomato extract and strawberry seed oil that will give you a dewy glow.

The

Squalane Facial Oil

is a lightweight serum derived from olives that will help balance, soothe, and plump up your skin.

Indie Lee's

Clearing Mask

uses bentonite clay and chamomile to unclog your pores and reduce redness.
All of Juice Beauty's products are made with a base of vitamin-rich botanicals instead of petroleum derivatives or water. This leads to better results for your skin. They're also formulated without harmful ingredients like artificial fragrance and dyes, phthalates, and parabens. The company has complete skincare regimens that suit every skin type and concern, whether you're looking to clear up acne or prevent aging.
Here are a few of the best skincare products from Juice Beauty.
The

Green Apple Peel Sensitive Exfoliating Mask

is a gentle exfoliator that will brighten your skin, lighten dark spots, and even your skin tone.

The

Nutrient Moisturizer

is the perfect cream to add to your skincare routine during the fall and winter. It has aloe, jojoba, and shea to soothe and moisturize dry skin.

Juice Beauty's

Stem Cellular 2-in-1 Cleanser

helps prevent aging and hydrates and tones the skin by using natural ingredients like grapefruit and aloe.
Tata Harper skincare is a bit on the spendy side, but it's definitely worth the splurge. All of their products are cruelty-free and formulated without harmful chemicals like artificial colors, synthetic fragrances, fillers, and GMOs. The ingredients come straight from Tata's organic farm in Vermont, so they're fresh and natural. We're also obsessed with their packaging – the green glass bottles are not only beautiful but also recyclable and sustainable.
If you want to try out Tata Harper for yourself, shop some of our favorite products below.
The

Clarifying AHA + BHA Mask

has raw honey and wild grape to balance redness along with quartz sand micro-crystals to gently exfoliate your skin.

Tata Harper's

Water-Lock Moisturizer

uses hyaluronic acid and orange blossom peptides to deeply hydrate your skin and give it a healthy glow.

Tata's Daily Essentials Kit

contains minis of the brand's best skincare products, including the regenerating cleanser and reparative moisturizer, allowing you to try them out before you splurge on the full sizes.
Did you know that Fenty Beauty, Rihanna's cosmetics brand, also makes skincare products? They're cruelty-free, vegan, clean, so they're definitely worth trying out! Fenty's simple three-step skincare routine means that you won't have to spend ages to get glowing skin like Rihanna.
Start with the

Remove It All Cleanser

, which gently dissolves makeup without stripping the skin. It's suitable for all skin types and made with natural ingredients like Barbados cherry and green tea.

Next is the

Fat Water Pore-Refining Toner Serum.

It uses Australian lemon myrtle and witch hazel to control excess oil, refine your pores, and improve your skin's overall tone.

Finish your skincare routine with the

Hydra Vizor Invisible Moisturizer,

which contains coral reef friendly SPF plus melon and aloe to help hydrate and soothe your skin.
We love Glossier, a skincare and makeup brand founded by beauty blogger Emily Weiss. They've taken steps to use cleaner ingredients in their products and often score a one or two on the EWG Skin Deep scale. All of their products are cruelty-free, tested by dermatologists, and focused on delivering you the best possible results.
If you want to see why Glossier is one of the best skincare brands, test out some of their products below.
Glossier Super Pure

is a lightweight serum that has vitamins and minerals like zinc to balance your skin and visibly improve its texture.

Glossier Balm Dotcom

is a super hydrating lip balm and skin salve made with natural ingredients like castor oil, beeswax, and lanolin.
Learning about the harmful chemicals that may be in the skincare products you've been using for years can feel overwhelming. But take a deep breath – everything will be ok! Now that you know, you can start to replace some of your beauty products with cleaner, healthier alternatives from the best skincare brands.
It's all about making small changes. You don't have to throw out your entire skincare routine or ditch every chemical that the EWG says is harmful. If you can eliminate just two or three harmful chemicals from your skincare regimen, you'll be better off.
Here are a few hand-picked articles for you to read next: